Personal Pronoun in Muna Language
Siti Fatinah

Balai Bahasa Sulawesi Tengah
Keywords:
language, nouns, personal pronouns
Abstract
Personal pronouns in Muna Language are different with Indonesian language or any other vernacular languages. This writing aimed at describing the forms of personal pronouns in Mula language. The methods used for data collection are observation, conversation, and introspection. Data were then analyzed with unified intralingual method. The results indicated two forms of personal pronouns in Muna language. First, personal pronoun that can stand alone as free morphem comprising of personal pronoun I (inodi/indodi/idi 'I"; intaidi 'we both'; and intaidi:mu 'we all'); (b) personal pronoun II(ihintu 'you' and ihintuumu or ihintoomu 'you all'); (c) personal pronoun III (anoa 'he/she' and andoa'they'). Second, personal pronouns which are appended to the basic form of verbs, adjectives, and nouns as bound morpheme. These pronouns are (a) ae-, a-, ao-, -mu, and -kanau meaning 'I'; (b) dae-, da-, dao-, da-e, and -nto meaning 'we both'; (c) tae-, tao-, ta-, ta- ... -e, -mani, and -kasami meaning'we'; (d) omo-, ome-, o-, -gho, o-... -e, and -mu meaning 'you'; (e) omo- ... -mu, ome- ... -mu, o- ... -e:mu, -gho:mu, and -omu meaning 'you all'; (f) nae-, ne-, -no, -ane, and no- ... -e meaning 'she/he';(g) dae-, do-, de-, -nda, -ndo, and do- ... -e meaning 'they'. Personal pronouns in the form of morphemes are appended to the basic form of verbs, adjectives, and nouns such as prefixes, suffixes, and simulfix.
Downloads
Download data is not yet available.
References
Alwi, Hasan et al. 2003. Tata Bahasa Baku Bahasa Indonesia. Jakarta: Balai Pustaka.
Berg, Rene van Den dan La Ode Sidu Marafat. 2013. Kamus Muna-Indonesia. Yogyakarta: Pustaka Puitika.
Chaer, Abdul. 2008. Morfologi Bahasa Indonesia: Pendekatan Proses. Jakarta: Rineke Cipta.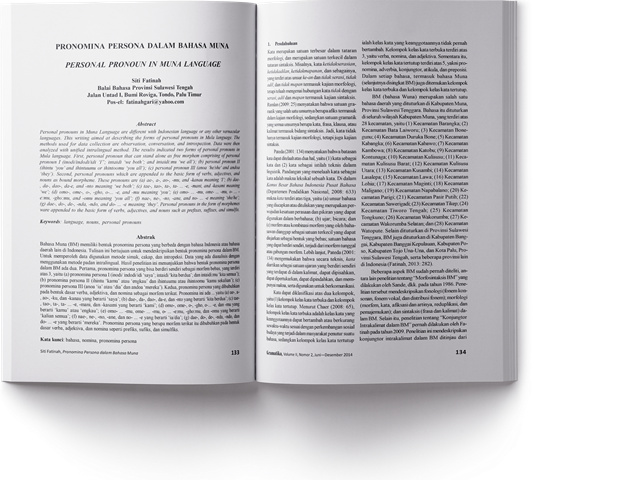 How to Cite
Fatinah, S. (2014). Personal Pronoun in Muna Language. Gramatika: Jurnal Ilmiah Kebahasaan Dan Kesastraan, 2(2), 133-146. https://doi.org/10.31813/gramatika/2.2.2014.104.133--146
Copyright (c) 2014 Siti Fatinah
This work is licensed under a Creative Commons Attribution-NonCommercial-ShareAlike 4.0 International License.
The writer of published paper on Gramatika have agreed this following:
Article copyright still had by the author.
The author gives the first publication right of the article to Gramatika and its lisence onto Creative Commons Attribution License that allow other party to use or recitate the article but keep mention the name of original author and the first publication on Gramatika.
The author is allowed to republish the article that Gramatika have been published it before through separated contract deal due to non-exclusive distribution (ex: submitting in to institution repository or publishing onto a book) but still mention the first publication on Gramatika.
The author is allowed and recommended to distribute her/his papers to the virtual world (ex: in the institution repository or author's homepage) before or during the document consignment process because can support the productive exchange also an early and wide citation.
Every documents have been accepted should be attached with Copyright Submission Approval Form before article publication. Download the form here.