Meronymy of Mouth
Teodora Nirmala Fau

Surat Kabar Sinar Harapan
Keywords:
meronymy, mouth, epiglottis, vocabulary, lexical
Abstract
This research aims at discussing about mouth meronymy or what is known as vocabulary which is clustered on mount shaper element. In Indonesian language, there are 25 words which refer to element of mouth, but there are only nine vocabularies that include in direct meronymy of mouth. All of words which can be classified as meronymy of mouth are words whose lexical meanings show their position on epiglottis.
Downloads
Download data is not yet available.
References
Chaer, Abdul. 2009. Pengantar Semantik Bahasa Indonesia. Jakarta: Rineka Cipta.
Iskandar. Nurbati. 2006. Ilmu Penyakit Telinga, Hidung, Tenggorok untuk Perawat Edisi Kedua. Jakarta: Fakultas Kedokteran Universitas Indonesia.
Kushartanti, Untung Yuwono, dan Multamia RMT Lauder (ed.). 2005. Pesona Bahasa: Langkah Awal Memahami Linguistik. Jakarta: Gramedia Pustaka Utama.
Leech, Geoffrey. 2003. Semantik (terj.). Yogyakarta: Pustaka Pelajar.
Markam, Soemarmo, Hendra Laksman, dan Sulistia Ganiswarna. 2007. Kamus Kedokteran Edisi Kelima. Jakarta: Fakultas Kedokteran Universitas Indonesia.
Sambodo Joshua I. dan Hendarto (ed.). 1996. Panca Indra. Jakarta: Elex Media Komputindo.
Tim Penyusun Kamus. 2007. Kamus Besar Bahasa Indonesia Edisi Ketiga Jakarta: Balai Pustaka.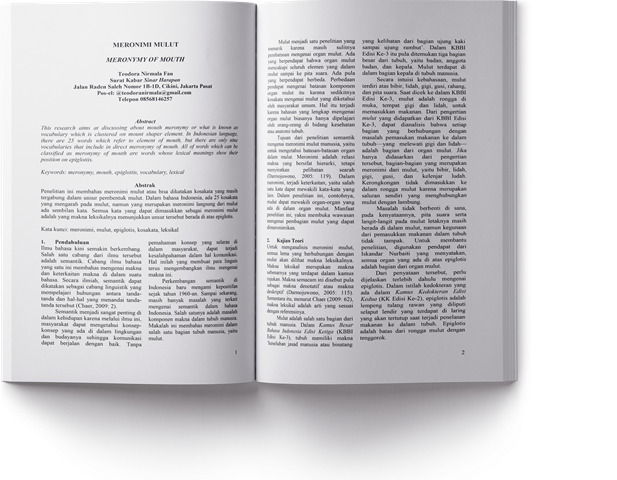 How to Cite
Fau, T. (2015). Meronymy of Mouth. Gramatika: Jurnal Ilmiah Kebahasaan Dan Kesastraan, 3(1), 1-10. https://doi.org/10.31813/gramatika/3.1.2015.108.1--10
Copyright (c) 2015 Teodora Nirmala Fau
This work is licensed under a Creative Commons Attribution-NonCommercial-ShareAlike 4.0 International License.
The writer of published paper on Gramatika have agreed this following:
Article copyright still had by the author.
The author gives the first publication right of the article to Gramatika and its lisence onto Creative Commons Attribution License that allow other party to use or recitate the article but keep mention the name of original author and the first publication on Gramatika.
The author is allowed to republish the article that Gramatika have been published it before through separated contract deal due to non-exclusive distribution (ex: submitting in to institution repository or publishing onto a book) but still mention the first publication on Gramatika.
The author is allowed and recommended to distribute her/his papers to the virtual world (ex: in the institution repository or author's homepage) before or during the document consignment process because can support the productive exchange also an early and wide citation.
Every documents have been accepted should be attached with Copyright Submission Approval Form before article publication. Download the form here.