Bound Morpheme in Banjar Language
Rissari Yayuk

Balai Bahasa Provinsi Kalimantan Selatan
Keywords:
morpheme, konfiks, banjar
Abstract
This study discusses about bound morpheme in Banjarese language. The problems in the research include 1) the forms of bound morphemes of prefix, 2)the forms of bound morphemes of suffix, 3) the forms of bound morphemes of infix, and 4) the forms of bound morphemes of simulfix. The method used in this research is qualitative-descriptive method. The research concludes that the forms and the meanings of the prefix of Banjarese language consists of prefixes Ka'ke ', the prefix ma' me 'pa' pe 'ba' air ', sa'di 'sa' se 'and ta' ter ' , ta prefix 'ter'. Suffix or suffixes exist in the language consisted of an suffix 'an', the suffix i 'i'. will be 'right', and his 'it'. Konfiks exist or a combination comprising, konfiks to an 'all-an', ba-an 'air-an', par-will, at its 'as-is', 'se-an'. Next, Infix or insert language Banjarese consists of, al 'el and am' em '.
Downloads
Download data is not yet available.
References
Chaer, Abdul. 2008. Morfologi Bahasa Indonesia. Jakarta. Rineka Cipta
Djajasudarma, T. Fatimah. 2010. Metode Linguistik. Bandung: Refika Aditama
Jamzaroh, Siti. 2008. "Pengaruh Words Order Terhadap Perwujudan Kata Dan Frase pada Gramatika Bahasa Banjar dan Bahasa Jawa". Jurnal Undas. 4 (1) hal. 1-14. Banjarmasin: Balai Bahasa Banjarmasin.
Katamba, F. 1994. Morphology. London: The Macmillan Press Ltd., Cambridge: Cambridge Univ. Press.
Kawi, Djantera, dkk. 1986. Morfologi Sintaksis Bahasa Banjar Kuala. Jakarta Pusat. Pembinaan dan Pengembangan Bahasa Depdikbud
Purnami. 2016. "Perbedaan Satuan Lingual –a, -na, dan –ana wacana khotbah Jumat dalam bahasa Jawa". Jurnal Gramatika 4 (2). Hal 92--99. Maluku Utara: Kantor Bahasa Maluku Utara.
Putrayasa, Ida Bagus. 2010. Tata kalimat Bahasa Indonesia. Bandung: Refika Aditama.
Ramlan, Muhammad. 2012. Morfologi suatu Tinjauan Deskriptif. Yogyakarta: Karyono
Rohmadi, Muhammad, dkk. 2013. Morfologi telaah morfem dan kata. Surakarta: Yuma Pustaka.
Ruriana, Puspa. 2015. "Preposisi dalam bahasa Jawa Surabaya. Jurnal Medan Bahasa 9 (1). Hal. 69--80. Jawa Timur: Balai Bahasa Provinsi Jawa Timur.
Rusdiana, Ida. 2016. "Proses Morfologis Bahasa Banjar". Disertasi. Program Studi Pendidikan Bahasa Indonesia, Pascasarjana, Universitas Negeri Malang.
Subroto, Edi. (2012). Pemerian Bahasa Indonesia. Surakarta: Cakrawala Media.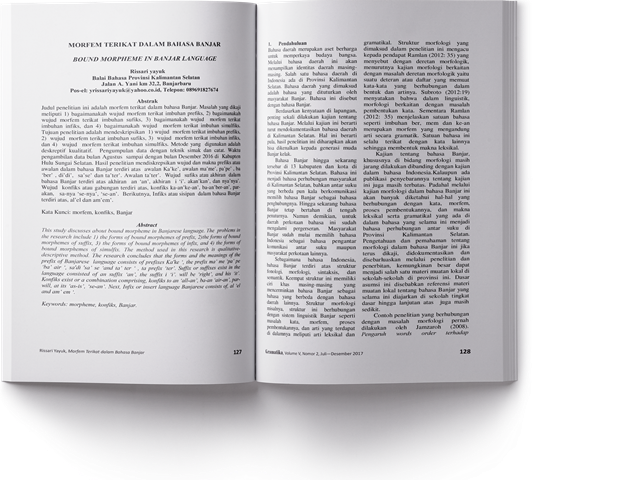 How to Cite
Yayuk, R. (2017). Bound Morpheme in Banjar Language. Gramatika: Jurnal Ilmiah Kebahasaan Dan Kesastraan, 5(2), 127-140. https://doi.org/10.31813/gramatika/5.2.2017.112.127--140
Copyright (c) 2017 Rissari Yayuk
This work is licensed under a Creative Commons Attribution-NonCommercial-ShareAlike 4.0 International License.
The writer of published paper on Gramatika have agreed this following:
Article copyright still had by the author.
The author gives the first publication right of the article to Gramatika and its lisence onto Creative Commons Attribution License that allow other party to use or recitate the article but keep mention the name of original author and the first publication on Gramatika.
The author is allowed to republish the article that Gramatika have been published it before through separated contract deal due to non-exclusive distribution (ex: submitting in to institution repository or publishing onto a book) but still mention the first publication on Gramatika.
The author is allowed and recommended to distribute her/his papers to the virtual world (ex: in the institution repository or author's homepage) before or during the document consignment process because can support the productive exchange also an early and wide citation.
Every documents have been accepted should be attached with Copyright Submission Approval Form before article publication. Download the form here.