Election of Bugis Etnic Language in The Family Plan Based on Relationship Relations and Job Categories in Donggala Regency
Tamrin Tamrin

Balai Bahasa Provinsi Sulawesi Tengah
Keywords:
language selection, family domain,, occupation category, bugis
Abstract
Language selection is a phenomenon that is common in multilingual societies. By taking the case of Bugis ethnic language selection in the family domain based on the relationship of roles and occupation categories in Donggala District, this study aims to (1) describe the pattern of Bugis ethnic language selection in the family sphere by occupation category and role relations in Donggala District, (2) to describe the influence of work on Bugis ethnic language election in Donggala District and (3) to analyze the factors underlying the selection of Bugis ethnic languages ​​in the family sphere by occupation category and role relations in Donggala District. The method used is a sociolinguistic approach with questionnaires, interviews, observations, and recording techniques, then analyzed based on the percentage pattern of Bugis ethnic language selection in the family realm. The result of the analysis shows that Bugis ethnic in Donggala Regency still dominantly choose Bugis language as communication tool in family domain based on the relation of role and occupation category. Respondents who work as civil servants / military / police and students who have a lower percentage in Bugisnya language electives.
Downloads
Download data is not yet available.
References
Amir, Johar. 2010. "Pola Pemilihan Bahasa pada Ranah Keluarga di Kabupaten Pangkajene Kepulauan". Disertasi. Makassar: Universitas Hasanuddin.
Aswantini, 2013. "Sumber dan Koleksi Data (Bidang IPS)". Modul. Diklat Jabatan Fungsional Peneliti Tingkat Pertama. Bogor: Lembaga Ilmu Pengetahuan Indonesia.
Ervin-Tripp, S.M. 1972. "Sociolinguistic Rules of Address". Dalam John B. Pride and Janet Holmes (eds.) Sociolinguistics. Harmondsworth: Penguin, 225–240.
Herawati, 2014. "Pemilihan Bahasa Tutur Konjo dalam Masyarakat di Sinjai". Disertasi. Yogyakarta: Universitas Gadjah Mada.
Hunt, C.L. 1972. "Language Choice in a Multilingual Society". Dalam Lieberson, Stanley (ed.) Exploration in Sociolinguistics, Bloomington: Indiana University, 112 – 125.
Fasold, Ralph. 1984. The Sociolinguistic of Society. Oxford: Basil Blackwell.
Fishman, Joshua A. (Ed.). 1972a. Reading in the Sociology of Language. Paris: Mouton. (rujukanBuku)
------------. 1972b. The Sociology of Language. Massachussetts: Newburry House.
Gunarwan, Asim. 2002. PedomanPenelitianPemakaianBahasa.Jakarta: Pusat Bahasa, DepartemenPendidikan Nasional.
Muhajir.1979. Fungsi dan Kedudukan Dialek Jakarta: Jakarta: Pusat Pembinaan dan Pengembangan Bahasa.
Poedjosoedarmo, S. 1975. "Kode dan Alih Kode" dalam Widyaparwa.Yogyakarta: Balai Penelitian Bahasa.
Platt, J.T. 1977. Code Selection in a Multilingual Polyglossic Society. Oxford: Pergamon Press.
Wardhaugh, Ronald. 2006. An Introduction to Sociolinguistics. Oxford: Blackwell publishing.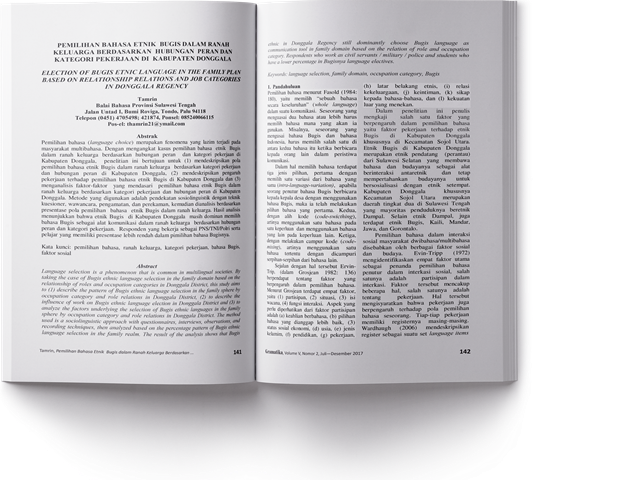 How to Cite
Tamrin, T. (2017). Election of Bugis Etnic Language in The Family Plan Based on Relationship Relations and Job Categories in Donggala Regency. Gramatika: Jurnal Ilmiah Kebahasaan Dan Kesastraan, 5(2), 141-155. https://doi.org/10.31813/gramatika/5.2.2017.114.141--155
Copyright (c) 2017 Tamrin Tamrin
This work is licensed under a Creative Commons Attribution-NonCommercial-ShareAlike 4.0 International License.
The writer of published paper on Gramatika have agreed this following:
Article copyright still had by the author.
The author gives the first publication right of the article to Gramatika and its lisence onto Creative Commons Attribution License that allow other party to use or recitate the article but keep mention the name of original author and the first publication on Gramatika.
The author is allowed to republish the article that Gramatika have been published it before through separated contract deal due to non-exclusive distribution (ex: submitting in to institution repository or publishing onto a book) but still mention the first publication on Gramatika.
The author is allowed and recommended to distribute her/his papers to the virtual world (ex: in the institution repository or author's homepage) before or during the document consignment process because can support the productive exchange also an early and wide citation.
Every documents have been accepted should be attached with Copyright Submission Approval Form before article publication. Download the form here.