Interference in Short Stories Written by The Students of SMPN 2 Merbau Mataram, South Lampung
Ratih Rahayu

Kantor Bahasa Provinsi Lampung
Keywords:
interference,, short story
Abstract
This research investigates the interference which exist in short stories written by the students of SMPN 2 Merbau Mataram, South Lampung Selatan. The problems investigated are the kinds of interference existing in the short stories and the factors which couse the interference in these short stories. The use of Indonesian in the short stories is the fact mixed with foreign languages (English), slang word, local languages. This interference occurs in morphological, lexical, and syntactical levels. From 40 short stories being investigated, there are 35 short stories in which the case of interference. There are only 5 short stories in which the case of interferences is not found. In these numbers are made into percentage, in total the percentage of short stories containing interference is 87,5% and the ones which are do not contain the interference is 12,5%. The interference is caused by some factors, they are: the bilingualism of the student, boredom, prestige, avoiding unnatural phrases, the vocabularies are considered shorter compared to their equivalents in Indonesian, and the vocabularies do not have equivalents in Indonesia.
Downloads
Download data is not yet available.
References
Chaer, Abdul dan Leonie agustina. 2010. Sosiolinguistik: Perkenalan Awal. Jakarta: Rineka Cipta.
Kridalaksana, Harimurti. 1993. Kamus Linguistik. Jakarta: Gramedia.
Nababan, P.W.J. 1993. Sosiolinguistik: Suatu Pengantar. Jakarta: Gramedia.
Nurgiyantoro, Burhan. 2000. Teori Pengkajian Fiksi. Jogjakarta: Gadjah Mada University Press.
Rahardi, Kunjana. 2001. Sosiolinguistik, Kode dan Alih Kode. Yogyakarta: Pustaka Pelajar.
Rusyana, Yus. 1989. Perihal Kedwibahasaan. Jakarta: P2LPTK.
Sumardjo, Jakob dan Saini K.M.. 1997. Apresiasi Kesusastraan. Jakarta: Gramedia Pustaka Utama.
Sumarsono. 2011. Sosiolinguistik. Yogyakarta: Pustaka Pelajar
Soewito. 1983. Sosiolinguistik: Teori dan Problema. Surakarta:Kenary Off-set.
Tarigan, H.G. 1986. Prinsip-prinsip Dasar Sastra. Bandung: Angkasa.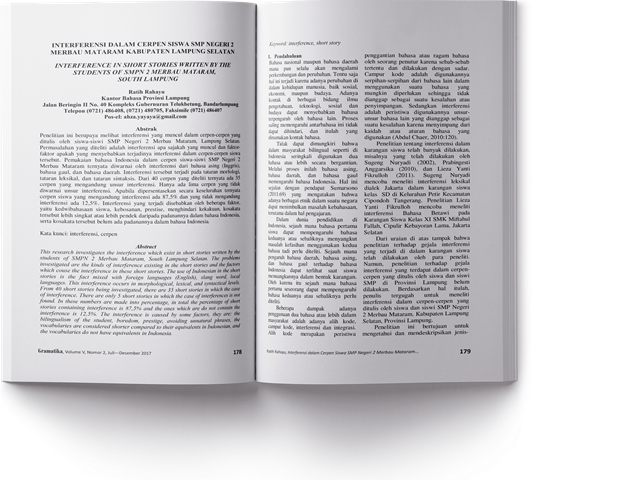 How to Cite
Rahayu, R. (2017). Interference in Short Stories Written by The Students of SMPN 2 Merbau Mataram, South Lampung. Gramatika: Jurnal Ilmiah Kebahasaan Dan Kesastraan, 5(2), 178-197. https://doi.org/10.31813/gramatika/5.2.2017.118.178--197
Copyright (c) 2017 Ratih Rahayu
This work is licensed under a Creative Commons Attribution-NonCommercial-ShareAlike 4.0 International License.
The writer of published paper on Gramatika have agreed this following:
Article copyright still had by the author.
The author gives the first publication right of the article to Gramatika and its lisence onto Creative Commons Attribution License that allow other party to use or recitate the article but keep mention the name of original author and the first publication on Gramatika.
The author is allowed to republish the article that Gramatika have been published it before through separated contract deal due to non-exclusive distribution (ex: submitting in to institution repository or publishing onto a book) but still mention the first publication on Gramatika.
The author is allowed and recommended to distribute her/his papers to the virtual world (ex: in the institution repository or author's homepage) before or during the document consignment process because can support the productive exchange also an early and wide citation.
Every documents have been accepted should be attached with Copyright Submission Approval Form before article publication. Download the form here.