Reasoning Criticism of Plot Urgency in The Novel "Tuhan, Izinkan Aku Menjadi Pelacur" Muhidin Dahlan's Work
Wildan Wildan

Fakultas Sastra dan Budaya, Universitas Khairun
Keywords:
spiritualism, disappointment, prostitute
Abstract
Kiran is the major character in the novel Tuhan, Izinkan Aku Menjadi Pelacur by Muhidin Dahlan. She is a moeslem student who was in the process of a spiritual journey to understand the concept of divinity. Great desire to know more about Islam encouraged Kiran to enter the Islamic organizations and actively participated invarious studies that drove her into an activist who fought to uphold Islamic State. However, the spiritual journey and the struggle she had committed in eagerness had failed to be actualized for she was disappointed with the attitude of her friends in arms that did not run the organization based upon Islamic rules (syariat). As a form of revenge, Kiran eventually became a prostitute.
Downloads
Download data is not yet available.
References
Eagleton, Terry. 2007. Teori Sastra: Sebuah Pengantar Komprehensif. Yogyakarta: Jalasutra.
Fanani, Zainuddin. 2001. Telaah Sastra. Surakarta: Muhammadiyah Press.
Hawkes, Terence. 1978. Structuralism and Semiotic. London: Methueb& Co. Ltd .
Jauss, Hans Robert. 1974. "Literary History as a Challange to Literary Theory". London: Routhledge & Kegan Paul.
Luxembur, Van Jan, dkk. 1992. Pengantar Ilmu Sastra. Jakarta: Gramedia.
Pradopo. Djoko Rahmat. 2002. Kritik Sastra Indonesia Modern. Yogyakarta: Gama Media.
Scholes, Robert. 1977. Structuralism in Literature: an Introduction. Yale University Press. New Haven and London.
Sujiman, Panuti. 1986. Kamus Istilah Sastra. Jakarta: Gramedia.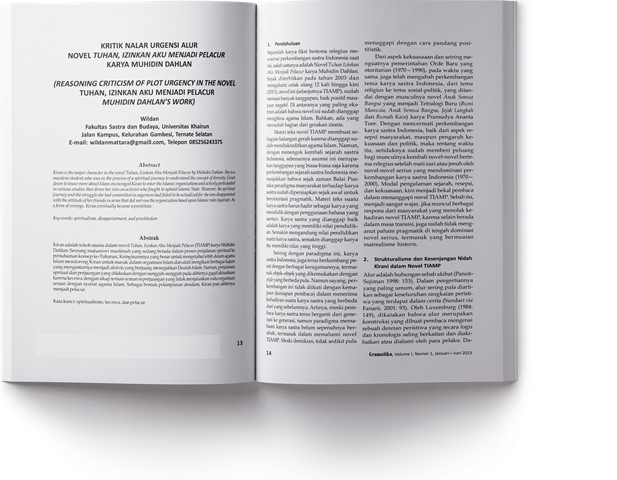 How to Cite
Wildan, W. (2013). Reasoning Criticism of Plot Urgency in The Novel "Tuhan, Izinkan Aku Menjadi Pelacur" Muhidin Dahlan's Work. Gramatika: Jurnal Ilmiah Kebahasaan Dan Kesastraan, 1(1), 13-24. https://doi.org/10.31813/gramatika/1.1.2013.12.13--24
Copyright (c) 2013 Wildan Wildan
This work is licensed under a Creative Commons Attribution-NonCommercial-ShareAlike 4.0 International License.
The writer of published paper on Gramatika have agreed this following:
Article copyright still had by the author.
The author gives the first publication right of the article to Gramatika and its lisence onto Creative Commons Attribution License that allow other party to use or recitate the article but keep mention the name of original author and the first publication on Gramatika.
The author is allowed to republish the article that Gramatika have been published it before through separated contract deal due to non-exclusive distribution (ex: submitting in to institution repository or publishing onto a book) but still mention the first publication on Gramatika.
The author is allowed and recommended to distribute her/his papers to the virtual world (ex: in the institution repository or author's homepage) before or during the document consignment process because can support the productive exchange also an early and wide citation.
Every documents have been accepted should be attached with Copyright Submission Approval Form before article publication. Download the form here.