Segmental Phonemes of Kanum Barkari Language
Siti Masitha Iribaram

Balai Bahasa Papua dan Papua Barat
Keywords:
phonemes, segmental, consonant, vowel
Abstract
The purpose of this research is to describe the segmental phonemes of Kanum Barkari language. This language is located at territorial border between Indonesia and Papua New Guini. Kanum Barkari language is one of vernacular language spoken by peoplein Kondo village at Merauke Regency, Papua. This research uses descriptive method by using three stages; collecting, analyzing, and presenting data. Data analysis has been done after the collected data is classified. The analysis uses a distributional method. The results show that Kanum Barkari language has 16 consonant phonemes,namely, /p/, /b/, /t/, /d/, /j/, /k/, /g/, /m/, /n/, /ŋ/, /l/, /s/, /r/, /h/, /w/, /y/ and 6 vowel phonemes, /a/, /i/, /u/, /e/, /є/, dan /o/.
Downloads
Download data is not yet available.
References
Alwi, Hasan dkk. 2000. Tata Bahasa Baku Bahasa Indonesia. Jakarta: Balai Pustaka.
Bloomfield, L. 1933. Language. London: George Allen & Unwin.
Chaer, Abdul. 2009. Fonologi Bahasa Indonesia. Jakarta: Rineka Cipta.
Hartman, R.R.K. and F.C. Stork. 1972. Dictionary of Language and Lingusitic. Applied Science Published, Ltd. England.
Kridalaksana, Harimurti. 2008. Kamus Linguistik. Jakarta: Gramedia.
Lapoliwa, Hans. 1980. Analisis Fonologi. Jakarta: Pusat Pembinaan dan Pengembangan Bahasa.
Muslich, Masnur. 2010. Fonologi Bahasa Indonesia: Tinjauan Deskriptif Sistem Bunyi Bahasa Indonesia. Jakarta: Bumi Aksara.
Samsuri. 1982. Analisis Bahasa. Jakarta: Erlangga.
Sudaryanto.1993. Metode dan Aneka Teknik Analisis Bahasa: Pengantar Penelitian Wahana Kebudayaan Secara Linguistis. Yogyakarta: Duta Wacana University Press.
Suharyanto. 2006. "Fonologi Bahasa Kayu Pulo" dalam Jurnal Kibas Cenderawasih Volume 2 Nomor 2 Oktober 2006. Jayapura: Balai Bahasa Jayapura.
Summer Institute of Linguistic. 2006. Bahasa-Bahasa di Indonesia. Jakarta: Summer Institute of Linguistic.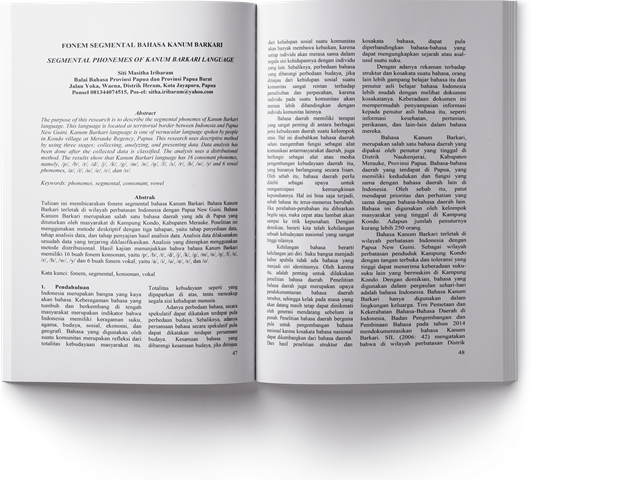 How to Cite
Iribaram, S. (2015). Segmental Phonemes of Kanum Barkari Language. Gramatika: Jurnal Ilmiah Kebahasaan Dan Kesastraan, 3(1), 47-59. https://doi.org/10.31813/gramatika/3.1.2015.120.47--59
Copyright (c) 2015 Siti Masitha Iribaram
This work is licensed under a Creative Commons Attribution-NonCommercial-ShareAlike 4.0 International License.
The writer of published paper on Gramatika have agreed this following:
Article copyright still had by the author.
The author gives the first publication right of the article to Gramatika and its lisence onto Creative Commons Attribution License that allow other party to use or recitate the article but keep mention the name of original author and the first publication on Gramatika.
The author is allowed to republish the article that Gramatika have been published it before through separated contract deal due to non-exclusive distribution (ex: submitting in to institution repository or publishing onto a book) but still mention the first publication on Gramatika.
The author is allowed and recommended to distribute her/his papers to the virtual world (ex: in the institution repository or author's homepage) before or during the document consignment process because can support the productive exchange also an early and wide citation.
Every documents have been accepted should be attached with Copyright Submission Approval Form before article publication. Download the form here.