The Potrait of Indonesia's Independence Struggle in Children Novel Published by Balai Pustaka in 1976--1996
Latief S. Nugraha

Balai Bahasa Daerah Istimewa Yogyakarta
Keywords:
Balai Pustaka, children novel, colonial history, genre, formula
Abstract
The research examines children novels with history genre published by Balai Pustakain 1976--1996. This research is conducted to find out the formula. This research stands on John G. Cawelti genre review. The results of the research show that children novels at Balai Pustaka use various formulas with the same basic theme –a fighting spirit to fight back colonial. The historical approach has strengthened Balai Pustaka's children novels as generic fiction works. At that time, the children novels were built from the high tension between two worlds; ideal world and real world as imaginary world. There are different approaches in solving the problems from eachperiod, and authors, although most of the formula used have 'failure' because of the old composition and theme usage.
Downloads
Download data is not yet available.
References
Saadi A.S. 1976. Sulawesi Berdarah. Jakarta: Balai Pustaka.
Adi, Ida Rochani. 2011. Fiksi Populer: Teori dan Metode Kajian. Yogyakarta: Pustaka Pelajar.
Bagin. 1996. Pejuang Kecil di Bumi Irian. Jakarta: Balai Pustaka.
Cawelti, John G. 1976. Adventure, Mystery, and Romance: Formula Stories as Art an Popular Culture. Chicago: University of Chicago Press.
Dwinanto, Djoko. 1993. Wonakaka. Jakarta: Balai Pustaka.
Eneste, Pamusuk. 1988. Ikhtisar Kesusastraan Indonesia Modern. Jakarta: Djambatan.
Faruk. 2007. Belenggu Pasca-Kolonial: Hegemoni dan Resistensi dalam Sastra Indonesia. Yogyakarta: Pustaka Pelajar.
Suprapto H.P. 1985. Pejuang-Pejuang Ulet di Lereng Sumbing. Jakarta. Balai Pustaka.
Mahayana, Maman S. 2012. Pengarang Tidak Mati: Peranan dan Kiprah Pengarang Indonesia. Bandung: Nuansa.
Rosidi, Ajip. 1964. Kapankah Kesusastraan Indonesia Lahir? Jakarta: Bhratara.
Soeroto, A. 1976. Pertempuran Ambarawa. Jakarta. Balai Pustaka.
Sunardiyanto, Muh. 1983. Lembah di Kaki Bukit. Jakarta: Balai Pustaka.
Sumardjo, Jakob. 1982. Novel Populer Indonesia. Yogyakarta: Nur Cahaya.
Wellek, Rene & Austin Warren. 1995. Teori Kesusastraan. Diterjemahkan oleh Melani Budianta. Jakarta: Gramedia.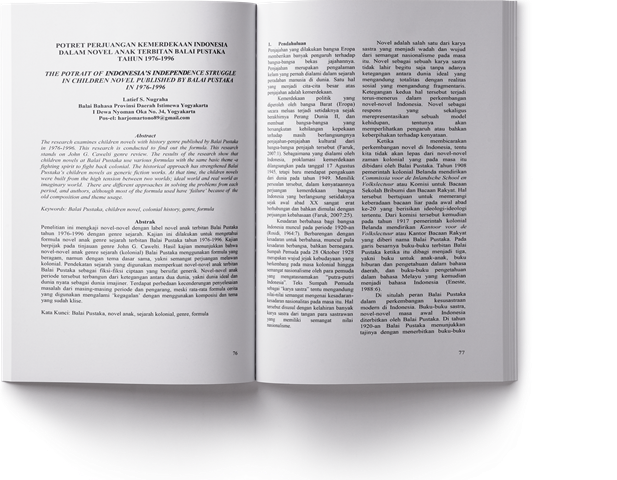 How to Cite
Nugraha, L. (2015). The Potrait of Indonesia's Independence Struggle in Children Novel Published by Balai Pustaka in 1976--1996. Gramatika: Jurnal Ilmiah Kebahasaan Dan Kesastraan, 3(1), 76-92. https://doi.org/10.31813/gramatika/3.1.2015.122.76--92
Copyright (c) 2015 Latief S. Nugraha
This work is licensed under a Creative Commons Attribution-NonCommercial-ShareAlike 4.0 International License.
The writer of published paper on Gramatika have agreed this following:
Article copyright still had by the author.
The author gives the first publication right of the article to Gramatika and its lisence onto Creative Commons Attribution License that allow other party to use or recitate the article but keep mention the name of original author and the first publication on Gramatika.
The author is allowed to republish the article that Gramatika have been published it before through separated contract deal due to non-exclusive distribution (ex: submitting in to institution repository or publishing onto a book) but still mention the first publication on Gramatika.
The author is allowed and recommended to distribute her/his papers to the virtual world (ex: in the institution repository or author's homepage) before or during the document consignment process because can support the productive exchange also an early and wide citation.
Every documents have been accepted should be attached with Copyright Submission Approval Form before article publication. Download the form here.