Language Expression as Social Criticism on Iwan Fals' Songs
Nurhayati Fokaaya

Kantor Bahasa Maluku Utara
Keywords:
language style, lyrics, criticism
Abstract
Iwan Fals' song lyrics are likely to present social realities. This is a way to express the criticism of injustice to the government. The research uses semantic theory to analyze Iwan Fals' lyrics of songs. The aim is to describe the meaning of social criticisms from those lyrics. The method is a qualitative method by using descriptive approach. The results of this study show social criticisms in the lyrics by Iwan Fals in the years of 1981--1995 describe the issues of corruption, law enforcement, poverty, unemployment, and collusion. to express them, the author uses the style of figurative language such as metaphor and personification. One of his criticisms can be seen in the lyrics, Tikus-tikur Kantor (1984), Galang Rambu Anarki (1981), Sarjana Muda (1981), Orang Pinggiran (1995), and Surat Buat Wakil Rakyat (1987).
Downloads
Download data is not yet available.
References
Agustina, Dadan Eva. 2004. "Vidio Klip Sebagai Interpestasi Lirik Lagu (Analisis Semiotik Lagu 'Ancur' yang di Nyanyikan oleh Iwan Fals)". Skripsi. Universitas Muhammadiayah Malang.
Aisah Siti. 2010. "Ungkapan Metaforis Lirik Lagu Remaja (Studi Kasus pada Lirik-lirik Lagu Iwan Fals)". Skripsi. Yogyakarta: Universitas Gadjah Mada Yogyakarta.
Aminuddin. 1990. Pengembangan Penelitian Kualitatif dalam Bidang Bahasa dan Sastra. Malang: Yayasan Asih Asuh.
Nagakawa. 2000. Musik dan Etimologi. Jakarta: Yayasan Obor Indonesia.
Fals, Iwan. 2007. Nyanyian Di Tengah Kegelapan. Yogyakarta: Penerbit Ombak.
http.// www.Iwan Fals.co.id, diakses tanggal 2 Desember 2014 .
http.//www.Iwan Fals Wikipedia-ensiklopedia bahasa Indonesia bebas.com, diakses 2 Desember 2014.
http://www.academia.edu/6488022/Makalah_Semantik, diakses tanggal 5 Desember 2014.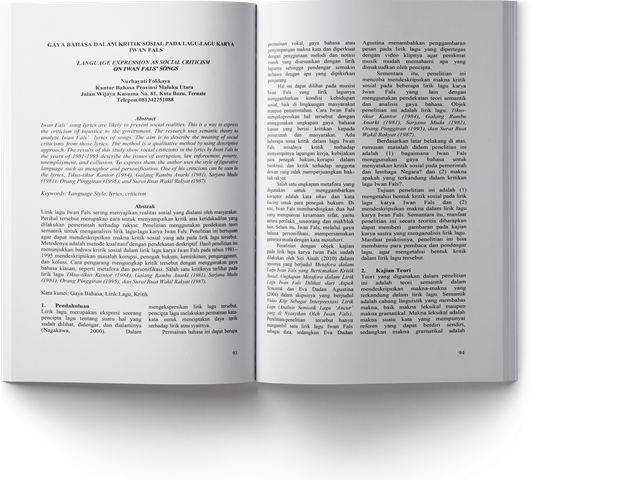 How to Cite
Fokaaya, N. (2015). Language Expression as Social Criticism on Iwan Fals' Songs. Gramatika: Jurnal Ilmiah Kebahasaan Dan Kesastraan, 3(1), 93-99. https://doi.org/10.31813/gramatika/3.1.2015.124.93--99
Copyright (c) 2015 Nurhayati Fokaaya
This work is licensed under a Creative Commons Attribution-NonCommercial-ShareAlike 4.0 International License.
The writer of published paper on Gramatika have agreed this following:
Article copyright still had by the author.
The author gives the first publication right of the article to Gramatika and its lisence onto Creative Commons Attribution License that allow other party to use or recitate the article but keep mention the name of original author and the first publication on Gramatika.
The author is allowed to republish the article that Gramatika have been published it before through separated contract deal due to non-exclusive distribution (ex: submitting in to institution repository or publishing onto a book) but still mention the first publication on Gramatika.
The author is allowed and recommended to distribute her/his papers to the virtual world (ex: in the institution repository or author's homepage) before or during the document consignment process because can support the productive exchange also an early and wide citation.
Every documents have been accepted should be attached with Copyright Submission Approval Form before article publication. Download the form here.