Deconstructing Four Innings Drama "Kejahatan Membalas Dendam" Idrus' Work
I Wayan Nitayadnya

Balai Bahasa Sulawesi Tengah
Keywords:
deconstruction, theme, characterization, binary opposition
Abstract
Four innings drama "Kejahatan Membalas Dendam." by Idrus has been widely reviewed by literary critics. The reviews have generated the meanings that have been conventionalized, especially in the aspects of characterization and theme. This research aims to uncover meanings behind meanings having been conventionalized or paradoxical meanings of aporia elements especially in characterization and theme of Idrus' work. Theory used to reveal the paradoxical meanings is the theory of deconstruction while the methods are literature study, analytic -descriptive, and narrative presentation. The results showed that conventionalized character described as traitor of the State actually is a great hero. He sincerely sacrificed his body and soul to meet the ideals of independence. The central theme of the drama is not to sacrifice for the country and nation, but is to get rid of the traitor of the state.
Downloads
Download data is not yet available.
References
Culler, Jonathan. 1977. The Pursuit Of Signs: Semiotics, Lieterature, Deconstruction. London: Routkedge and Kegan Paul.
Derida, Jacques. 1976. Of Gramatology. London: The John Hopkins University Press.
Idrus. 2010. Dari Ave Maria ke Jalan Menuju Roma. Jakarta: Pusat Bahasa.
Nazir. 1988. Metode Penelitian. Jakarta: Ghalia.
Nitayadnya, I Wayan. 2012. "Potret Ketertindasan Kaum Pribumi dalam Cerpen-Cerpen Karya Idrus pada Zaman Jepang." Metasastra, Volume 5, Nomor 2, Desember 2012. Bandung: Balai Bahasa Provinsi Jawa Barat.
—————. 2013. "Muatan Propaganda Politik Kolonial Jepang dalam Cerpen dan Drama Karya Idrus." Atavisme, Volume 5, Nomor 1, Juni 2013. Surabaya: Balai Bahasa Provinsi Jawa Timur.
Pradopo, Rahmat Djoko. 2001. Metode Penelitian Sastra. Yogyakarta: Hanindita Graha Widya.
Ratna, Kutha. 2004. Teori, Metode, dan Teknik Penelitian Sastra. Bandung: Angkasa.
Sarup, Madam. 2003. Postrukturalisme dan Posmodernisme: Sebuah Pengantar Kritis. Yogyakarta: Jendela.
Selden, Raman. 1986. A Reader's Guide to Contemporary Literature Theory. Sussex: The Harvester Press.
Turner, Victor W. 1969. Ritual Process: Structure and Anti-structure. New York: Cornell University Press.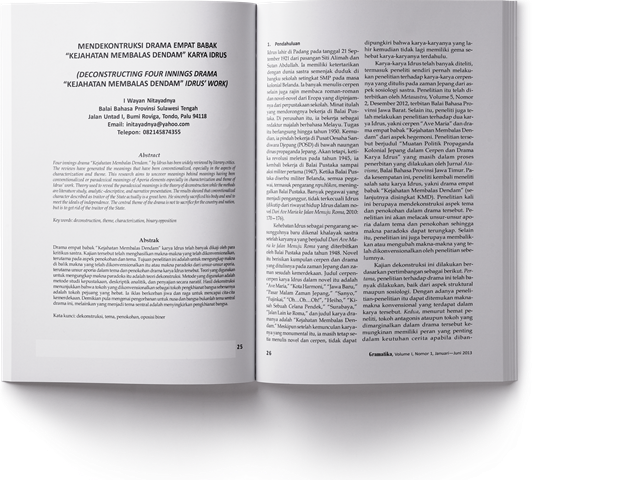 How to Cite
Nitayadnya, I. (2013). Deconstructing Four Innings Drama "Kejahatan Membalas Dendam" Idrus' Work. Gramatika: Jurnal Ilmiah Kebahasaan Dan Kesastraan, 1(1), 25-39. https://doi.org/10.31813/gramatika/1.1.2013.13.25--39
The writer of published paper on Gramatika have agreed this following:
Article copyright still had by the author.
The author gives the first publication right of the article to Gramatika and its lisence onto Creative Commons Attribution License that allow other party to use or recitate the article but keep mention the name of original author and the first publication on Gramatika.
The author is allowed to republish the article that Gramatika have been published it before through separated contract deal due to non-exclusive distribution (ex: submitting in to institution repository or publishing onto a book) but still mention the first publication on Gramatika.
The author is allowed and recommended to distribute her/his papers to the virtual world (ex: in the institution repository or author's homepage) before or during the document consignment process because can support the productive exchange also an early and wide citation.
Every documents have been accepted should be attached with Copyright Submission Approval Form before article publication. Download the form here.