Personality of Main Character in The Short Story Saga by Shantined from Short Story Collection Un Soir Du Paris: Psychoanalysis Studies
Tita Nurajeng Miyasari

Magister Ilmu Susastra, Fakultas Ilmu Budaya Universitas Diponegoro
Keywords:
psychoanalysis, main character, Saga
Abstract
This study analyzes the psychology of the main character in the short story Saga. The data used in this study is the short story Saga, written by Shantined. Theory used in this study is the theory of psychoanalysis by Sigmund Freud. The method used is known as descriptive analytical method. The purpose of this study is to describe the personality of the main character from the aspect of id, ego, and superego. The results of this study states that id and ego are the most active role to fulfill the sexual desire of the main character. However, superego has not worked perfectly to control or hamper the workings of id and ego of the main character. The main character in this short story has a psychological imbalance because of her homosexual behavior and desire
Downloads
Download data is not yet available.
References
Adam. 2012. Arti Id, Ego dan Superego. http://tugaspersonality.blogspot.co.id/2012/11/arti-id-ego-dan-superego.html (diakses pada tanggal 21 Desember 2017 pukul 21.00).
Amalia, Nuriyah. 2014. "Analisis Tokoh Gambir dalam Novel Pintu Terlarang: Sebuah Tinjauan Psikologi Sastra". Program Sarjana Universitas Indonesia Depok.
Anshari, Hafi. 1996. Kamus Psikologi. Surabaya : Usaha Nasional.
Bertens, K. 2006. Psikoanalisis Sigmund Freud. Jakarta: Gramedia Pustaka Utama.
Budianta, Melani, dkk. 2008. Membaca Sastra: Pengantar Memahami Sastra Untuk Perguruan Tinggi (Cet. Ke-4). Magelang: Indonesiatera.
Departemen Pendidikan Nasional. 2008. Kamus Besar Bahasa Indonesia Pusat Bahasa. Jakarta: PT Gramedia Pustaka Utama.
Ferdinand, Zaviera. 2008. Teori Kepribadian Sigmund Freud. Yogyakarta: Prisma Sophie.
Kurniawan, Anton. 2016. Sejarah Singkat LGBT (Lesbi, Gay, Biseksual, dan Transgender). http://antonkurniawan31.blogspot.co.id/2016/02/sejarah-singkat-lgbt-lesbi.html. (diakses pada tanggal 21 Desember 2017 pukul 21.15).
Ikawati, Kartika. 2015. Kilas Balik 3 Dekade Organisasi LGBT Indonesia bersama Dede Oetomo. https://www.rappler.com/world/regions/asia-pacific/indonesia/85710-3-dekade-lgbt-indonesia-dede-oetomo. (diakses pada tanggal 22 Desember 2017 pukul 18.00).
JP. 2008. "Seksualitas Lesbian". Jurnal Perempuan edisi 58. Jakarta: Yayasan Jurnal Perempuan.
Minderop, Albertine. 2010. Psikologi Sastra. Jakarta: Yayasan Pustaka Obor Indonesia.
Novrita, Misra dan M. Hendri. 2017. "Kajian Psikoanalisis dalam Novel Pria Terakhir Karya Gusnaldi". Jurnal Pendidikan Rokania Vol. II (No. 1/2017): 79 – 89. Riau: STKIP Rokania
Rokhmansyah, Alfian. 2013. Studi dan Pengkajian Sastra. Malang: Graha Ilmu.
Rusli, Hetih. 2017. Menuju Kematian Fiksi LGBT. https://jurnalruang.com/read/1496220414-menuju-kematian-fiksi-lgbt. (diakses pada tanggal 22 Desember 2017 pukul 18.10).
Semi, M Atar. 1993. Metode Penelitian Sastra. Bandung: Angkasa.
Shadily, Hassan, 1989. Ensiklopedi Umum. Jakarta: Yayasan Kanisius.
Siswantoro, 2005. Metode Penelitian Sastra : Analisis Psikologi. Surakarta: Muhammadiyah Universitas Press.
Susilandari, E. 2009. "Living as lesbian in Indonesia: Survival Strategies and Challenges in Yogyakarta". Program Pascasarjana Universitas Gadjah Mada Yogyakarta.
Suryabrata, Sumadi. 2005. Psikologi Kepribadian. Jakarta: PT Raja Grafindo Persada.
Tuloli, Nani, 2000. Teori Fiksi. Gorontalo: BMT Nurul Jannah.
Wellek, R., & Warren, A. 2014. Teori Kesusastraan. Jakarta: Gramedia.
Wicaksono, Andri. 2009. Pengkajian Prosa Fiksi. Surakarta: Garudha.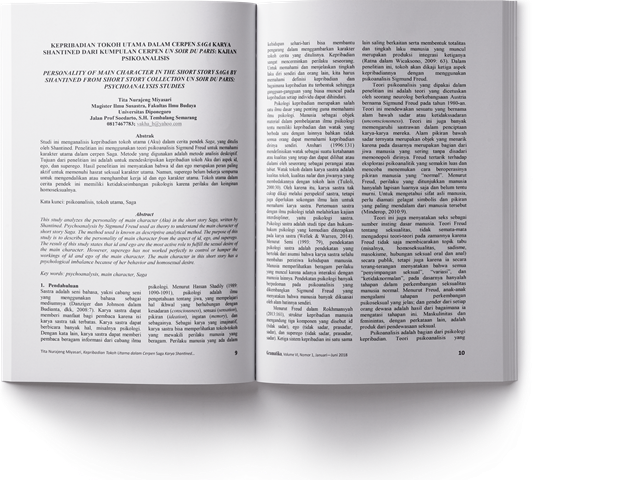 How to Cite
Miyasari, T. (2018). Personality of Main Character in The Short Story Saga by Shantined from Short Story Collection Un Soir Du Paris: Psychoanalysis Studies. Gramatika: Jurnal Ilmiah Kebahasaan Dan Kesastraan, 6(1), 9-20. https://doi.org/10.31813/gramatika/6.1.2018.131.9--20
Copyright (c) 2018 Tita Nurajeng Miyasari
This work is licensed under a Creative Commons Attribution-NonCommercial-ShareAlike 4.0 International License.
The writer of published paper on Gramatika have agreed this following:
Article copyright still had by the author.
The author gives the first publication right of the article to Gramatika and its lisence onto Creative Commons Attribution License that allow other party to use or recitate the article but keep mention the name of original author and the first publication on Gramatika.
The author is allowed to republish the article that Gramatika have been published it before through separated contract deal due to non-exclusive distribution (ex: submitting in to institution repository or publishing onto a book) but still mention the first publication on Gramatika.
The author is allowed and recommended to distribute her/his papers to the virtual world (ex: in the institution repository or author's homepage) before or during the document consignment process because can support the productive exchange also an early and wide citation.
Every documents have been accepted should be attached with Copyright Submission Approval Form before article publication. Download the form here.