Inaccuracies of Writing Sentence in Teacher's Scientific Writing Paper in Yogyakarta
Nanik Sumarsi

Balai Bahasa Daerah Istimewa Yogyakarta
Keywords:
inaccuracies, sentences, scientific papers
Abstract
This study aims to discuss inaccuracies of writing sentence in senior high school teacher's scientific writing paper in Yogyakarta and correctness of error sentences that occur in the scientific paper. Principlly, this study is based on qualitative descriptive method. Data analysis is done with following steps. The first step is reading the KTIG (Teacher's scientific writing paper) script and collecting error data (sentence error). Then, the next step is identifying types of errors, such as the buildup of ideas, ambiguity of sentences, redundancies, and illogical sentences. Once the data is identified, the next step is explaining why an error occurrs. The last step is giving correctness of sentence error. Based on the analyzed data, the lack of sentence writing accuracy in Teacher's  scientific writing paper is caused by (1) the accumulation of ideas, (2) ambiguity of structure and ideas, (3) absence of main sentence, (4) superfluousness, (5) redundancy, illogical sentences, (7) sentence without predicate and dangling sentence, and (8) ineffectiveness due to pragmatic aspects.
Downloads
Download data is not yet available.
References
Apandi, Idris. 2015.Saya Guru Saya Bisa Menulis. Bandung: CV SMILE'S Indonesia Institute.
Arifin, E. Zaenal dan S. Amran Tassai. 2008. Cermat Berbahasa Indonesia. Jakarta: Akademika Pressindo.
Ayuma, Wiwik Yuni. 2012. "Konstruksi Sintaksis pada Wacana Tulis di Lembaga Kepolisian Polres Tulang Bawang Lampung". Skripsi. Tidak diterbitkan. Yogyakarta: Universitas Negeri Yogyakarta.
Baryadi, I. Praptomo. 2001. "Penentuan Dasar-Dasar Substansi Wacana". Makalah yang disajikan pada acara Pencerapan Ilmu bagi Peneliti Balai Bahasa Yogyakarta, yang diselenggarakan pada tanggal 9 Mei 2001.
Corder, S.P. 1974. Error Analysis, In Allen, J.L.P. and Corder, S.P. (1974). Techniques in Applied Linguistics. Oxford: Oxford University Press.
Istinganah, Nurul. 2012. "Analisis Kesalahan Sintaksis pada Karangan Narasi Ekspositoris Siswa Kelas VIII SMP 1 Banguntapan, Bantul, Yogyakarta". Skripsi. Tidak diterbitkan. Yogyakarta: Universitas Negeri Yogyakarta.
Keraf, Gorys. 1977. Komposisi : Sebuah Pengantar kepada Kemahiran Bahasa. Ende-Flores: Penerbit Nusa Indah-Percetakana Arnoldus.
Kuntarti, Anggit. 2015. "Analisis Kesalahan Kalimat pada Skripsi Mahasiswa Prodi Bahasa dan Sastra Indonesia Fakultas Bahasa dan Seni UNY". Skripsi. Tidakditerbitkan. Yogyakarta: Universitas Negeri Yogyakarta.
Parera, J. D. 1997. Linguistik Edukasional: Metodologi Pembelajaran Bahasa,Analisis Kontrastif Antarbahasa, Analisis Kesalahan Berbahasa. Jakarta:Penerbit Erlangga.
Pranowo, dkk. 1996. Teknik Menulis Makalah. Yogyakarta: Pustaka Pelajar Offset.
Ruddyanto, C. dkk. 2008. Pedoman Penulisan Karya Ilmiah. Jakarta: Balai Bahasa Denpasar, Departemen Pendidikan Nasional.
Samsuri. 1987. Analisis Bahasa: Memahami Bahasa Secara Ilmiah. Jakarta:Penerbit Erlangga.
Setyawati, Nanik. 2013. Analisis Kesalahan Berbahasa Indonesia (Teori dan Praktik. Surakarta:Yuma Pustaka.
Sirait, Bistok, dkk. 1985. Pedoman Karang-Mengarang. Jakarta: Pusat
Sudaryanto. 1993. Metode dan Aneka Teknik Analisis Bahasa: Pengantar Penelitian Wahana Kebudayaan Secara Lingual. Yogyakarta: Duta Wacana University Press.
Sugono, Dendy. 2000. "Struktur Kalimat Bahasa Indonesia: Penerapan dan Pemasyarakatannya" dalam Bahasa Indonesia dalam Era Globalisasi hal 232—238.Jakarta: Pusat Pembinaan dan Pengembangan Bahasa, Depdiknas.
Tarigan, Henry Guntur. 1984. Menulis Sebagai Suatu Keterampilan Berbahasa. Bandung: Angkasa.
The Liang Gie. 1995. Pengantar Dunia Karang-Mengarang. (cetakan ke-2). Yogyakarta: Liberty.
Tim Penyusun Pusat Bahasa. 2008. Kamus Besar Bahasa Indonesia. Edisi IV. Jakarta: Penerbit Gramedia Pustaka Utama.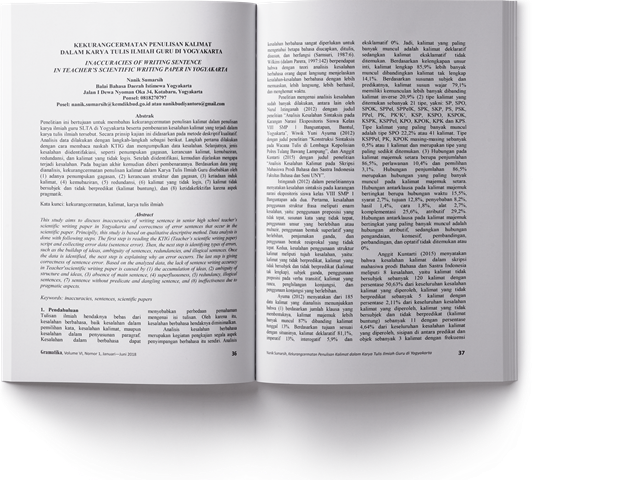 How to Cite
Sumarsi, N. (2018). Inaccuracies of Writing Sentence in Teacher's Scientific Writing Paper in Yogyakarta. Gramatika: Jurnal Ilmiah Kebahasaan Dan Kesastraan, 6(1), 36-48. https://doi.org/10.31813/gramatika/6.1.2018.133.36--48
Copyright (c) 2018 Nanik Sumarsi
This work is licensed under a Creative Commons Attribution-NonCommercial-ShareAlike 4.0 International License.
The writer of published paper on Gramatika have agreed this following:
Article copyright still had by the author.
The author gives the first publication right of the article to Gramatika and its lisence onto Creative Commons Attribution License that allow other party to use or recitate the article but keep mention the name of original author and the first publication on Gramatika.
The author is allowed to republish the article that Gramatika have been published it before through separated contract deal due to non-exclusive distribution (ex: submitting in to institution repository or publishing onto a book) but still mention the first publication on Gramatika.
The author is allowed and recommended to distribute her/his papers to the virtual world (ex: in the institution repository or author's homepage) before or during the document consignment process because can support the productive exchange also an early and wide citation.
Every documents have been accepted should be attached with Copyright Submission Approval Form before article publication. Download the form here.