Language Essence in Structural Study
Masayu Gay

STKIP Kie Raha Ternate
Keywords:
The essence of structuralist language, Saussure, Hjemslev, Bloomfiled
Abstract
This paper is the result of linguist conceptual studies that are adapted from various references and elaborated. The review is restricted to structural and not afterwards, and uses literature review. The thinking concept review is done descriptively. Beginning with Saussure, language as a form, encompasses three things (1) form-content, namely the classification of the mind and objects / objects, (2) the expression-form, ie the abstract grouping or the shadow of the sounds and forms of language . (3) content-expression, is the formation of both. The contents of this dichotomy, both on the epistemological level and its axiology. Hjemslev describes the form-content as a factor of the common sign for different languages: the form-content is seen as a type of 'meaning' which can be used as a basis for comparing different marks in differentlanguages. The forms are defined only in relation to the function of the sign, such as content-expression. The forms are forms that coincide with the form-expression, and are units that function as signs in language. From the point of view of intent, the form of content is arbitrary. Hjemslev developed the concept of sign and sign relationships. Bloomfield departs from a view of behaviorism, so that human speech can be explained by its external conditions with the mechanism. The essence of language as an expression-form looks very radical. Bloomfield builds empirical language on substance. The essence of language is the reality of the empirical structure as a means of human expression.
Downloads
Download data is not yet available.
References
Alwasilah, Chaedar, A. 2011. Beberapa Mazhab dan Dikotomi Teori Linguistik: Edisi Revisi. Angkasa: Bandung.
Alwasilah Chaedar. 2011. Beberapa Madzab dan Dikotomi Teori Linguistik. Angkasa; Bandung.
Bloomfield, Leonardo. 1995. Bahasa. (Judul asli: Language). Diterjemahkan oleh I Sutikno. Jakarta: Gramedia Pustaka Utama.
Chao, Y. R. 1968. Language and symbolic systems. CUP Archive.
Chaer, Abdul. 2012. Linguistik Umum. Jakarta:Rineke Cipta.
Davis, Steven. 1976. Philosophy and Language. The Bobbs Merrill Company, Inc., United States of America.
Hidayat, Ahmad A. 2016. Fisafat Bahasa. PT Remaja Rosda Karya: Bandung.
Hjelmslev, L. 1963. Prolegomena to A Theory of Language (terjemahan Francis J. Whitfield). Madison: University of Wisconsin Press.
Hidayat, A. A. 2016. Fisafat Bahasa. Bandung: Remaja Rosda Karya.
Kaelan. 2002. Filsafat Bahasa: Realitas Bahasa, Logika Bahasa, Hermeneutika, dan Postmodernisme. Yogyakarta: Paradigma.
Kaelan, M.S. 2004. "Filsafat Analitis Menurut Ludwig Wittgenstein". Humaniora Vol. 16 No. 2, 133-146.
Lyons, John. 1995. Linguistic Semantic. Combridge, New York: University Press.
Lubis, M.Solly. 1994. Filsafat Ilmu dan Penelitian. Bandung: Mandar Maju.
Mackey, WF. 1965. Interferensi dua bahasa: Analisis dan pengukurannya. Jurnal Komunikasi , 15 (4), 239-249.
Kaelan. 2000. Filsafat Bahasa Semiotika dan Hermeneutika. Sleman: Yogyakarta.
Santoso, Riyadi. 2003. Semiotika Sosial: Pandangan terhadap Bahasa. Pustaka Eureka: Surabaya.
Saussure, de Ferdinand. 1993. Pengantar Linguistik Umum (judul asli: Cours De Linguistique Generale). Diterjemahkan oleh Rahayu S. Hidayat. Yogyakarta: Gajah Mada University Press.
Soeparno. 2002. Dasar-dasar Linguistik Umum. Yogyakarta: Tiara Wacana Yogya.
-------------. 2013. Dasar-dasar Linguitik Umum (Edisi Revisi). Yogyakarta: Tiara Wacana.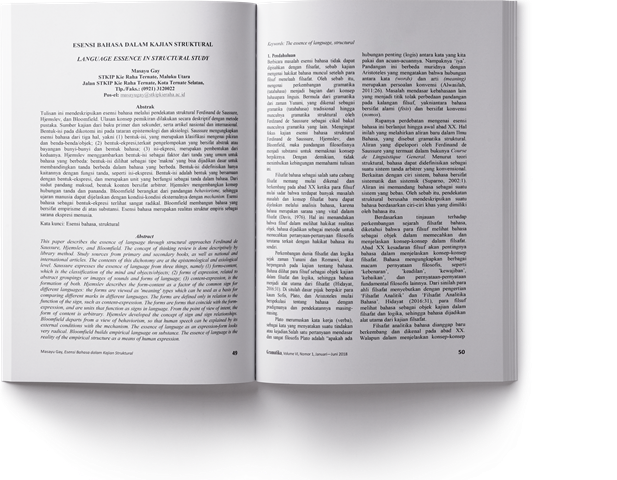 How to Cite
Gay, M. (2018). Language Essence in Structural Study. Gramatika: Jurnal Ilmiah Kebahasaan Dan Kesastraan, 6(1), 49-60. https://doi.org/10.31813/gramatika/6.1.2018.134.49--60
Copyright (c) 2018 Masayu gay
This work is licensed under a Creative Commons Attribution-NonCommercial-ShareAlike 4.0 International License.
The writer of published paper on Gramatika have agreed this following:
Article copyright still had by the author.
The author gives the first publication right of the article to Gramatika and its lisence onto Creative Commons Attribution License that allow other party to use or recitate the article but keep mention the name of original author and the first publication on Gramatika.
The author is allowed to republish the article that Gramatika have been published it before through separated contract deal due to non-exclusive distribution (ex: submitting in to institution repository or publishing onto a book) but still mention the first publication on Gramatika.
The author is allowed and recommended to distribute her/his papers to the virtual world (ex: in the institution repository or author's homepage) before or during the document consignment process because can support the productive exchange also an early and wide citation.
Every documents have been accepted should be attached with Copyright Submission Approval Form before article publication. Download the form here.