Types and Language Power of One of Bentoel Cigarette Year 1970s: Pragmatic Discourse Analysis
Rissari Yayuk

Balai Bahasa Kalimantan Selatan
Keywords:
language power, advertising, pragmatic discourse
Abstract
Discourse of advertising consists of text and context. This text and context depend on the purpose of the advertising being created. Text and context will show the type and power of an advertising. The problem of this research is, what kind of discourse one of Bentoel advertising of the 1970s? How is the language power one of Bentoel advertising in the 1970s? The purpose of this study is to describe the type of discourse and the language power one of Bentoel advertising the 1970s. This research is a qualitative research with descriptive method. Source of data from within old advertising: blogspot. co. id link. on Friday, February 9, 2018, 04. 22 o'clock. Technique of taking data is library technique and record. Data analysis is content analysis by presenting the description method. Basic theory is study of pragmatic discourse. The results showed that this type of discourse of one of the Bentoel advertising in the 1970s included persuasion. Furthermore, the power of language consists of linguistic, pragmatic, and nonlinguistic aspects.
Downloads
Download data is not yet available.
References
Amstrong,dkk. 2008. Prinsip-prinsip Pemasaran. Jakarta: Erlangga.
Chaer, Abdul dan Agustina. 1995. Sosiolinguistik: Perkenalan Awal. Jakarta: Rineka Cipta.
-------------------. 2008. Kamus Linguistik. Jakarta: Gramedia.
-------------------. 2010. Kesantunan Berbahasa. Jakarta: Rineka.
Darma, Aliah Yoce. 2014. Analisis Wacana Kritis. Bandung: Yrama Widya
Jumadi. 2006. Representasi Kekuasaan. Jakarta. Pusat Bahasa
Jumanto. 2017. Dunia Linguistik Tidak Selebar Daun Kelor. Jakarta: Gramedia.
Kasali, Rhenald.1995 Manajemen Periklanan. Jakarta: Pustaka Grafiti,
Kridalaksana, Harimurti. 1993. Kamus Linguistik. Jakarta: Gramedia.
Machfoedz, Mahmud. 2010. Komunikasi Pemasaran,Yogyakarta;Cakra Ilmu.
Mulyawan, I Wayan. 2010. Hipersemiotika Periklanan. Denpasar: Udayana University Press.
Nurjamilly, Wa Ode. 2015. Peribahasa Indonesia dalam Lingkungan Keluarga. (Kajian Sosiopragmatik). Jurnal humanika . Vol. 3. No. 5. Desember 2015.
Patricia, Nidya Triastuti. 2012. Nilai-nilai Budi Pekerti dalam Fabel Banjar. Banjarbaru: Balai Bahasa Provinsi Kalimantan Selatan
Pranowo. 2012. Berbahasa Secara Santun. Yogyakarta: Pustaka Pelajar.
Purwaningwulan Melly, Maulin, 2012. "Fenomena Iklan Rokok Sampoerna A mild dalam Perspektif Semiotik komunikasi". Vol. . 5. No. 1. Majalah Ilmiah Unikom. Oktober 2012
Qadtratilah, Mety Takdir. Tesaurus Bahasa Indonesia. 2009. Jakarta Badan Pendidikan dan Kebudayaan
Rani, Abdul, dkk. 2004. Analisis Wacana. Malang: Bayu Media Publishing.
Ratna, Nyoman K. 2011. Teori, Metode, dan Teknik Penelitian Sastra. Yogyakarta: Pustaka Pelajar
Sa'diyah, Chalimatus, dkk. 2011. "Analisis Simbol Iklan Rokok Dji Sam Soe Gold Edisi Harum dan Mantap" Jurnal Ilmu Komunikasi. Vol 1. No. 2. Oktober 2011.
Sudaryat, Yayat. 2009. Makna dalam wacana. Bandung: Yrama Widya.
Sudaryat, Ndang, dkk. (1985). Ringkasan Bahasa Indonesia. Jakarta: Geneca Exact Bandung.
Sugono, D. , dkk. 2008. KBBI edisi keempat. Jakarta: PT Gramedia Pustaka Utama.
Sumiyardana, Kustri. 2013. Bentuk dan Bahasa Iklan dalam Majalah Jawa Tahun 30-an. Jurnal Jala Bahasa. Vol. 9. . No. 2. November 2013.
Tiptono, Fandy. 2005. Pemasaran Jasa. Malang: Bayu Media Publising.
Triandjodo, Indriani. 2008. Semiotika Iklan Mobil di Media Cetak Indonesia. Dalam tesis. Program Pasca Sarjana Universitas Diponegoro, Semarang.
Yulianto, Fajar Eko. 2010. "Diksi dan Gaya Bahasa Wacana Iklan pada Majalah Cita Cinta Bulan Desember 2009- Februari 2010". Skripsi UMS: Surakarta.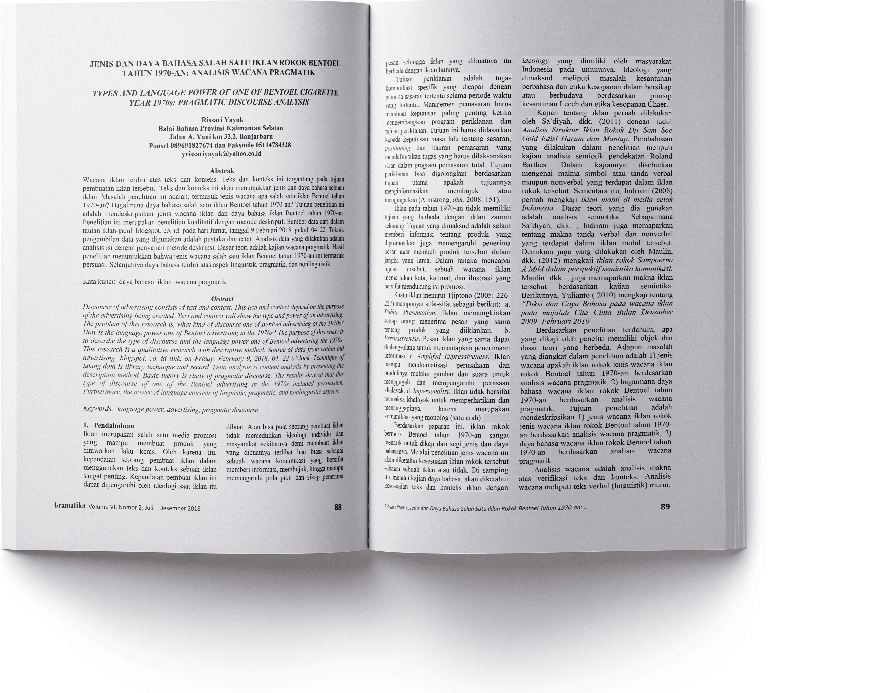 How to Cite
Yayuk, R. (2018). Types and Language Power of One of Bentoel Cigarette Year 1970s: Pragmatic Discourse Analysis. Gramatika: Jurnal Ilmiah Kebahasaan Dan Kesastraan, 6(2), 88-99. https://doi.org/10.31813/gramatika/6.2.2018.141.88--99
Copyright (c) 2018 Rissari Yayuk
This work is licensed under a Creative Commons Attribution-NonCommercial-ShareAlike 4.0 International License.
The writer of published paper on Gramatika have agreed this following:
Article copyright still had by the author.
The author gives the first publication right of the article to Gramatika and its lisence onto Creative Commons Attribution License that allow other party to use or recitate the article but keep mention the name of original author and the first publication on Gramatika.
The author is allowed to republish the article that Gramatika have been published it before through separated contract deal due to non-exclusive distribution (ex: submitting in to institution repository or publishing onto a book) but still mention the first publication on Gramatika.
The author is allowed and recommended to distribute her/his papers to the virtual world (ex: in the institution repository or author's homepage) before or during the document consignment process because can support the productive exchange also an early and wide citation.
Every documents have been accepted should be attached with Copyright Submission Approval Form before article publication. Download the form here.