Political Conflict in Hanum Novel: Critical Discourse Analysis
Feni M. Muksin

Universitas Khairun Ternate
Keywords:
political conflict, Hanum novel, critical discourse analysis
Abstract
In general, this study focused on political conflict in the Hanum novel by Mustofa W. Hasyim due to the practice of power. The focus of this research is elaborated into three, namely (1) the power practice in the legal sector, (2) the power practice in the economic sector, and (3) the power practice in the cultural sector. Its aim is to reveal political conflicts due to the practice of power in the novel. The type of research is qualitative with Norman Fairclough's critical discourse analysis approach. The political conflict in Hanum's novel arose due to the practice of power in the legal, economic and cultural sectors. Its appears as experiential, relational, and expressive values in the text and participants. The participants demonstrate beliefs, social identity, and social relations through the use of declarative and interrogative sentences and the use of metaphors.
Downloads
Download data is not yet available.
References
Abadi, H. S. 2017. Kekuasaan Seksualitas dalam Novel: Perspektif Analisis Wacana Kritis Michel Foucault. Belajar Bahasa, 2(2).
Bahasa, P. 2010. Kendali Interaksional Sebagai Cerminan Ideologi: Analisis Wacana Kritis Trilogi Drama Opera Kecoa. Masyarakat Linguistik Indonesia, 11.
Budiwati, T. R. 2011. Representasi Wacana Gender dalam Ungkapan Berbahasa Indonesia dan Bahasa Inggris: Analisis Wacana Kritis. Jurnal Kawistara, 1(3).
Creswll. J. W. 2014. Research Design: Pendekatan Kualitatif, Kuantitatif, dan Mixed. Jakarta: Pustaka Pelajar.
Creswll. J. W., Miller, D.L. 2000. Determining Validity in Qualitative Inquiry. Theory Pract. 39, 124–130. Canada: Canadian Publication.
Darma A. Yoce. Analisis Wacana Kritis dalam Multiperspektif. Bandung: PT Rfaika Aditama.
Djatmiko, Yayat Hayati. 2008. Perilaku Organisasi. Bandung: Alfabeta.
Fairclough, N. 1989. Language and Power: Relasi Bahasa, Kekuasaan dan Ideologi. Terjemahan oleh Indah Rohmani. 2003. Malang: Boyan Publishing.
-------------------. 1995. Critical Discource Analysis: Critical Study of Language. New York: Longman Group UK Ltd.
-------------------. 1995. Kesadaran Bahasa Kritis. Terjemahan Hartoyo. Semarang: IKIP Semarang Press.
Februana, Ngalim. 1994. "Konflik Sosial dan Politik dalam Novel Nyali Karya Putu Wijaya: Sebuah Tinjauan Sosiologi Sastra".(Skripsi). Fakultas Sastra, Universitas Gadjah Mada.
Hasyim M.W. 2009. Hanum. Jakarta: Republika.
Jorgensen, M. & Phillips, L. 2002. Discourse Analysis as Theory and Method. London: SAGE Publications Ltd.
MM, J. 2009. Sejarah Sastra adalah Sejarah Sebuah Bangsa: Ketika Yogyakarta Menjadi Indonesia.
Noor, M, Rohinah. 2011. Pendidikan Karakter Berbasis Sastra: Solusi Pendidikan Moral Yang Efektif. Jogjakarta: Ar- Ruzz Media.
Nurgiyantoro, Burhan. 2017. Stilistika. Yogyakarta: Gadjah Mada University Press.
Putri, M. E., dkk., 2013. Ideologi Tokoh Utama (Wanita) dan Tokoh Tambahan dalam Novel Hanum Karya Mustofa WH. Pendidikan Bahasa dan Sastra Indonesia, 1(2), 506-512.
Rahardjo S. 2008. Biarkan Hukum Mengalir. Jakarta: Buku Kompas.
Rohman A. 2009. Politik Pendidikan. Yogyakarta: Laks Bang Media Utama.
Santoso, A. 2012. Studi Bahasa Kritis: Menguak Bahasa Membongkar Kuasa. Bandung: Mandar Maju.
Setiyanti, A. 2017. Konflik Sosial pada Tokoh Utama dalam novel I Am Malala Karya Christina Lamb. Bahtera : Jurnal Pendidikan Bahasa dan Sastra, 14(2), 103. https://doi.org/10.21009/BAHTERA.142.01
Sipayung, M. E. 2016. Konflik Sosial dalam Novel Maryam karya Okky Madasari: Kajian Sosiologi Sastra. Sintesis, 10(1), 22-34.
Soekanto, Soejono. 2007. Sosiologi Suatu Pengantar. Jakarta: Rajawali Press.
Soekanto, Soerjono. 1990. Sosiologi Suatu Pengantar. Jakarta: Rajawali Press.
Tololi, Nani. 2000. Kajian Sastra. Gorontalo: Nurul Jannah.
Wardani, IG. A. K. 1981. Pengajaran Apresiasi Prosa. Jakarta: Depdiknas.
Weiss G. dan Wodak, R. (ed). 2003. Critical Discourse Analysis. London: University Press.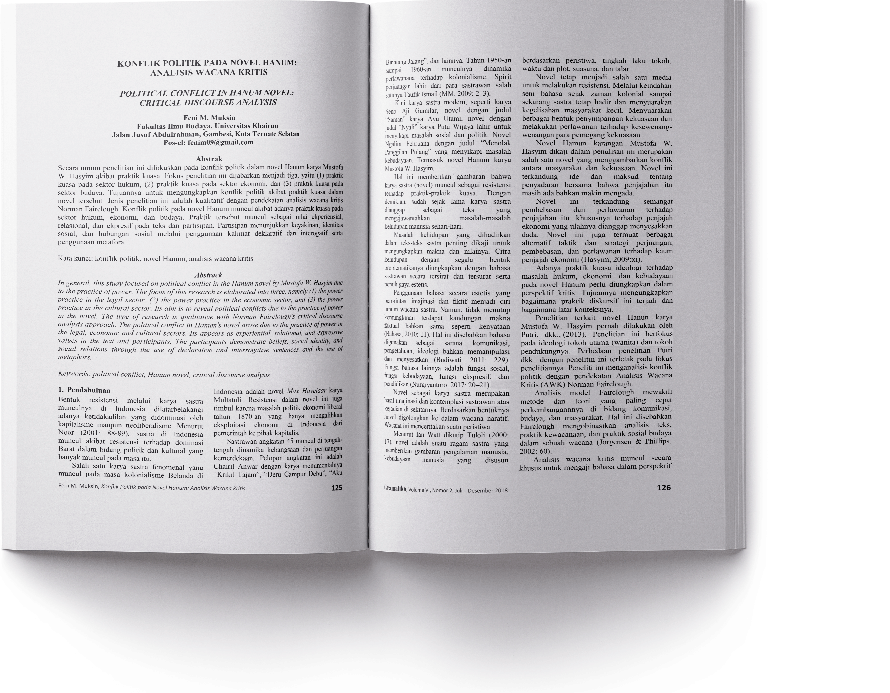 How to Cite
Muksin, F. (2018). Political Conflict in Hanum Novel: Critical Discourse Analysis. Gramatika: Jurnal Ilmiah Kebahasaan Dan Kesastraan, 6(2), 125-136. https://doi.org/10.31813/gramatika/6.2.2018.152.125--136
Copyright (c) 2018 Feni M. Muksin
This work is licensed under a Creative Commons Attribution-NonCommercial-ShareAlike 4.0 International License.
The writer of published paper on Gramatika have agreed this following:
Article copyright still had by the author.
The author gives the first publication right of the article to Gramatika and its lisence onto Creative Commons Attribution License that allow other party to use or recitate the article but keep mention the name of original author and the first publication on Gramatika.
The author is allowed to republish the article that Gramatika have been published it before through separated contract deal due to non-exclusive distribution (ex: submitting in to institution repository or publishing onto a book) but still mention the first publication on Gramatika.
The author is allowed and recommended to distribute her/his papers to the virtual world (ex: in the institution repository or author's homepage) before or during the document consignment process because can support the productive exchange also an early and wide citation.
Every documents have been accepted should be attached with Copyright Submission Approval Form before article publication. Download the form here.