Indonesia Languages of Geographical Languages and Dialect in Southeast Sulawesi: Analysis of Dialectometry
Susiati Susiati

Universitas Iqra Buru

Risman Iye

Universitas Iqra Buru
Keywords:
language, geography, dialectometry
Abstract
The language uniqueness of each region shows an identity of its region, so it is important to do a study that can clearly show its uniqueness. This study aims to describe the phenomenon of language usage in several vernaculars ​​in Southeast Sulawesi by applying a triangular dialectometry analysis. The instrument of this research uses dialectometry approach. Data collection methods uses a method of field fucking (direct field method). Data of this research is analyzed by using triangle dialectomentry method. This method uses the numbers as a basis for sorting. The results showed that the overall observation point that analyzed by using dialectometry, entered in the four formulation categories, namely the formulation below 20% (no language and dialect differences, ie between the Wakatobi language Kaledupa dialect and Tomia dialect), formulation 31-50% (the difference subdilek, that is between Pancana Language and Kioko Language), formulation 51-80% (dialect difference, ie between the Wakatobi language, Tomia dialect and Pancana language; Pancana language and Wakatobi language, Kaledupa dialect; Kioko language and Wakatobi language, Tomia dialect; Wakatobi language, Tomia dialect and Cia-Cia; Cia-Cia Language and Kioko Language; Kioko Language and Tolaki Language), and formulations 81 and above (language differences, between Tolaki and Cia-Cia languages).
Downloads
Download data is not yet available.
References
Ayatrohaedi. 1979. Dialektologi, Sebuah Pengantar. Jakarta: Pusat Pembinaan dan Pengembangan Bahasa. 1985. Bahasa Sunda di Daerah Cirebon: Sebuah Kajian Lokabasa. Jakarta: Balai Pustaka.
Bust, R.A. 1977. "The Proto-Austronesian Pronoun and Austronesian Subgrouping, A Prelimeminary Report". Working Paper In Linguistics. Hawaii, 9(2): 1-15.
Esser, S. J. 1983. Languages. Atlas van Tropisch Nederland, sheet 9, 9b. Amsterdam: Koninklijk Nederlandsch Aardrijkskundig Genootschap.
Fernandez, Inyo Yos. 1993. Dialektologi Sinkronis dan Diakronis Sebuah Pengantar. Yogyakarta: UGM.
Guiter, Hendri. 1973. "Atlas et Frontiere Linguistique". Les Dialectes Romas de France No. 30. Paris. Centre National de la Recherche Scientefique.
Kridalaksana, Harimurti. 2008. Kamus Linguistik. Jakarta: PT. Gramedia Pustaka Utama.
Lauder, Multamia R. M. T. 2001. Pemetaan dan Distribusi Bahasa-Bahasa di Tanggerang. Jakarta: Pustaka Bahasa Jakarta.
Marafad, La Ode Sidu. 2001. "Pengelompokkan Genetis Bahasa-bahasa di Sulawesi Tenggara". Laporan Penelitian. Jakarta: Pusat Pengembangan dan Pembinaan Bahasa, Departemen Pendidikan Indonesia.
Nothofer, Bernd. 1980. Dialectgeographische Untersuchengen du in West-Java und im Westichen Zentral-Java. Dua Jilid. Wiesbaden: Horrossowitz.
Wacana, Gitit I. P. 2013. "Relasi Kekerabatan Bahasa-bahasa di Kabupaten Poso". Jurnal Kependidikan. Vol. 6, No. 1, Juli.
Yatim, Nurdin dan Hamzah Machmoed. (2007). "Distribusi Bahasa Duri dan Bahasa Toraja: Suatu Analisis Geografis Dialek". Jurnal Ilmiah Masyarakat Linguistik Indonesia. Tahun ke 25, No. 1, Februari.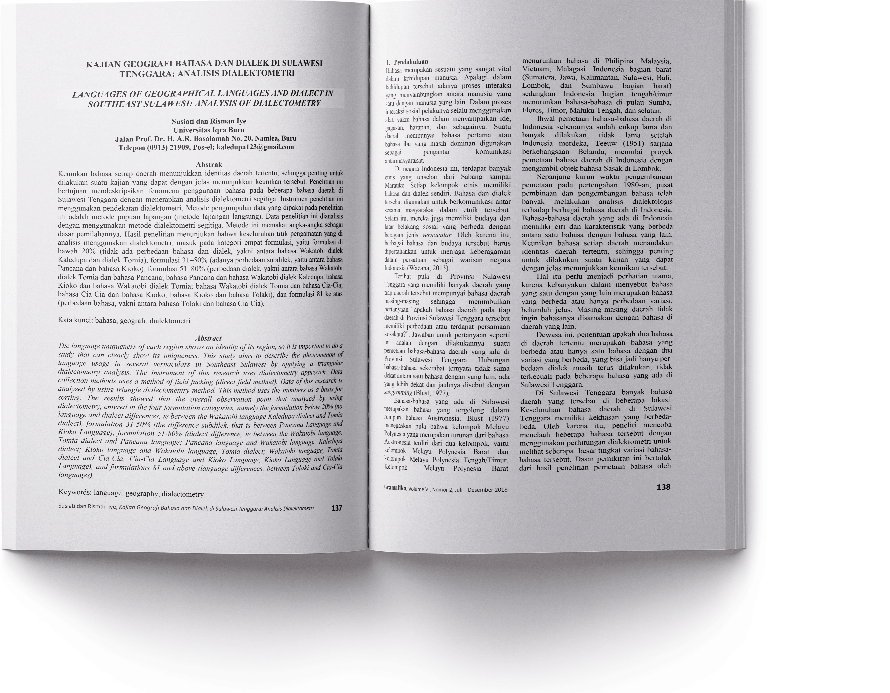 How to Cite
Susiati, S., & Iye, R. (2018). Indonesia Languages of Geographical Languages and Dialect in Southeast Sulawesi: Analysis of Dialectometry. Gramatika: Jurnal Ilmiah Kebahasaan Dan Kesastraan, 6(2), 137-151. https://doi.org/10.31813/gramatika/6.2.2018.154.137--151
Copyright (c) 2018 Susiati Susiati, Risman Iye
This work is licensed under a Creative Commons Attribution-NonCommercial-ShareAlike 4.0 International License.
The writer of published paper on Gramatika have agreed this following:
Article copyright still had by the author.
The author gives the first publication right of the article to Gramatika and its lisence onto Creative Commons Attribution License that allow other party to use or recitate the article but keep mention the name of original author and the first publication on Gramatika.
The author is allowed to republish the article that Gramatika have been published it before through separated contract deal due to non-exclusive distribution (ex: submitting in to institution repository or publishing onto a book) but still mention the first publication on Gramatika.
The author is allowed and recommended to distribute her/his papers to the virtual world (ex: in the institution repository or author's homepage) before or during the document consignment process because can support the productive exchange also an early and wide citation.
Every documents have been accepted should be attached with Copyright Submission Approval Form before article publication. Download the form here.