Morphophonemic Prefixes in Vocabulary of Fagud Dialect Language
Nurhayati Fokaaya

Kantor Bahasa Maluku Utara
Keywords:
prefix, vocabulary, Sula Language Of Fagud Dialect
Abstract
The Affixation Pattern on the Prefix of the Language Vocabulary Structure of the Fagud Dialect includes the prefixes (b-), (b-), di- (bo-), ter (forehead), ke (bo-), (ca-), and per- (smell-). This study aims to determine the Affixation Pattern in the Vocabulary Structure Prefix Sula of Fagud Dialect. The source of this research data is primary data and secondary data. Primary data is obtained directly from speakers or informants, while secondary data is obtained through references, such as magazines, journals, and linguistic reading books related to this paper. The results of this paper can be useful and used as references for language researchers, writers, and language observers.
Downloads
Download data is not yet available.
References
Alwi, Hasan, dkk. 2003. Tata Bahasa Baku Bahasa Indonesia Edisi Ketiga. Jakarta: Balai Pustaka.
Chaer, Abdul. 2008. Morfologi Bahasa Indonesia (Pendekatan Proses). Rineka Cipta: Jakarta.
------------------. 2011. Tata Bahasa Praktis Bahasa Indonesia. Jakarta: Rineka Cipta.
------------------. 2015. Morfologi Bahasa Indonesia (pendekatan Proses). Jakarta: Rineka Cipta.
Efendi, dkk. 2015. Tata Bahasa dasar Bahasa Indonesia. Bandung: PT. Remaja Posdakarya.
Mustakim. 2016. Seri Penyuluhan Bahasa Indonesia: Bentuk dan Pilihan Kata. Pusat Pembinaan, Badan Pengembangan dan Pembinaan Bahasa, Kementerian Pendidikan dan Kebudayaan. Jakarta.
Muhammad. 2012. Metode dan Teknik Analisis Data Linguistik. Yogyakarta: Liebe Book Press.
Mahsun. 2007. Metode Penelitian Bahasa (Tahapan, Strategi, Metode, dan Tekniknya). Jakarta: Raja Grafindo Persada.
Mulyono, Iyo. 2013. Ilmu Bahasa Indonesia Morfologi Teori dan Sejumput Problematika Terapannya. Bandung: CV Yrama Widya.
Purnomo, Mulyadi Eko, dkk. Morfologi dan Sintaksis Bahasa Panesak. Pusat Pembinaan dan Pengembangan Bahasa, Departemen Pendidikan Nasional: Jakarta.
Soedjito. 2014. Morfologi Bahasa Indonesia. Yogyakarta: Aditya Media Publishing.
Sudaryanto. 2015. Metode dan Aneka Teknik Analisis Bahasa, Pengantar Penelitian Wahana Kebudayaan Secara Linguistis.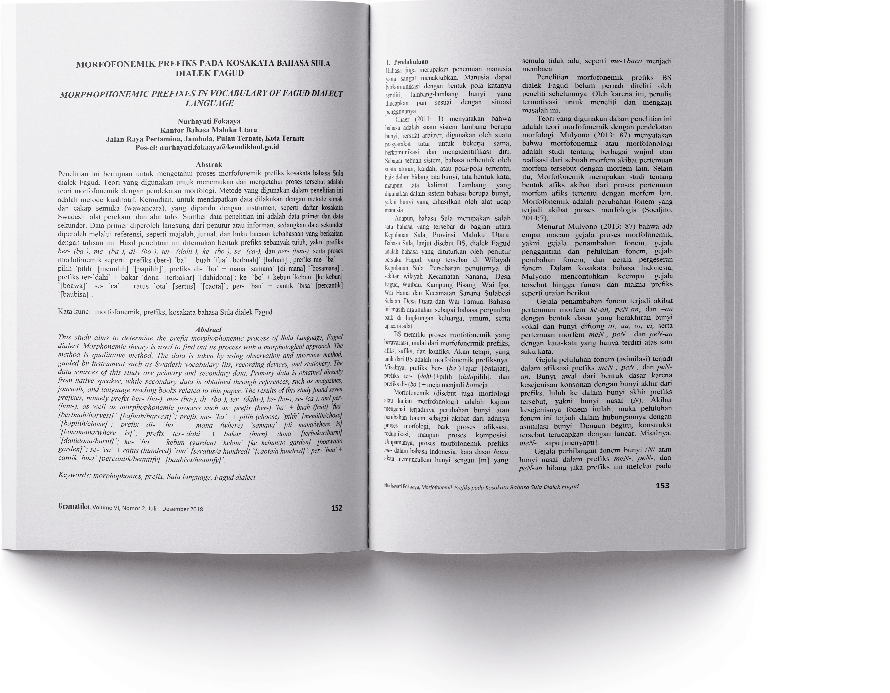 How to Cite
Fokaaya, N. (2018). Morphophonemic Prefixes in Vocabulary of Fagud Dialect Language. Gramatika: Jurnal Ilmiah Kebahasaan Dan Kesastraan, 6(2), 152-159. https://doi.org/10.31813/gramatika/6.2.2018.157.152--159
Copyright (c) 2018 Nurhayati Fokaaya
This work is licensed under a Creative Commons Attribution-NonCommercial-ShareAlike 4.0 International License.
The writer of published paper on Gramatika have agreed this following:
Article copyright still had by the author.
The author gives the first publication right of the article to Gramatika and its lisence onto Creative Commons Attribution License that allow other party to use or recitate the article but keep mention the name of original author and the first publication on Gramatika.
The author is allowed to republish the article that Gramatika have been published it before through separated contract deal due to non-exclusive distribution (ex: submitting in to institution repository or publishing onto a book) but still mention the first publication on Gramatika.
The author is allowed and recommended to distribute her/his papers to the virtual world (ex: in the institution repository or author's homepage) before or during the document consignment process because can support the productive exchange also an early and wide citation.
Every documents have been accepted should be attached with Copyright Submission Approval Form before article publication. Download the form here.