TABA LANGUAGES PERSONA LISTING PROKLITICS
Mujahid Taha

Kantor Bahasa Maluku Utara
Keywords:
proclitic, person pronoun, single pronoun, plural pronouns, Taba language
Abstract
This study aims to find out the first, second, and third forms of personal prclitital pronouns of the Taba (BT) language. The method used is the method of data collection and data analysis. The data of this study are morphemes that contain proclitic elements attached to verbs (verbs), prepositions (preposition particles), and singular possessive nouns (nouns. The source of this research data is oral data that was told directly by BT native speakers in Waigitang Village, Pulau Makeang District, South Halmahera Regency, North Maluku Province. Based on the results of the study, it was found the BT verb with the first and plural personal pronouns, first person: k-, n-, (objects), and n- (human), first person plural: tit/ tat- and a-; the second person is singular and plural, the singular second person in the m-morpheme and the plural second persona in the morpheme h-; and the third third person in the i- morpheme, and the third person plural in the l- morpheme.
Downloads
Download data is not yet available.
References
Alwi. dkk. (1998). Tata Bahasa Baku Bahasa Indonesia. Jakarta: Pusat Bahasa dan Balai Bahasa.
Bowden, Jhon. (2001). Taba: Description of an South Halmahera Language. Disertasi. Australian National University, Australia.
Buha, Aritorang. (2018). Klitik Klausa Pasif Bahasa Manggarai Dialek Barat. Buletin Al-turas, XXIV (1): 51—67. Dalam http: //journal.uinjkt.ac.id/index.php/alturats/article/download/7191/4586.
Hanafi, Hilaluddin. (2009). Pola Konstruktursi Klitik Bahasa Tolaki. Humaniora, 21 (3): 294—300. Dalam https: //id.123dok.com/document/y4 gjr09y-pola-konstruksi-klitik-bahas a-tolaki-hanafi-humaniora-973-1759-2-pb.html.
Mahsun. (2007). Metode Penelitian Bahasa (Tahapan, Strategi, Metode, dan Tekniknya). Jakarta: Raja Grafindo Persada.
Muhammad. (2012). Metode dan Teknik Analisis Data Linguistik. Yogyakarta: Liebe Book Press.
Samarin, William J. (1988). Ilmu Bahasa Lapangan. Yogyakarta: Kanisius.
Sarage, Japen, (2013). "Beberapa Fakta Klitika dalam Bahasa Inggris, Indonesia, Arab, dan Spanyol: Sebuah Studi Kontrastif". Dalam Prosoding Seminar Internasional, Studi Bahasa dari Berbagai Perspektif (hlm. 812—821). Yogyakarta: Program Studi S-2 Linguistik, bekerja sama dengan Jurusan Sastra Indonesia, Fakultas Ilmu Budaya, UGM Yogyakarta dan Gress Publishing.
Sudaryanto. (1992). Metode Linguistik. Yogyakarta: Gajamada University Press.
Sultana. (2017), Analisis Bentuk Klitik dalam Bahasa sasak Dialek Meno-Mene. Lingua, 14 (1): 67—78. Dalam http: //lingua.pusatbahasa.or.id/index.php/lingua/article/view/241.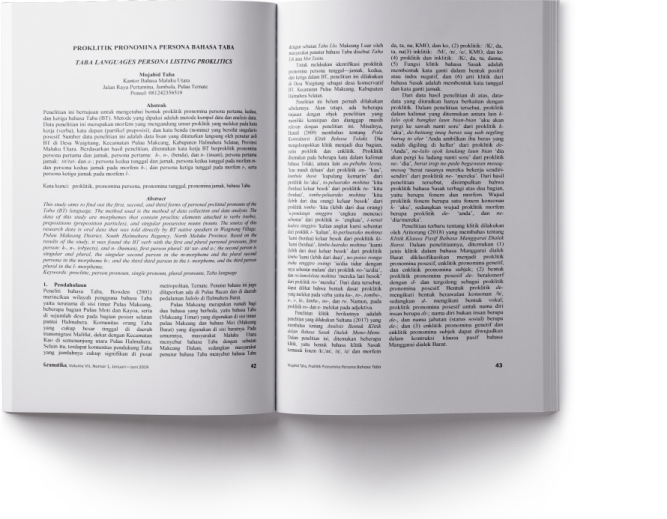 How to Cite
Taha, M. (2019). TABA LANGUAGES PERSONA LISTING PROKLITICS. Gramatika: Jurnal Ilmiah Kebahasaan Dan Kesastraan, 7(1), 42-49. https://doi.org/10.31813/gramatika/7.1.2019.176.42--49
Copyright (c) 2019 Mujahid Taha
This work is licensed under a Creative Commons Attribution-NonCommercial-ShareAlike 4.0 International License.
The writer of published paper on Gramatika have agreed this following:
Article copyright still had by the author.
The author gives the first publication right of the article to Gramatika and its lisence onto Creative Commons Attribution License that allow other party to use or recitate the article but keep mention the name of original author and the first publication on Gramatika.
The author is allowed to republish the article that Gramatika have been published it before through separated contract deal due to non-exclusive distribution (ex: submitting in to institution repository or publishing onto a book) but still mention the first publication on Gramatika.
The author is allowed and recommended to distribute her/his papers to the virtual world (ex: in the institution repository or author's homepage) before or during the document consignment process because can support the productive exchange also an early and wide citation.
Every documents have been accepted should be attached with Copyright Submission Approval Form before article publication. Download the form here.