MARKER OF PERSONAL PRONOUNS IN TERNATE LANGUAGE
Ety Duwila

Universitas Khairun

Nurfani Nurfani

Universitas Khairun
Keywords:
Ternate language, personal pronouns, marker of personal pronouns
Abstract
This research is aimed ti describe marker of personal pronouns in Ternate language. As an ethnic language, Ternate language has its own uniqueness. Ternate language has the unique grammatical that is different from other languages. By using the descriptive qualitative methods, this study succeeded in revealing that in Ternate language there were forms of pronouns, namely fajaru, fangare, ngori, ngom, ngone, ngon, ngana, una, mina, and ana which are free morphemes, so that in sentences can stand alone and in active voice fill the function of Subject (S). In addition, in this language there are also markers of personal pronouns whose position both in speech and grammatically cannot stand alone in sentences but are attached to other forms. However, this bound form has a lexical meaning, which is a marker of personal pronouns. The markers of BT pronouns are:  to- (marker of first singular personal pronoun), mi- (marker of first plural exclusive personal pronouns), si- (marker of first plural inclusive personal pronouns), no- (marker of second singular personal pronouns), no- (marker of second plural personal pronouns), o- (marker of third singular personal pronoun), and i- (marker of third plural personal pronoun).
Downloads
Download data is not yet available.
References
Alwi, Hasan, dkk. (2003). Tata Bahasa Baku bahasa Indonesia. Jakarta: Balai Pustaka.
Atjo, Rusli Andi. (2008). Kamus Ternate Indonesia. Jakarta: Cikoro Printing.
Chaer, Abdul. (2009). Sintaksis Bahasa Indoensia (Pendekatan Proses). Jakarta: PT Rineka Cipta.
Chaer, Abdul. (2008). Morfologi Bahasa Indonesia (pendekatan proses). Jakarta: Rineka Cipta.
Fokaaya, Nurhayati, dkk. (2014). Bahasa-Bahasa Daerah di Maluku Utara. Kantor Bahasa Maluku Utara, Provinsi Maluku Utara.
Grimes, Barbara A. (ed). (2002). Ethnologue: Languages of the World. Dallas, Texas: SIL International
Ibrahim, Gufran A. (2009). Metamorfosa Sosial dan Kepunahan Bahasa. Ternate: LepKhair
Koentjaraningrat. (1990). Pengantar Ilmu Antropologi. Jakarta: Rineka Cipta.
Kridalaksana, Harimurti. (2007). Kelas Kata Dalam Bahasa Indonesia. Jakarta: PT Gramedia Pustaka Utama
Latif, Rainannur, dkk. (2008).Pemetaan Bahasa Daerah di Maluku Utara: Sebaran, Pemerolehan, dan Pola Penggunaan. Kerjasama Badan Perencanaan Pembangunan Daerah (Bappeda) Provinsi Maluku Utara Dengan Fakultas Sastra Dan Budaya Universitas Khairun.
Lieber, Rochelle. (2009). Introduction Morphology. Cambridge University Press
Ramlan, M. (2002). Morfologi Suatu Tinjauan Deskriptif. Jogjakarta: CV Karyono.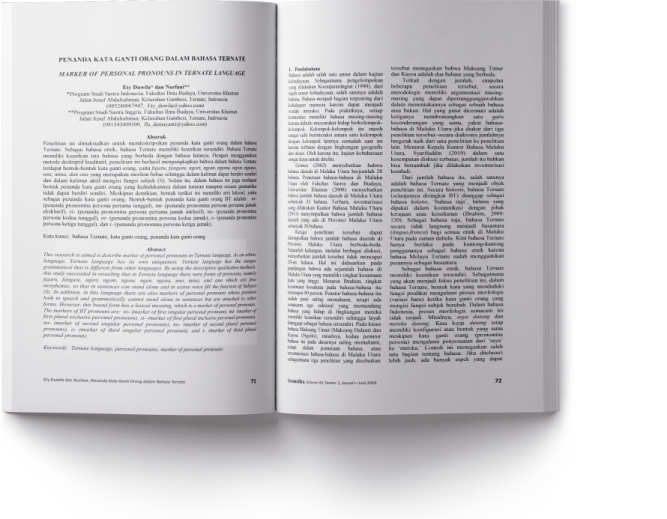 How to Cite
Duwila, E., & Nurfani, N. (2019). MARKER OF PERSONAL PRONOUNS IN TERNATE LANGUAGE. Gramatika: Jurnal Ilmiah Kebahasaan Dan Kesastraan, 7(1), 71-79. https://doi.org/10.31813/gramatika/7.1.2019.181.71--79
Copyright (c) 2019 Ety Duwila, Nurfani Nurfani
This work is licensed under a Creative Commons Attribution-NonCommercial-ShareAlike 4.0 International License.
The writer of published paper on Gramatika have agreed this following:
Article copyright still had by the author.
The author gives the first publication right of the article to Gramatika and its lisence onto Creative Commons Attribution License that allow other party to use or recitate the article but keep mention the name of original author and the first publication on Gramatika.
The author is allowed to republish the article that Gramatika have been published it before through separated contract deal due to non-exclusive distribution (ex: submitting in to institution repository or publishing onto a book) but still mention the first publication on Gramatika.
The author is allowed and recommended to distribute her/his papers to the virtual world (ex: in the institution repository or author's homepage) before or during the document consignment process because can support the productive exchange also an early and wide citation.
Every documents have been accepted should be attached with Copyright Submission Approval Form before article publication. Download the form here.