SPELLING ERRORS IN THE LETTER OF REQUEST FOR EXPERT OPINION OF LANGUAGE EXPERTS FROM THE NORTH MALUKU REGIONAL POLICE
Fida Febriningsih

Kantor Bahasa Maluku Utara
Keywords:
official letter, Indonesian spelling, Letter of Request for Expert Opinion
Abstract
The purpose of this study is to find out what spelling errors are contained in the Letter of Request for Expert Opinion of Language Experts from the North Maluku Regional Police and provide recommendations for improvements as additional information for writing the next letter. This study uses a description method with three stages, namely the stage of providing data, the data analysis phase, and the stage of presenting the results of data analysis. The results of the study found letters usage errors, word writing errors, punctuation usage errors, and absorption elements writing errors.
Downloads
Download data is not yet available.
References
Alwi, Hasan.et al. (1993). Tata Bahasa Baku Bahasa Indonesia. Jakarta: Balai Pustaka.
Kridalaksana, Harimurti. (2007). Kamus Linguistik. Edisi ketiga. Jakarta: Gramedia Pustaka Utama
Mahsun. (2007). Metode Penelitian Bahasa (Tahapan, Strategi, Metode, dan Tekniknya). Jakarta: Raja Grafindo Persada.
Matanggui, Junaiyah dan Zaenal Arifin. (2015). Analisis Kesalahan Berbahasa Indonesia. Tangerang: Pustaka Mandiri.
Peraturan Menteri Pendidikan dan Kebudayaan Republik Indonesia Nomor 50 Tahun 2015 tentang Pedoman Umum Ejaan Bahasa Indonesia.
Sabaryanto, Dirgo. (1998). Bahasa Surat Dinas. Yogyakarta: Mitra Gama Widya.
Sudaryanto, (1993). Metode dan Aneka Teknik Analisis Bahasa. Yogyakarta: MLI Komsariat Universitas Gajah Mada.
Suprapto. (2014). Penuntun Praktis Surat Menyurat Dinas Resmi Bahasa Indonesia. Bandung: Mandar Maju.
Suryani, Nanik, dkk. (2014). Korespondensi Bahasa Indonesia. Yogyakarta: Graha Ilmu.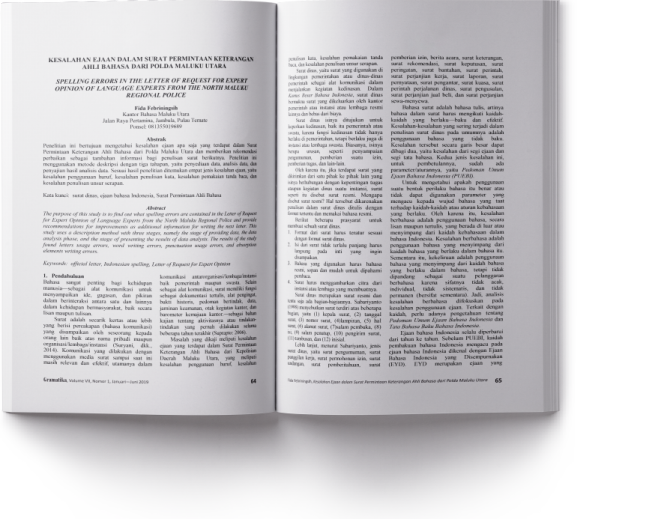 How to Cite
Febriningsih, F. (2019). SPELLING ERRORS IN THE LETTER OF REQUEST FOR EXPERT OPINION OF LANGUAGE EXPERTS FROM THE NORTH MALUKU REGIONAL POLICE. Gramatika: Jurnal Ilmiah Kebahasaan Dan Kesastraan, 7(1), 64-70. https://doi.org/10.31813/gramatika/7.1.2019.183.64--70
Copyright (c) 2019 Fida Febriningsih
This work is licensed under a Creative Commons Attribution-NonCommercial-ShareAlike 4.0 International License.
The writer of published paper on Gramatika have agreed this following:
Article copyright still had by the author.
The author gives the first publication right of the article to Gramatika and its lisence onto Creative Commons Attribution License that allow other party to use or recitate the article but keep mention the name of original author and the first publication on Gramatika.
The author is allowed to republish the article that Gramatika have been published it before through separated contract deal due to non-exclusive distribution (ex: submitting in to institution repository or publishing onto a book) but still mention the first publication on Gramatika.
The author is allowed and recommended to distribute her/his papers to the virtual world (ex: in the institution repository or author's homepage) before or during the document consignment process because can support the productive exchange also an early and wide citation.
Every documents have been accepted should be attached with Copyright Submission Approval Form before article publication. Download the form here.