"AJA RUMANGSA BISA NANGING BISAA RUMANGSA" MORAL MESSAGE IN JAVANESE LOCAL WISDOM OF "JENENGKU: ASU", A SHORT STORY BY KRISHNA MIHARJA
Yohanes Adhi Satiyoko

Balai Bahasa D. I. Yogyakarta
Keywords:
self introspection, externalization, objectification, internalization, ambition
Abstract
This research aims to reveal humanism in political field as portrayed through Javanese short story by Krishna Miharja entitled "Jenengku: Asu". Problem formulation is how the dialectic of main character to his social life. The purpose of the research is explaining the main character to his social life, particularly to his own political ambition. The discussion in the analysis uses sociology of knowledge framework of Peter Berger through dialectic process of externalization, objectivation, and internalization. The result shows that the failure of main character in fulfilling his ambition is stimulated from his political ambition without sufficient ability and knowledge. That attitude is against the Javanese philosophy "aja rumangsa bisa, nanging bisaa rumangsa", a local wisdom to self introspection.
Downloads
Download data is not yet available.
References
Berger, Peter. (1990). Tafsir Sosial atas Kenyataan. Risalah tentang Sosiologi Pengetahuan. Jakarta: LP3ES.
Danandjaya, James. (1991). Folklore Indonesia. Ilmu Gossip, Dongeng, dan Lain-Lain. Jakarta: Grafiti.
Darmasoetjipta, F.S. (1985). Kamus Peribahasa Jawa. Yogyakarta: Kanisius.
Firza. (2016). Local Wisdom Sebagai Dasar Dalam Pembentukan Karakter. Prosiding Seminar Nasional Reforming Pedagogi. Halaman 361—365.
Iswari, Fitria, Dian Handayani, Widya Nuriyanti. (2019). "Sosialisasi Budaya Malu di Kalangan Pelajar melalui Infografis sebagai Bentuk Pendidikan Karakter". Jurnal Desain, Volume 06 Issue, 02 Januari-April 2019. Halaman 77—88.
Koentjaraningrat. (1992). Budaya Mentalitas, dan Pembangunan. Jakarta: Gramedia.
Magnis-Suseno, Franz. (1991). Etika Jawa. Sebuah Analisa Filosofi tentang Kebijaksanaan Hidup Jawa. Jakarta: Gramedia.
Miharja, Krishna. Pratisara. (2012). Pratisara. Yogyakarta: Leutikaprio.
Mustika, Rieka. Arifianto. (2018). "Komodifikasi "Popularitas Selebritis" untuk Mendulang Suara Pemilu Legislatif 2019". Jurnal Studi Komunikasi dan Media. Volume 22 No. 2 (Desember 2018). Hal. 139—150.
Utomo, Sutrisno Sastro. (2007). Kamus Lengkap Peribahasa Jawa-Indonesia. Yogyakarta: UII-Press
Wardhani, Primandha Sukma Nur. (2018). "Partisipasi Politik Pemilih Pemula dalam Pemilihan Umum". Jurnal Pendidikan Ilmu-Ilmu Sosial (10) (1) (2018): 57—62.
Wolff, Janet. (1981). The Social Production of Art. United States of America: St. Martin's Press, Inc.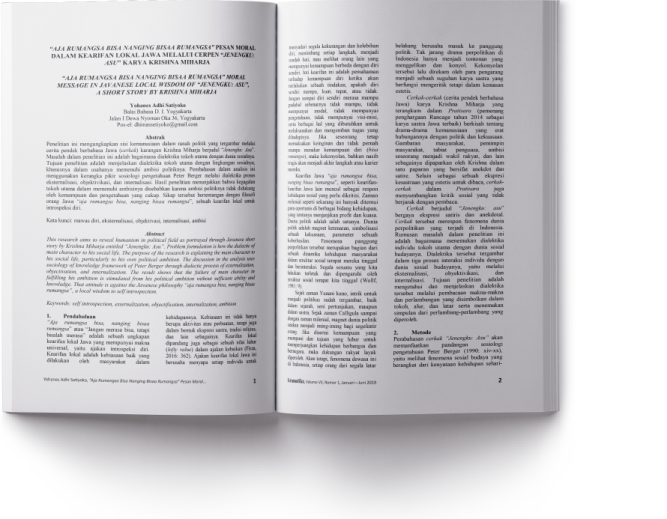 How to Cite
Satiyoko, Y. (2019). "AJA RUMANGSA BISA NANGING BISAA RUMANGSA" MORAL MESSAGE IN JAVANESE LOCAL WISDOM OF "JENENGKU: ASU", A SHORT STORY BY KRISHNA MIHARJA. Gramatika: Jurnal Ilmiah Kebahasaan Dan Kesastraan, 7(1), 1-9. https://doi.org/10.31813/gramatika/7.1.2019.189.1--9
Copyright (c) 2019 Yohanes Adhi Satiyoko
This work is licensed under a Creative Commons Attribution-NonCommercial-ShareAlike 4.0 International License.
The writer of published paper on Gramatika have agreed this following:
Article copyright still had by the author.
The author gives the first publication right of the article to Gramatika and its lisence onto Creative Commons Attribution License that allow other party to use or recitate the article but keep mention the name of original author and the first publication on Gramatika.
The author is allowed to republish the article that Gramatika have been published it before through separated contract deal due to non-exclusive distribution (ex: submitting in to institution repository or publishing onto a book) but still mention the first publication on Gramatika.
The author is allowed and recommended to distribute her/his papers to the virtual world (ex: in the institution repository or author's homepage) before or during the document consignment process because can support the productive exchange also an early and wide citation.
Every documents have been accepted should be attached with Copyright Submission Approval Form before article publication. Download the form here.