Adjektive of Ngalum Language
Siti Masitha Iribaram

Balai Bahasa Papua dan Papua Barat
Keywords:
adjective, quality, and quantity
Abstract
Ngalum language is one of local language whose large native speaker in Papua Province. Ngalum language is spoken by Ngalum tribes who live in Oksibil valley, Okisop valley, and Okbon valley of Pegunungan Bintang Regency. Ngalum language has some word classes as like other languages in the world. One of them is adjective. in this article, adjective of Ngalum language is based on adjective of Bahasa Indonesia from its semantical behavior. This writing used three stages of descriptive method. They are, collecting data stage, analyzing data stage and presenting the result of the data analysis. Data, in this writing, was collected using interview method (metode cakap) through stimulation technique (teknik pancing) as a basic technique while face-to-face interview (cakap semuka) and noting technique (teknik catat) as advanced techniques. Thus, data analyzing used distributional method. There are two main types of adjective, namely, adjective of quality and adjective of quantity. Adjective of quality, which explores about quality of a noun, consist of (1) opinion as adjective, (2) size as adjective, (3) colour as adjective, (4) time/age as adjective, (5) space as adjective, (6) feeling as adjective , and (7) sense as adjective. While, adjective of quantity explores about a membership of a noun in a group
Downloads
Download data is not yet available.
References
Alwi, Hasan, dkk. 2003. Tata Bahasa Baku bahasa Indonesia. Jakarta: Balai Pustaka.
Badan Pengembangan dan Pembinaan Bahasa, Departemen Pendidikan Nasional. 2013. Bahasa dan Peta Bahasa di Indonesia. Jakarta.
Chaer, Abdul. 2000. Tata Bahasa Praktis Bahasa Indonesia. Jakarta: PT Rineka Cipta.
Grimer, Barbara F (ed.). 2006. Bahasa-Bahasa di Indonesia. Jakarta: SIL International Cabang Indonesia.
Kridalaksana, Harimurti. 2005. Kelas Kata dalam bahasa Indonesia. Jakarta: PT Gramedia Pustaka Utama.
Ramlan, M. 2005. Sintaksis. Yogyakarta: CV Karyono.
Sudaryanto.1993. Metode dan Aneka Teknik Analisis Bahasa: Pengantar Penelitian Wahana Kebudayaan Secara Linguistis. Yogyakarta: Duta Wacana University Press.
Verhaar, J. W. M. 2010. Asas-Asas Linguistik Umum. Yogyakarta: Gadjah Mada University Press.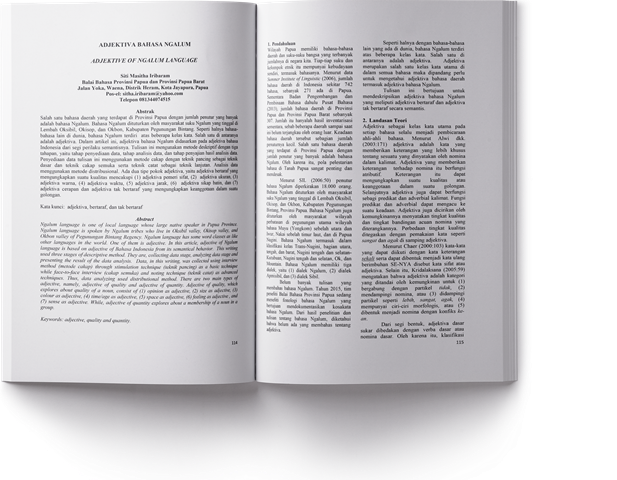 How to Cite
Iribaram, S. (2015). Adjektive of Ngalum Language. Gramatika: Jurnal Ilmiah Kebahasaan Dan Kesastraan, 3(2), 114-121. https://doi.org/10.31813/gramatika/3.2.2015.19.114--121
Copyright (c) 2015 Siti Masitha Iribaram
This work is licensed under a Creative Commons Attribution-NonCommercial-ShareAlike 4.0 International License.
The writer of published paper on Gramatika have agreed this following:
Article copyright still had by the author.
The author gives the first publication right of the article to Gramatika and its lisence onto Creative Commons Attribution License that allow other party to use or recitate the article but keep mention the name of original author and the first publication on Gramatika.
The author is allowed to republish the article that Gramatika have been published it before through separated contract deal due to non-exclusive distribution (ex: submitting in to institution repository or publishing onto a book) but still mention the first publication on Gramatika.
The author is allowed and recommended to distribute her/his papers to the virtual world (ex: in the institution repository or author's homepage) before or during the document consignment process because can support the productive exchange also an early and wide citation.
Every documents have been accepted should be attached with Copyright Submission Approval Form before article publication. Download the form here.