Writing Description with The Model of Group Investigation
Ridwan Ridwan

Fakultas Sastra dan Budaya, Universitas Khairun
Keywords:
writing, descriptive, group investigation
Abstract
Writing is the way to transform an idea or message to the readers. The act of writing in this research isdescriptive writing. The descriptive writing aims to write an object so the reader can feel and see the object bythemselves. This research is known as class action research. The class action research is conducted by using group investigation learning model: the PTK action comprisies two cycles, every cycle consists of three times of meetings. Every cycle includes planning, action, reflection, and evaluation. The results of the research show that the group investigation learning model could improve descriptive writing skills of Indonesian letter studies. These things are shown in the learning process until evaluation.
Downloads
Download data is not yet available.
References
Akhadiah, Sabarti, dkk. 1998. Kemampuan Menulis Bahasa Indonesia. Jakarta: Erlangga.
Cox, Carole. 1998. Teaching Language Arts. A Student-and Response-Centered Classroom. California State Univercity, Long Beach: Allyin and Bacon.
Ibrahim, Muslimin. 2006. Pembelajaran Kooperatif. Surabaya: UNESA University Press.
Kadir K, Abdul. 2005. "Pengembangan Model Pembelajaran Menulis Deskriptif Siswa Kelas II SMP Kemala Bayangkari Disamakan Makasar". Tesis tidak diterbitkan. Makassar: Program Pascasarjana Universitas Negeri Makassar.
Kunandar. 2008. Langkah Mudah Penelitian Tindakan Kelas sebagai Pengembangan Profesi Guru. Jakarta: Rajawali Press.
Laboh. 2005. "Strategi Pembelajaran Menulis Kreatif pada Siswa Madrasah Aliyah di Kota Kendari". Tesis tidak diterbitkan. Makassar: Program Pascasarjana Universitas Negeri Makassar.
Miles, B.M., & Huberman, A.M.1992. Analisis Data Kualitatif. Terjemahan Tjetjep Rohendi Rohidi. Jakarta: Universitas Indonesia (UI-Press)
Nurgiantoro, Burhan. 2009. Penilaian dalam Pengajaran Bahasa dan Sastra. Yogyakarta: BPFE.
Pappas, C.C. , Kiefer B. Z., & Levstik L.S. 1995. An Integrated Language Perspective In the Elementary School. New York: Longman Publisher.
Slavin, Robert E. 1995. Cooperative Learning. Second Edition. Massachusets: Allyn & Bacon.
Smalley, Regina E., dkk. 2001. Refining Compotision Skill: Rhetoric and Grammar. Boston: Heinle & Heinle Publishers.
Sukidin, dkk. 2002. Manajemen Penelitian Tindakan Kelas. Tanpa Kota: Insan Cendikia.
Suparno & Yunus, M. 2002. Keterampilan Dasar Menulis. Jakarta: Universitas Terbuka, Depdiknas.
Syafi'ie. I. 1988. Retorika dalam Menulis. Jakarta: Depdikbud.
Temple, C., dkk. 1988. The Beginnings of Writing. Boston, Massachusetts: Allyn and Bacon, Inc.
Tompkins, Gail E. 1994. Teaching Writing Process and Product. New York: Harcourt.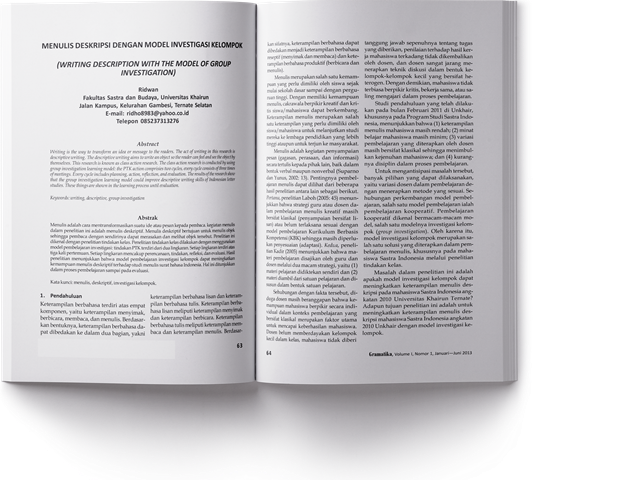 How to Cite
Ridwan, R. (2013). Writing Description with The Model of Group Investigation. Gramatika: Jurnal Ilmiah Kebahasaan Dan Kesastraan, 1(1), 63-74. https://doi.org/10.31813/gramatika/1.1.2013.20.63--74
The writer of published paper on Gramatika have agreed this following:
Article copyright still had by the author.
The author gives the first publication right of the article to Gramatika and its lisence onto Creative Commons Attribution License that allow other party to use or recitate the article but keep mention the name of original author and the first publication on Gramatika.
The author is allowed to republish the article that Gramatika have been published it before through separated contract deal due to non-exclusive distribution (ex: submitting in to institution repository or publishing onto a book) but still mention the first publication on Gramatika.
The author is allowed and recommended to distribute her/his papers to the virtual world (ex: in the institution repository or author's homepage) before or during the document consignment process because can support the productive exchange also an early and wide citation.
Every documents have been accepted should be attached with Copyright Submission Approval Form before article publication. Download the form here.