ANALYSIS OF NEEDS CONTEXTUAL LEARNING MODELS FOR HAN BASED WEBSITE (FOR MANDARIN TEACHERS IN SMA / SMK / MA)
-
Mulawarni Mulawarni

Universitas Negeri Jakarta

Emzir Emzir

Universitas Negeri Jakarta

Ratna Dewanti

Universitas Negeri Jakarta
Keywords:
need analysis, contextual learning model, Chinese character, web-based learning
Abstract
This study aims to describe the needs of the Han script contextual learning model for SMA/SMK/MA Chinese Language teachers in Mandarin teacher training conducted by PPPPTK Language. This research uses the ADDIE model development approach, with steps to review the literature, provide instruments to 35 Mandarin teachers, and interview with peers. The data obtained analyzed as the main material in developing teaching materials in the learning model. Data analysis of this research is quantitative. The needs analysis shows that from 35 teachers, there are 50 % bachelor, 33 % diploma, and 17 % masters. Meanwhile, there are 61 % of teachers who have a background in Chinese language and literature, 6 % have a Mandarin education, and the rest other than Mandarin. Besides, 27 teachers claim that online learning is suitable for teachers because they are not bound by distance and time, 35 teachers state that is a need for learning model that combines the concepts of knowledge and experience, and 33 teachers also claim that contextual learning models are suitable for use in Han script material. Furthermore, there are 23 teachers stated that the origin of Han script is important, 24 people stated that the structure and components of Han script are important to be mastered, 25 people stated that the formation of words from the Han script and writing rules according to standards became the standard of competence required to be mastered by Mandarin teachers, and 17 people answered the importance of culture in learning Han script.
Downloads
Download data is not yet available.
References
Agita Kurnia Sari, L. (2011). Pengajaran Menulis Hanzi di Kelas X.
Divayana, D. G. H., Suyasa, P. W. A., & Sugihartini, N. (2016). Pengembangan Media Pembelajaran Berbasis Web Untuk Matakuliah Kurikulum dan Pengajaran di Jurusan Pendidikan Teknik Informatika Universitas Pendidikan Ganesha. Pendidikan Teknik Informatika (JANAPATI), 5(3), 149–157.
Haryanti, S. (2011). PENERAPAN SISTEM PEMBELAJARAN BAHASA MANDARIN DI BEBERAPA SEKOLAH DI INDONESIA PEMBAHASAN Peraturan Pemerintah. Lingu Cultura, 5(45), 136–143.
Hsiao, H. S., Chang, C. S., Chen, C. J., Wu, C. H., & Lin, C. Y. (2015). The Influence of Chinese Character Handwriting Diagnosis and Remedial Instruction System on Learners of Chinese as a Foreign Language. Computer Assisted Language Learning, 28(4), 306–324. https://doi.org/10.1080/09588221.2013.818562
Jian, Z. (2007). Terobosan Huruf Tionghoa (Anotasi Bahasa Indonesia). Beijing: Beijing University Press.
Lee, W. W., & Owen, D. L. (2004). Multimedia-Based Instruktional Design (2nd ed.). San Francisco: Pfeiffeifer.
Malik, A. R., & Asnur, M. N. A. (2019). USING SOCIAL MEDIA AS A LEARNING MEDIA OF FOREIGN LANGUAGE STUDENTS IN HIGHER EDUCATION. BAHTERA: Jurnal Pendidikan Bahasa Dan Sastra, 18(2), 166–175.
Misbakhudin, A. (2013). Universitas Negeri Surabaya. Jurnal Pendidikan Tata Niaga, 1(April). https://doi.org/10.1074/jbc.271.41.25173
Mulawarni. (2018). Pelatihan Sebagai Sarana Peningkatan Kompetensi Profesional Dan Kompetensi Pedagogik Bagi Guru Bahasa Mandarin. The First International Seminar & Roundtable Meeting "Professional Chinese Teaching" in Southeast Asia Seminar Proceeding, 16–22. Jakarta: Program Studi Sastra Tiongkok Universitas Al Azhar Indonesia.
Priansa, D. J. (2017). Pengembangan Strategi & Model Pembelajaran Inovatif, Kreatif dan Prestatif Dalam Memahami Peserta Didik. Bandung: Pustaka Setia.
Retnoningsih, S., Haswanto, N., & Ihsan, M. (2015). Visualisasi Tulisan 14 Hanzi Dasar Berupa Piktograf Sebagai Metode Belajar Mudah Mengenal Aksara China. 3(3), 43–54.
Sun, A., & Chen, X. (2016). Online Education and Its Effective Practice : A Research Review. Journal of Information Technology Education: Reseach, 15(September 2015), 157–190.
Supriadi, N., & Soedirman, U. J. (2018). Analisis Kesalahan Penulisan Huruf Hanzi Bahasa Mandarin Oleh Pembelajar Pemula di Purwokerto. Jurnal Ilmiah Lingua Idea, 9(1), 1–7.
Surdin. (2018). The Effect of Contextual Teaching and Learning (CTL) Models on learning outcomes of Social Sciences of the material of forms the face of the earth on Class VII of Junior High School. International Journal of Education and Research, 6(3), 57–64.
Tambunan, H. (2016). Pengembangan pembelajaran berbasis WEBSITE Dalam Mata Kuliah Pengaturan Mesin Listrik. (1), 321–332.
Tin, T. G., Atan, N. A., Mohamad Said, M. N. H., Ali, M. F., Mohd, S., & Abd Hamid, M. Z. (2018). Integrating Animations in Chinese Character Writing Based on Cognitive Theory of Multimedia Learning to Promote Students' Writing Skills. International Journal of Interactive Mobile Technologies (IJIM), 12(7), 97. https://doi.org/10.3991/ijim.v12i7.9671
Wen, R. (2017). 构形法在对外汉字初期教学中的应用. 语言文字学术研究, 17(187), 19–21. https://doi.org/10.14014/j.cnki.cn11-2597/g2.2017.17.006
国家汉办, & 孔子学院总部. (2009). 国际汉语教学通用课程大纲 (pp. 1–129). pp. 1–129. Beijing: 外语教学与研究出版社.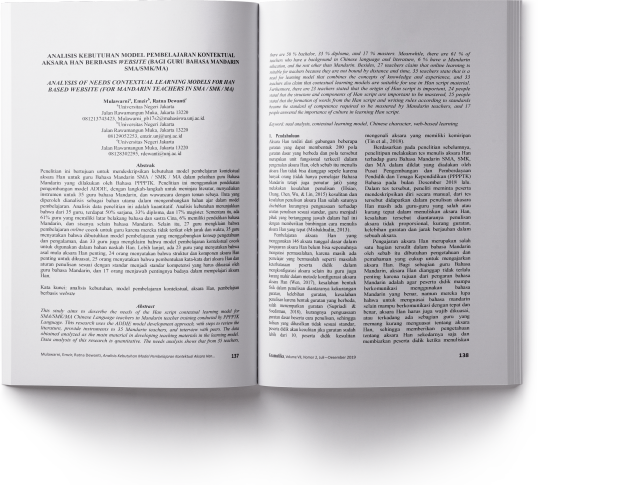 How to Cite
Mulawarni, M., Emzir, E., & Dewanti, R. (2019). ANALYSIS OF NEEDS CONTEXTUAL LEARNING MODELS FOR HAN BASED WEBSITE (FOR MANDARIN TEACHERS IN SMA / SMK / MA). Gramatika: Jurnal Ilmiah Kebahasaan Dan Kesastraan, 7(2), 137-145. https://doi.org/10.31813/gramatika/7.2.2019.209.137-145
Copyright (c) 2019 Mulawarni, Emzir, Ratna Dewanti
This work is licensed under a Creative Commons Attribution-NonCommercial-ShareAlike 4.0 International License.
The writer of published paper on Gramatika have agreed this following:
Article copyright still had by the author.
The author gives the first publication right of the article to Gramatika and its lisence onto Creative Commons Attribution License that allow other party to use or recitate the article but keep mention the name of original author and the first publication on Gramatika.
The author is allowed to republish the article that Gramatika have been published it before through separated contract deal due to non-exclusive distribution (ex: submitting in to institution repository or publishing onto a book) but still mention the first publication on Gramatika.
The author is allowed and recommended to distribute her/his papers to the virtual world (ex: in the institution repository or author's homepage) before or during the document consignment process because can support the productive exchange also an early and wide citation.
Every documents have been accepted should be attached with Copyright Submission Approval Form before article publication. Download the form here.