Language Error in SKPD Official Letter of Ternate City
Noormala Noormala

Kantor Bahasa Maluku Utara
Keywords:
language error, official letter, descriptive method
Abstract
The study aims at to know the language error in SKPD official letter of Ternate City. Language error is focused at errors happend on parts of official letter. The method is qualitative method. It is a description of Indonesia language implementation. The collective data is done by using data card. The technique of collective data uses reading and writing technique. Then, it is analyzed and described. The result shows that language error found in them, namely heading, date, number, enclosure, concerning, address, the body of letter, writer's identification, and copy.
Downloads
Download data is not yet available.
References
Arifin, et al. 2009. 1001 Kesalahan Berbahasa. Jakarta: Akademika Pressindo.
Peraturan Menteri Dalam Negeri. 2009. Tata Naskah Dinas di Lingkungan Pemerintah Daerah. Jakarta.
Pusat Bahasa. 2000. Pedoman Umum Ejaan Yang Disempurnakan. Jakarta: Departemen Pendidikan Nasional.
Sabariyanto, Dirgo. 1998. Bahasa Surat Dinas. Yogyakarta: Mitra Gama Widya.
Setyawati, Nanik. 2010. Analisis Kesalahan Bahasa Indonesia. Surakarta: Yuma Pustaka.
Sugono, Dendy. 1997. Berbahasa Indonesia dengan Benar. Jakarta: Puspa Swara.
Wijayanti, et al. 2013. Bahasa Indonesia Penulisan dan Penyajian Karya Ilmiah. Jakarta: Rajagrafindo Persada.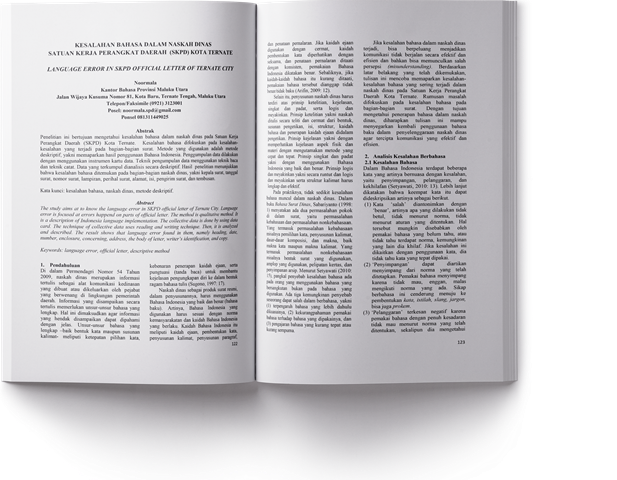 How to Cite
Noormala, N. (2015). Language Error in SKPD Official Letter of Ternate City. Gramatika: Jurnal Ilmiah Kebahasaan Dan Kesastraan, 3(2), 122-131. https://doi.org/10.31813/gramatika/3.2.2015.21.122--131
Copyright (c) 2015 Noormala Noormala
This work is licensed under a Creative Commons Attribution-NonCommercial-ShareAlike 4.0 International License.
The writer of published paper on Gramatika have agreed this following:
Article copyright still had by the author.
The author gives the first publication right of the article to Gramatika and its lisence onto Creative Commons Attribution License that allow other party to use or recitate the article but keep mention the name of original author and the first publication on Gramatika.
The author is allowed to republish the article that Gramatika have been published it before through separated contract deal due to non-exclusive distribution (ex: submitting in to institution repository or publishing onto a book) but still mention the first publication on Gramatika.
The author is allowed and recommended to distribute her/his papers to the virtual world (ex: in the institution repository or author's homepage) before or during the document consignment process because can support the productive exchange also an early and wide citation.
Every documents have been accepted should be attached with Copyright Submission Approval Form before article publication. Download the form here.