SENTENCE STRUCTURE BY NEGATION IN SASAK
Lalu Erwan Husnan

Kantor Bahasa NTB
Keywords:
negation, sentence, verb, topicalization
Abstract
Negation is negative form of a sentence. Negation uses negative words which refer to something that was already done or not being done. This writing is aimed at describing the form of negative sentences founded at writing references of Sasak lessons. Therefore, descriptive-qualitative approach is appropriate for this writing. Data are gathered using simak (observing) method which is apllied to mulok text books of 7th, 8th, and 9th class. Data are sentences with negation forms. All lessons (1 up to 16) of each class are taken. Data are analyzed using padan intralingual method using Hubung Banding Menyamakan (HBS) or comparison and hubung banding membedakan (HBB) or differentiate techniques. The method is used to classify the sentences by using the position of the negation marks. The next step is sorting the result into sentences with one or double negation marks with one verb or more. Result shows that negation of Sasak strengthens topicalization system of Sasak by which topic put forward.
Downloads
Download data is not yet available.
References
Aridawati, Ida Ayu, dkk. (1995). Struktur Bahasa Sasak Umum. Pusat Pembinaan dan Pengembangan Bahasa. Departemen Pendidikan Nasional. Jakarta
Chaer, Abdul. (2007). Kajian Bahasa: Struktur Internal, Pemakaian, dan Pemelajaran. Jakarta: Rineka Cipta.
Kantor Bahasa Provinsi NTB dan Yayasan Abdi Insani. (2005). 'Standardisasi Ejaan dan Tata Bahasa Sasak' Mataram: Laporan Penelitian
Kentjono, Djoko, dkk., (2010). Tata Bahasa Acuan Bahasa Indonesia untuk Penutur Asing. Jakarta: Widyatama Widyasastra
Mahsun, 2005. Metode Penelitian Bahasa: Tahapan, stratgei, metode, dan tekniknya. Jakarta: PT RajaGrafindo Persada.
Malhotra, (1993). 'Ukuran Sampel Minimal' dalam Martadiputra, Bambang Avip Priatna (2015) yang disampaikan dalam Pelatihan Sikap Bahasa: Pelatihan Sosiolinguistik dalam Rangka Penelitian Sikap Bahasa. Bandung: Balai Bahasa Provinsi Jawa Barat.
Ratna, Kutha, Nyoman. (2004). Teori, Metode, dan Teknik Penelitian Sastra. Yogyakarta: Pustaka Pelajar.
Sirulhaq, Ahmad; Husnan, Lalu Erwan; Hidayat, Toni Syamsul; Shubhi, M.; Hakim, Lukmanul; dan Rachmawati, Desy. 2009. 'Kajian Standardisasi Dialek Bahasa Sasak'. Mataram: Laporan Penelitian Kantor Bahasa Provinsi NTB
Tim Mulok Bahasa Sasak. (2013). Pelajaran Muatan Lokal Bahasa Sasak kelas 7. Kantor Bahasa Nusa Tenggara Barat.
--------------------------------. (2013). Pelajaran Muatan Lokal Bahasa Sasak kelas 8. Kantor Bahasa Nusa Tenggara Barat.
--------------------------------. (2013). Pelajaran Muatan Lokal Bahasa Sasak kelas 9. Kantor Bahasa Nusa Tenggara Barat.
Tim Penyusunan Kamus Bahasa Sasak. (2015). Kamus Sasak-Indonesia. Kantor Bahasa Nusa Tenggara Barat.
Verhaar, J.W.M., (2012). Asas-asas Linguistik Umum. Yogyakarta: Gadjah Mada University Press.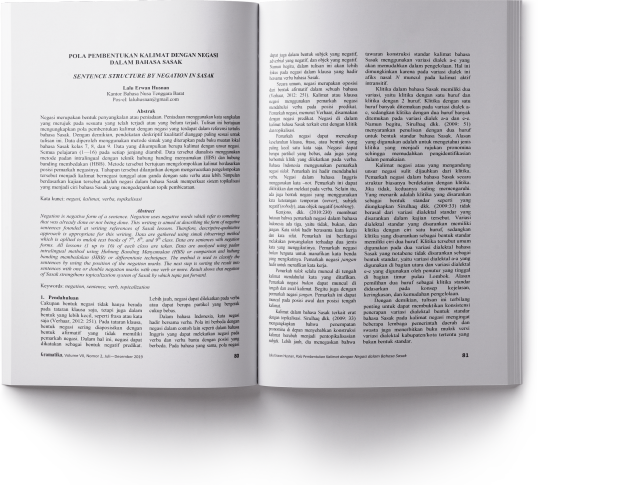 How to Cite
Husnan, L. (2019). SENTENCE STRUCTURE BY NEGATION IN SASAK. Gramatika: Jurnal Ilmiah Kebahasaan Dan Kesastraan, 7(2), 80-88. https://doi.org/10.31813/gramatika/7.2.2019.210.80-88
Copyright (c) 2019 Lalu Erwan Husnan
This work is licensed under a Creative Commons Attribution-NonCommercial-ShareAlike 4.0 International License.
The writer of published paper on Gramatika have agreed this following:
Article copyright still had by the author.
The author gives the first publication right of the article to Gramatika and its lisence onto Creative Commons Attribution License that allow other party to use or recitate the article but keep mention the name of original author and the first publication on Gramatika.
The author is allowed to republish the article that Gramatika have been published it before through separated contract deal due to non-exclusive distribution (ex: submitting in to institution repository or publishing onto a book) but still mention the first publication on Gramatika.
The author is allowed and recommended to distribute her/his papers to the virtual world (ex: in the institution repository or author's homepage) before or during the document consignment process because can support the productive exchange also an early and wide citation.
Every documents have been accepted should be attached with Copyright Submission Approval Form before article publication. Download the form here.