WOMAN OPPRESSION IN NOVEL PEREMPUAN DI TITIK NOL AND MIDAH SI MANIS BERGIGI EMAS: COMPARATIVE LITERATURE STUDY
Kristin Marwinda

Universitas Diponegoro Semarang
Keywords:
comparative study, feminism, women oppression, main characters
Abstract
The purpose of this study is to compare two kinds of literary work from two different countries about women oppression experienced by the main character in the novel. The objects analyzed in this study are Perempuan di Titik Nol by Nawal el-Saadawi, an author from Egypt, and Midah Si Manis Bergigi Emas by Pramoedya Anantha Toer from Indonesia. This comparative literature study uses the theory of feminism. The method of this study is descriptive qualitative based on the library research. The results of this study show that there are significant differences between women oppression experienced by the main characters, although both novels have same theme which is the struggle of a woman in obtaining her rights. Firdaus, the main character in Perempuan di Titik Nol, regards her struggle as a prostitute is more respected than has to become a wife of sheikh, who undergo oppression and physical abuse, and is used as an object of satisfying man desire that is worthless. By being a prostitute, she thinks that she has more freedom of her own body. Meanwhile, the main character in Midah Si Manis Bergigi Emas, Midah, regards her struggle of life as a prostitute as freedom in terms of gender equality because she can choose her own way of life without having to be managed by any man. Midah does not get more physical oppression as what Firdaus experiences, especially as a victim of physical abuse from her husband and other men.
Downloads
Download data is not yet available.
References
Adieb, Achmad. (2012). Perbandingan Novel Perempuan di Titik Nol Karya Nawal el-Saadawi dengan Film Jamila dan Sang Presiden. Dipetik Maret, 2019, dari https://achmadadieb.wordpress.com/2012/02/06/perbandingan-novel-perempuan-di-titik-nol-karya-nawal-el-Saadawi-dengan-film-jamila-dan-sang-presiden/.
Azizah, Lina. (2008). Perspektif Jender dalam Novel Perempuan di Titik Nol Karya Nawal el-Saadawi: Tinjauan Sastra Feminis. Fakultas Keguruan dan Ilmu Pendidikan, Universitas Muhammadiyah Surakarta.
Damono, Sapardi Djoko. (2015). Sastra Bandingan. Jakarta: Editum.
El Saadawi, Nawal. (1989). Perempuan di Titik Nol. Jakarta: Yayasan Pustaka Obor Indonesia.
Elvira. (2016). Resistensi Perempuan dalam Novel Midah Simanis Bergigi Emas Karya Pramoedya Ananta Toer: Kajian Feminisme Liberal. Universitas Jember.
Fakih, M. (1996). Menggeser Analisis Konsepsi Gender dan Transformasi Sosial. Yogyakarta: Putaka Pelajar.
Humm, M. (1995). The Dictionary of Feminist Theory. Ohio State: University Press.
Khofif. (2009, April 29). Wordpress.com. Dipetik Oktober 7, 2017, dari https://khofif.wordpress.com/2009/01/16/biografi-dan-idiologi-nawal-sadawi
Remak, Henry H.H. (1990). Sastera Bandingan. Takrif dan Fungsi dalam Stallknecht, Newton P. Dan Horst Frenz (ed.). 1990. Sastera Bandingan. Kaedah dan Perspektif (terjemahan Zalila Syarif dkk). Kuala Lumpur: Dewan Bahasa dan Pustaka.
Shodiq, Fajar. (2015). Analisis Feminisme Radikal dalam Novel Perempuan di Titik Nol Karya Nawal el-Saadawi. Universitas Jember.
Toer, Pramoedya A. (1954). Midah Si Manis Bergigi Emas. Jakarta: Lentera Dipantara.
Wellek, R., & Warren, A. (2015). Teori Kesusastraan. Jakarta: Gramedia Pustaka Utama.
Wiyatmi. (2012). Kritik Sastra Feminis: Teori dan Aplikasi dalam Sastra Indonesia. Yogyakarta: Penerbit Ombak.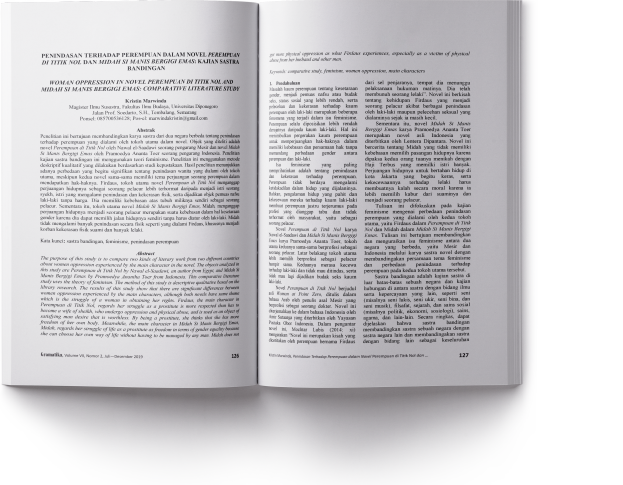 How to Cite
Marwinda, K. (2019). WOMAN OPPRESSION IN NOVEL PEREMPUAN DI TITIK NOL AND MIDAH SI MANIS BERGIGI EMAS: COMPARATIVE LITERATURE STUDY. Gramatika: Jurnal Ilmiah Kebahasaan Dan Kesastraan, 7(2), 126-136. https://doi.org/10.31813/gramatika/7.2.2019.213.126-136
Copyright (c) 2019 Kristin Marwinda
This work is licensed under a Creative Commons Attribution-NonCommercial-ShareAlike 4.0 International License.
The writer of published paper on Gramatika have agreed this following:
Article copyright still had by the author.
The author gives the first publication right of the article to Gramatika and its lisence onto Creative Commons Attribution License that allow other party to use or recitate the article but keep mention the name of original author and the first publication on Gramatika.
The author is allowed to republish the article that Gramatika have been published it before through separated contract deal due to non-exclusive distribution (ex: submitting in to institution repository or publishing onto a book) but still mention the first publication on Gramatika.
The author is allowed and recommended to distribute her/his papers to the virtual world (ex: in the institution repository or author's homepage) before or during the document consignment process because can support the productive exchange also an early and wide citation.
Every documents have been accepted should be attached with Copyright Submission Approval Form before article publication. Download the form here.