CHANGES IN SOCIAL LIFE IN NOVEL DAUN YANG JATUH TAK PERNAH MEMBENCI ANGIN WORKS OF TERE LIYE
Nurweni Saptawuryandari

Badan Pengembangan dan Pembinaan Bahasa
Keywords:
lower class, caring, life change
Abstract
The purpose of this to reveal the changes in social life, changes in the indetity of lower class life discussed in the teenage novel "Daun yang Jatuh Tak Pernah Membenci Angin. The method used in this study is a qualitative description, which is carried out by describing in full the changes in social identity consisting of social changes in lower class life contained in the novel. Besides qualitative descriptive methods, juxtaposed discuss social sociology, which is discussed on social mobility. Social mobility is a movement a person does socially so that his life will be even better. Through the movement "at least" there is a change in life, more so, his life in society becomes good or mild. Data retrieval is done through the library, namely by referring to techniques and note the contents of the novel discussed the problem. From the research results obtained from the novel reveals the change in the character of Tania who started life from the lower classes succeeded in increasing life to a higher class because of perseverance and sincerity increased, also because of the concern of the surrounding community, namely the caring of Danar figure.
Downloads
Download data is not yet available.
References
Dewojati, Cahyaningrum. (2010). Wacana Hedonisme dalam Sastra Populer Indonesia. Yogyakarta: Pustaka Pelajar.
Endraswara, Suwardi. (2013). Sosiologi Sastra: Studi, Teori, dan Interpretasai . Yogyakarta: Ombak
Faricha, Nury Ziyadatul. (2015). "Penggunaan Diksi dan Gaya Bahasa pada Novel Daun yang Jatuh Tak Pernah Membenci Angin dalam majalah Nosi. Volume 2, Nomor 9, bulan Febuari
Faruk. (2013). Pengantar Sosiologi Sastra. Yogyakarta: Pustaka Pelajar.
Liye, Tere. (2017). Daun Yang Jatuh Tak Pernah Membenci Angin. Jakarta: Gramedia
Moleong, Lexy. (2007). Metodologi Penelitian Kualitatif. Bandung: Remaja Karya.
Nurgiyantoto, Burhan. (2010). Teori Pengkajian Fiksi. Yogyakarta: Gajah Mada University Press.
Pattinasarany, Indra Ratna Irawati. (2016). Stratifikasi dan Mobilitas Sosial. Jakarta: Yayasan Pustaka Obor Indonesia.
Ratna, Nyoman Kutha. (2003). Paradigma Sosiologi Sastra.Yogyakarta: Pustaka Pelajar
Sumardjo, Jakob dan Saini Kosim. (1995). Apresiasi Kesusastraan. Jakarta: Gramedia Pustaka Utama.
Wahyuni, Primasari. (2015). "The Study of Feminism and Implementation in novel Daun Yang Jatuh Tak Pernah Membenci Angin by Tere Liye" dalam Makalah Seminar Sastra, Pendidikan Karakter dan industri Kreatif. Surakarta 31 Maret 2015.
Welleck, Rene dan Austin Warren.(2014). Teori Kesuasastraan. Jakarta: Gramedia
Wijanarti, Titik (2017). "Perubahan Identitas Sosial Tokoh Ayuh dalam Dua Novel Karya Sandi Firly". Aksara, Vol. 29, No. 1, Juni, hlm. 63—74. http:jurnal/index.php/aksara/view/10.29255.v2919.10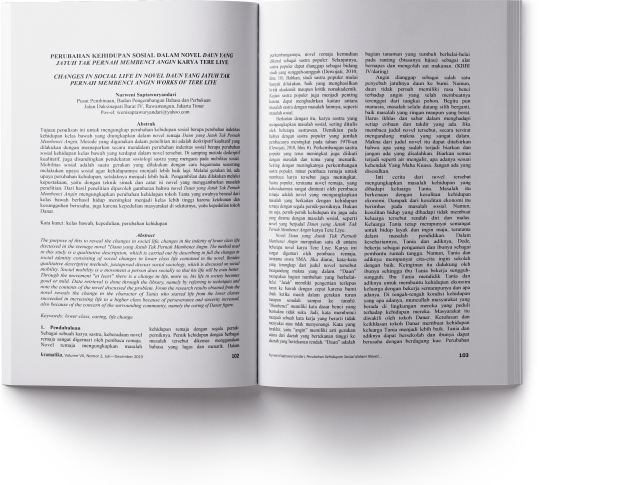 How to Cite
Saptawuryandari, N. (2019). CHANGES IN SOCIAL LIFE IN NOVEL DAUN YANG JATUH TAK PERNAH MEMBENCI ANGIN WORKS OF TERE LIYE. Gramatika: Jurnal Ilmiah Kebahasaan Dan Kesastraan, 7(2), 102-114. https://doi.org/10.31813/gramatika/7.2.2019.227.102-114
Copyright (c) 2019 Nurweni Saptawuryandari
This work is licensed under a Creative Commons Attribution-NonCommercial-ShareAlike 4.0 International License.
The writer of published paper on Gramatika have agreed this following:
Article copyright still had by the author.
The author gives the first publication right of the article to Gramatika and its lisence onto Creative Commons Attribution License that allow other party to use or recitate the article but keep mention the name of original author and the first publication on Gramatika.
The author is allowed to republish the article that Gramatika have been published it before through separated contract deal due to non-exclusive distribution (ex: submitting in to institution repository or publishing onto a book) but still mention the first publication on Gramatika.
The author is allowed and recommended to distribute her/his papers to the virtual world (ex: in the institution repository or author's homepage) before or during the document consignment process because can support the productive exchange also an early and wide citation.
Every documents have been accepted should be attached with Copyright Submission Approval Form before article publication. Download the form here.