Terminological Relevance of Acehnese Structure to The Color of Indonesian Nationality
Teguh Santoso

Balai Bahasa Banda Aceh
Keywords:
terminology, Aceh, nasionality
Abstract
Terminology is one of Linguistics fields. With regard to this, there are many linguistic data related to theterminology. One of Indonesian terminologies in terms of social structure can be found in Aceh province. The Acehnese structure is divided into the highest level to the lowest level. These structural levels are known asmukim, gampong, sagoe, etc. The terminology can be optimized in terms of contributing to the color of Indonesian nationality. Accordingly, the unity in diversity is not abondoning the roots of local culture.
Downloads
Download data is not yet available.
References
Alfian (Editor). 1997. "Segi-Segi Sosial Budaya Masyarakat Aceh". Hasil Penelitian Metode Grounded Research. Jakarta: Lembaga Penelitian, Pendidikan, dan Penerangan Ekonomi dan Sosial.
Hanafiah, M. Adnan, Ibrahim Makam. 1984. Struktur Bahasa Aceh. Jakarta: Pusat Pembinaan dan Pengembangan Bahasa, Depdikbud.
Harsojo. 1999. Pengantar Antropologi. Jakarta: Putra Abardin.
Ismail, Muhammad Gade. 1994. Tantangan dan Rongrongan terhadap Keutuhan dan Kesatuan Bangsa: Kasus Darul Islam di Aceh. Jakarta: Depdikbud.
Sarjono, Agus R. (Editor). 1999. Pembebasan Budaya-budaya Kita. Jakarta: Gramedia Pustaka Utama.
Sulaiman, Nasruddin, dkk. 1992. Aceh, Manusia Adat dan Budaya. Banda Aceh: Pusat Dokumentasi dan Informasi Aceh.
Sugono, Dendy, dkk. (Editor). 2005. Kamus Besar Bahasa Indonesia Edisi 3. Jakarta: Balai Pustaka
Usman, Rani. 2003. Sejarah Peradaban Aceh. Jakarta: Yayasan Obor
Wibowo, Agus Budi. 1998. "Struktur Masyarakat Aceh". Laporan penelitian (tidak diterbitkan). Banda Aceh: Balai Kajian Sejarah dan Nilai Tradisional Banda Aceh.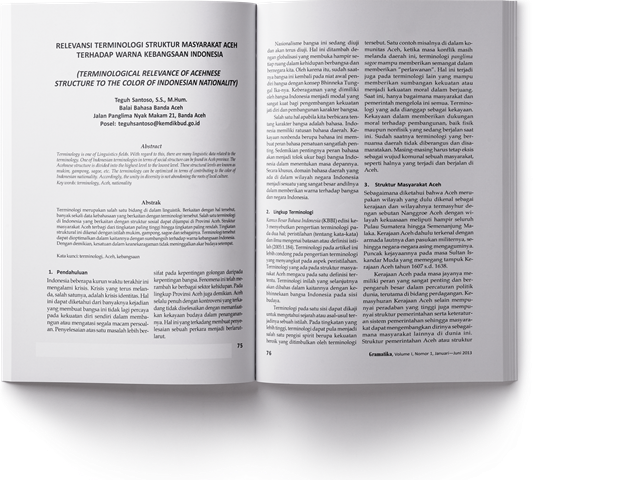 How to Cite
Santoso, T. (2013). Terminological Relevance of Acehnese Structure to The Color of Indonesian Nationality. Gramatika: Jurnal Ilmiah Kebahasaan Dan Kesastraan, 1(1), 75-82. https://doi.org/10.31813/gramatika/1.1.2013.24.75--82
The writer of published paper on Gramatika have agreed this following:
Article copyright still had by the author.
The author gives the first publication right of the article to Gramatika and its lisence onto Creative Commons Attribution License that allow other party to use or recitate the article but keep mention the name of original author and the first publication on Gramatika.
The author is allowed to republish the article that Gramatika have been published it before through separated contract deal due to non-exclusive distribution (ex: submitting in to institution repository or publishing onto a book) but still mention the first publication on Gramatika.
The author is allowed and recommended to distribute her/his papers to the virtual world (ex: in the institution repository or author's homepage) before or during the document consignment process because can support the productive exchange also an early and wide citation.
Every documents have been accepted should be attached with Copyright Submission Approval Form before article publication. Download the form here.