MULTICULTURAL REPRESENTATION OF THE CULTURE IN GADIS PESISIR NOVEL BY NUNUK Y KUSMIANA
Pripta Fajri Ramadhanti

University of Muhammadiyah Malang

Candra Rahma Wijaya Putra

University of Muhammadiyah Malang
Keywords:
transmigrant, cultural, multicultural
Abstract
The purpose of this study is to describe the following: (1) cultural elements that emerge in transmigration communities in the novel Pantai Pesisir by Nunuk Y Kusmiana, (2) the form of cultural mixing in the Pantai Pesisir Nunuk Y Kusmiana novel. This type of research used in this study is qualitative. The approach used is a descriptive approach. The data source of this research is Novel Girl Coastal Work of Nunuk Y Kusmiana with data in the form of sentence excerpts. The research analysis was carried out with analytical and critical readings based on the Koentjaraningrat multiculturalism theory. The data analysis technique used is the note and note technique. The results of the description are then concluded and compiled into a journal article. The results of the research show that the cultural elements that appear in Nunuk Y Kusmiana's Coastal Girl Novel and representations of multicultural communities in the land of Papua.
Downloads
Download data is not yet available.
References
Adisaputra, Iwan. (2019). "Lebih dari 15 Ribu Pengungsi Eksodus dari Wamena". https://mediaindonesia.com/read/detail/263711-lebih-dari-15-ribu-pengungsi-eksodus-dari-wamena.html diakses pada 14 November 2019.
Alfons, Matius. (2019). "Wamena Rusuh, Polda: Ucapan Rasis Guru di Wamena Hoax". https://news.detik.com/berita/d-4718220/wamena-rusuh-polda-ucapan-rasis-guru-di-wamena-hoax, diakses pada 14 November 2019.
Andayani, A. (2016). "Representasi Multikulturalisme dalam Novel Mobil Dick Karya Herman Melville". Parafrase, 16(01), 49–57. https://doi.org/https://doi.org/10.30996/parafrase.v16i01.678
Fatmawati, W., dkk. (2019). Analisis Nilai-nilai Multikultural dalam Novel Assalamualaikum Beijing Karya Asma Nadia. 1(1), 73–79. https://doi.org/https://doi.org/10.26555/jg.v1i1.1056
Koentjaraningrat. (2009). Pengantar Ilmu Antropologi. Jakarta: Rineka Cipta.
Kusmiana, N. Y. (2019). Gadis Pesisir. Jakarta: Gramedia.
Pusat Pembinaan dan Pengembangan Bahasa. (1985). Kamus Melayu Makasar-Indonesia. Jakarta: Departemen Pendidikan dan Kebudayaan.
Rahariyoso, D. (2015). "Membayangkan Indonesia dari Novel-novel Antaretnis dan Antaragama Periode 1920-an hingga 1970-an". 3(2), 100–113. https://doi.org/10.31813 / GRAMATIKA / 3.2.2015.15.100--113
Sugiyono. (2011). Metode Penelitian Kuantitatif, Kualitatif dan R&D. Bandung:Afabeta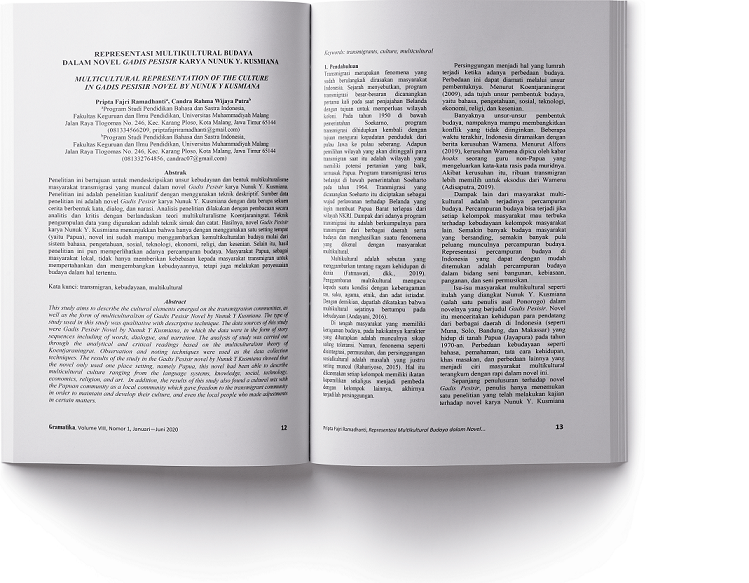 How to Cite
Ramadhanti, P., & Putra, C. (2020). MULTICULTURAL REPRESENTATION OF THE CULTURE IN GADIS PESISIR NOVEL BY NUNUK Y KUSMIANA. Gramatika: Jurnal Ilmiah Kebahasaan Dan Kesastraan, 8(1), 12-22. https://doi.org/10.31813/gramatika/8.1.2020.254.12-22
Copyright (c) 2020 Pripta Fajri Ramadhanti, Candra Rahma Wijaya Putra
This work is licensed under a Creative Commons Attribution-NonCommercial-ShareAlike 4.0 International License.
The writer of published paper on Gramatika have agreed this following:
Article copyright still had by the author.
The author gives the first publication right of the article to Gramatika and its lisence onto Creative Commons Attribution License that allow other party to use or recitate the article but keep mention the name of original author and the first publication on Gramatika.
The author is allowed to republish the article that Gramatika have been published it before through separated contract deal due to non-exclusive distribution (ex: submitting in to institution repository or publishing onto a book) but still mention the first publication on Gramatika.
The author is allowed and recommended to distribute her/his papers to the virtual world (ex: in the institution repository or author's homepage) before or during the document consignment process because can support the productive exchange also an early and wide citation.
Every documents have been accepted should be attached with Copyright Submission Approval Form before article publication. Download the form here.