TERNATE LANGUAGE DISCLOSURES IN DISCOURSE TEXT IN OUTDOOR MEDIA: STUDY FORM, MEANING AND FUNCTION
Nurhayati Fokaaya

Kantor Bahasa Maluku Utara
Keywords:
Form, Meaning, Function, Ternate Language Expression, Outdoor Media
Abstract
This study aims to know the form, function and meaning of Ternate language expressions in Discourse Texts in Outdoor Media. The theory used to describe this research is semantic theory. The method used in this study is the method of data collection, data analysis methods, and data presentation methods. Data collection methods include the method of observation, documentation, and interviews with the guide book instruments, pens, cameras, and recording devices. The data analysis method is a qualitative description. The data in this study are secondary data and primary data. Primary data were obtained through Ternate language speakers, as well as outdoor media in the form of banners (billboards), billboards, and public facilities signboards whose contents contained the Ternate phrase text. Secondary data obtained through references in the form of journals, websites, and books whose reviews are related to the study of this paper. The results of this paper are found in seven forms of dolabololo expression and two forms of poetic expression (poetry). The meaning contained in the expression is the meaning of denotation and connotation meaning. Its function is as a form of advice, innuendo, appreciation, as well as a means of information for the public. 
Downloads
Download data is not yet available.
References
Abdullah, Alex dan Achmad HP. (2012). Linguistik Umum. Jakarta: Erlangga.
Aminuddin. (2011). Semantik: Pengantar Studi Tentang Makna. Bandung: Sinar Baru Algensindo.
Agustina, Leonie dan Abdul Chaer. (2010). Sosiolinguistik: Perkenalan Awal. Jakarta:Rineka Cipta.
Badan Pengembangan dan Pembinaan Bahasa, Kementerian Pendidikan dan Kebudayaan. (2018). Petunjuk Teknis Pengutamaan Bahasa Negara di Ruang Publik. Jakarta.
Badan Pengembangan dan Pembinaan Bahasa, Kementerian Pendidikan dan Kebudayaan. (2016). KBBI Ofline Edisi V. Jakarta.
Chaer, Abdul. (2009). Pengantar Semantik Bahasa Indonesia. Jakarta: Rineka Cipta.
http://www.mari-belajar-dolabololo. Tanggal, 17 April
https:// blogspot.com. lambang-provinsi-maluku-utara-beserta-artinya.html2020, 21 April 2020.
M. Sjah, Hidayatullah. (2006). Suba Jou: Gudu Mojo Sito Suba, Ri Jou Sito Nonako. Yayasan Gemusba.
Pateda, Mansoer. (2010). Semantik Leksikal. Jakarta: Rineka Cipta.
Pateda, Mansoer. (2001). Semantik Leksikal. Jakarta: Rineka Cipta.
Sudaryanto. (1992). Metode Linguistik: Ke Arah Memahami Metode Linguistik. Cetakan Ketiga. Yogyakarta: Gadjah Madah University Press.
Sumber Data (Informan): Aswan Abubakar. (2020). Tabona, Ternate Selatan, Kota Ternate.
Widyosiswoyo, Supartono. (2006). Sejarah Kebudyaan Indonesia. Jakarta: Universitas Trisakti.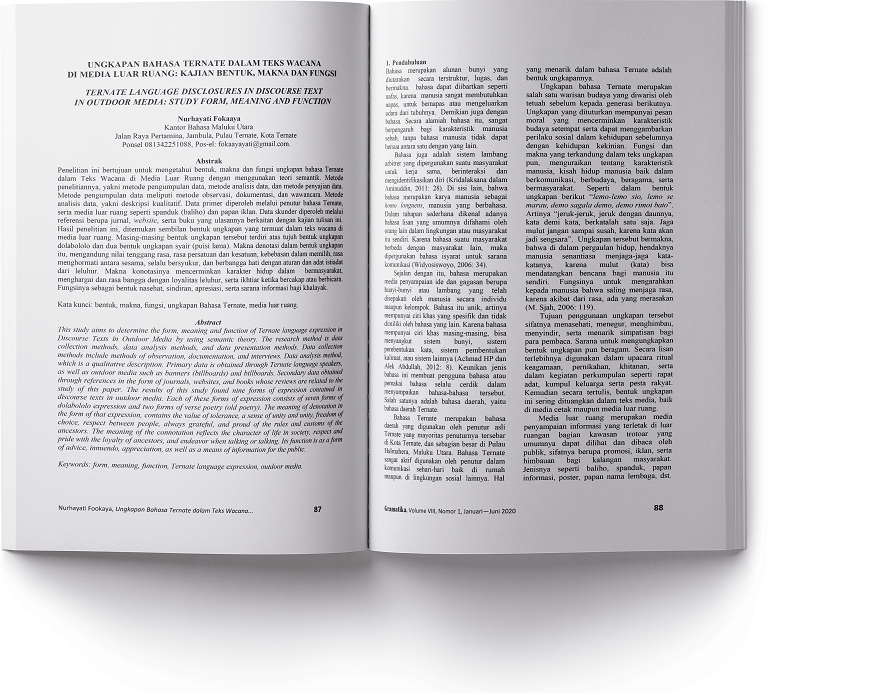 How to Cite
Fokaaya, N. (2020). TERNATE LANGUAGE DISCLOSURES IN DISCOURSE TEXT IN OUTDOOR MEDIA: STUDY FORM, MEANING AND FUNCTION. Gramatika: Jurnal Ilmiah Kebahasaan Dan Kesastraan, 8(1), 87-97. https://doi.org/10.31813/gramatika/8.1.2020.279.87-97
Copyright (c) 2020 Nurhayati Fokaaya
This work is licensed under a Creative Commons Attribution-NonCommercial-ShareAlike 4.0 International License.
The writer of published paper on Gramatika have agreed this following:
Article copyright still had by the author.
The author gives the first publication right of the article to Gramatika and its lisence onto Creative Commons Attribution License that allow other party to use or recitate the article but keep mention the name of original author and the first publication on Gramatika.
The author is allowed to republish the article that Gramatika have been published it before through separated contract deal due to non-exclusive distribution (ex: submitting in to institution repository or publishing onto a book) but still mention the first publication on Gramatika.
The author is allowed and recommended to distribute her/his papers to the virtual world (ex: in the institution repository or author's homepage) before or during the document consignment process because can support the productive exchange also an early and wide citation.
Every documents have been accepted should be attached with Copyright Submission Approval Form before article publication. Download the form here.