Humor of Sexuality in Text Message Language (Short Message Service):
A Sociopragmatics Study of Language Politeness
M Asri B

Balai Bahasa Sulawesi Tengah
Keywords:
humor sexuality, text message ( Short Message Service)
Abstract
As a means of entertaining communication, Humor is usually actualized in many various ways.One of which is text message or better known as SMS (short message service). The forms and structures of humors are quite varied. Many sexual-containing humors are against maxims or principles of politeness. This research used qualitative approach by implementing descriptive method. Results of the research indicate that avoidance of tobbo words in sexual-containing humors sent via text message is against the principles of language politeness.
Downloads
Download data is not yet available.
References
Akhadiah, Subakti dkk. 1992. Pembinaan Kemampuan dalam Berbahasa Indonesia. Jakarta: Erlangga.
Arikunto, Suharsisni. 2006. Prosedur Penelitian: Suatu Pendekatan Praktik. Edisi Revisi. Jakarta: Rineka Cipta.
Djajasudarma, T. Fatimah. 1993. Metode Linguistik: Ancangan Metode Penelitian dan Kajian. Bandung: Eresco.
Hidayati. 2009. "Analisis Pragmatik Humor Nasaruddin Hoja". Tesis. Fakultas Sastra Universitas Diponegoro, Semarang.
Holmes, J. 2001. An Introductions to Sosiolinguistics. London: Longman Group UK Limited.
Kamus Besar Bahasa Indonesia. 2001. Jakarta: Balai Pustaka.
Mey, J.L. 1996. Pragmatics An Introduction. New York: Blackwell Oxford UK dan Cambridge USA.
Ohoiwutun, Paul. 1997. Sosiolinguistik. Jakarta: Kesain Blanc.
Leech, G. 1993. Principle of Pragmatics. London: Longman.
Tarigan, Henry Guntur. 2009. Pengajaran Pragmatik. Bandung: Angkasa.
Wahab, Abdul. 1995. Isu Linguistik Pengajaran Bahasa dan Sastra. Surabaya: Airlangga University Press.
Wardhaugh, Ronald. 1998. An Introduction to Sociolonguitics. Massachusetts: Blacwell Publisher Inc.
Yule, George. 2006. Pragmatik. Diterjemahkan oleh Indah Fajar Wahyuni. Yogyakarta: Pustaka Pelajar.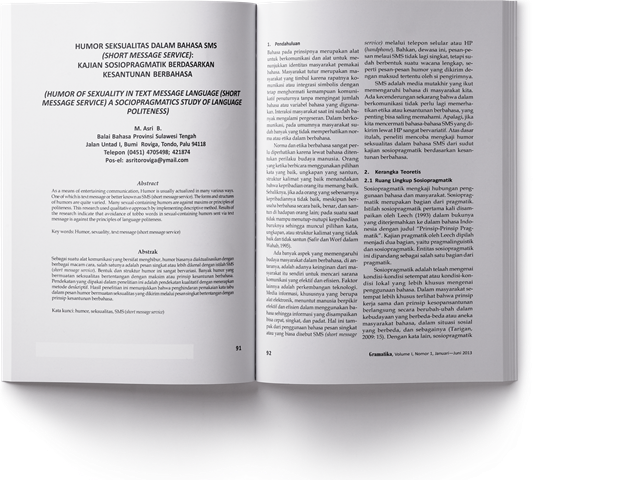 How to Cite
B, M. (2013). Humor of Sexuality in Text Message Language (Short Message Service):. Gramatika: Jurnal Ilmiah Kebahasaan Dan Kesastraan, 1(1), 91-100. https://doi.org/10.31813/gramatika/1.1.2013.29.91--100
The writer of published paper on Gramatika have agreed this following:
Article copyright still had by the author.
The author gives the first publication right of the article to Gramatika and its lisence onto Creative Commons Attribution License that allow other party to use or recitate the article but keep mention the name of original author and the first publication on Gramatika.
The author is allowed to republish the article that Gramatika have been published it before through separated contract deal due to non-exclusive distribution (ex: submitting in to institution repository or publishing onto a book) but still mention the first publication on Gramatika.
The author is allowed and recommended to distribute her/his papers to the virtual world (ex: in the institution repository or author's homepage) before or during the document consignment process because can support the productive exchange also an early and wide citation.
Every documents have been accepted should be attached with Copyright Submission Approval Form before article publication. Download the form here.