THE NEED ASSESMENT OF MADURA LEARNING MEDIA IN THE JUNIOR HIGH SCHOOL
Kusyairi Kusyairi

M. Khoiri

Universitas Madura
Keywords:
needs assessment, instructional media, Madurese language
Abstract
This study aims to examine the need assessment of the Madurese language learning media based on the responses of junior high school teachers. Based on the results of questionnaire collection that is analyzed with quantitative descriptions, the researcher concluded that the characteristics of the students are mostly active and they are interested in learning the Madurese.The use of learning methods is good, then the teachers must use more varied methods.Many teachers use textbook media and a little other media (multimedia) and even then mostly only occasionally. Teachers want adequate references and facilities to implement Madurese learning media and special training for Madurese language teachers. The teachers also suggest that there should be
many and widely available learning media, according to standardized spelling of the curriculum, and the free internet (wifi) to ease the learning and teaching Madurese.
Downloads
Download data is not yet available.
References
Arsyad, Azhar. 1997. Media Pengajaran. Jakarta: PT RajaGrafindo Persada,
Arsyad, Azhar. 2006. Media Pembelajaran. Jakarta: PT Raja Grafindo Persada.
Borg, R Walter dan Gall Meredith D. 1989. Educational Research An Introduction. Longman: Fifth Edition.
Greene, Harry A & Walter T Petty. 1971. Developing Language Skills in The Elementary Schools. Boston: Allyn and Bacon, Inc.
Hanafiah, Nanang, dan Cucu Suhana. 2009. Konsep Strategi Pembelajaran. Bandung: PT Refika Aditama.
Khoiri, M., & Harsono. (2018). Pengolahan Sampah Anorganik Menjadi Media Pembelajaran Bagi Guru TK/RA. Loyalitas, I(2), 87–96. http://ejournal.iaida.ac.id/index.php/loyal/article/view/292
Khoiri, M., Harsono, & Kusyairi. (2018). Kualitas Buku Ajar Muatan Lokal Bahasa Madura Tingkat SMP dan SMA Berdasarkan Persepsi Siswa. International Proceedings International Seminar on Language, Literature, Art, and Culture (ISLLAC) II, 368–376. http://isllac.um.ac.id/proceedings2018/
Nurgiantoro, Burhan. 2010. Penilaian Pembelajaran Bahasa: Berbasis Kompetensi. Yogyakarta: BPFE.
Sadiman, Arief S.. 2006. Media Pendidikan. Jakarta: PT Raja Grafindo Persada.
Sugiyono. 2009. Metode Penelitian Kuantitatif, Kualitatif dan R&D. Bandung: Alfabeta.
Sudjana, Nana dan Ahmad Rivai. 1990. Media Pengajaran. Bandung: CV Sinar Baru.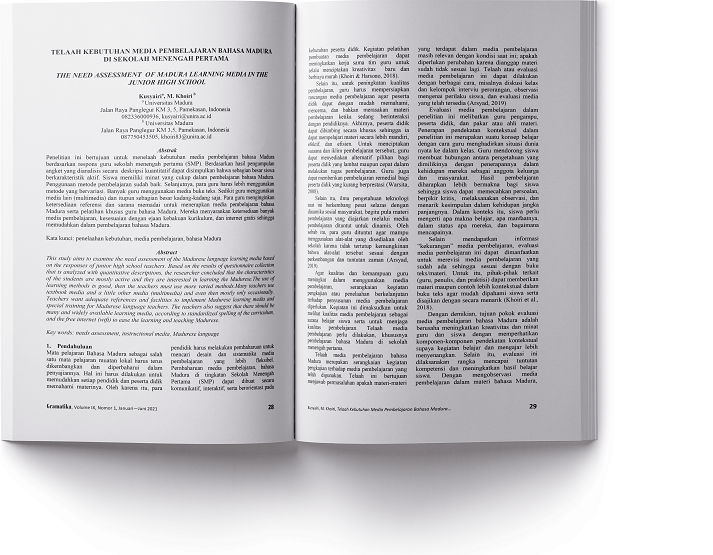 How to Cite
Kusyairi, K., & Khoiri, M. (2021). THE NEED ASSESMENT OF MADURA LEARNING MEDIA IN THE JUNIOR HIGH SCHOOL. Gramatika: Jurnal Ilmiah Kebahasaan Dan Kesastraan, 9(1), 28-36. Retrieved from http://gramatika.kemdikbud.go.id/index.php/gramatika/article/view/349
Copyright (c) 2021 Kusyairi Kusyairi, M. Khoiri
This work is licensed under a Creative Commons Attribution-NonCommercial-ShareAlike 4.0 International License.
The writer of published paper on Gramatika have agreed this following:
Article copyright still had by the author.
The author gives the first publication right of the article to Gramatika and its lisence onto Creative Commons Attribution License that allow other party to use or recitate the article but keep mention the name of original author and the first publication on Gramatika.
The author is allowed to republish the article that Gramatika have been published it before through separated contract deal due to non-exclusive distribution (ex: submitting in to institution repository or publishing onto a book) but still mention the first publication on Gramatika.
The author is allowed and recommended to distribute her/his papers to the virtual world (ex: in the institution repository or author's homepage) before or during the document consignment process because can support the productive exchange also an early and wide citation.
Every documents have been accepted should be attached with Copyright Submission Approval Form before article publication. Download the form here.