BILINGUALISM OF CHINESE ETHNIC TRADERS IN SIBORONGBORONG MARKET TAPANULI UTARA
Betti Siburian

Rudiansyah Rudiansyah

Universitas Sumatera Utara
Keywords:
bilingualisme, chinese ethnic, siborongborong, code switching, code mixing
Abstract
Siborongborong Chinese Ethnic Traders are multilingual people who are able to speak Mandarin, Batak Toba, and Indonesian language. This study aims to describe the code switching and codes used by ethnic Chinese traders in Siborongborong market in the realm of trade, as well as factors in the use of language in the realm of commerce in the Siborongborong Chinese community. The research method used is a qualitative-descriptive approach, which examines language in its relation to the community who uses it. This study uses the theory put forward by Kridalaksana, that language as an object in sociolinguistics is not seen or approached as a people's language which is carried out by general linguistics, but as a means of interaction or communication in society. Interview techniques and data analysis were carried out using listening techniques, engaging listening techniques, interviewing techniques and questionnaires. These results explain that there is the use of bilingualism as well as external code switching by ethnic Chinese traders from Siborongborong, namely from the Toba Batak language to Indonesian, as well as from the Toba Batak language to Mandarin. The factors that influence the use of community language in the Siborongborong Chinese ethnic group are due to the ethnic background, the presence of a third speaker, continuous language contact and a familiarity in the situation in the speech.
Downloads
Download data is not yet available.
References
Aritonang, Buha. (2018). Subject Property of Tetum Langauge, Foho Dialect in Nanaet Dubessi Village, Belu Regency, NTT Province. Jurnal Ilmiah Kebahasaan dan Kesastraan, 6(2), 111-124.
Arrasyid, I., Ermanto, E., & Juita, N. (2019). Penggunaan Kata Sapaan Bahasa Minangkabau di Nagari Koto Sani Kecamatan X Koto Singkarak Kabupaten Solok. Jurnal Bahasa dan Sastra, 6(3), 348-361.
Feblinda, S., & Nurizzati, N. (2020). Alih Aksara dan Alih Bahasa Teks Paparan Adat Limbago Alam Minangkabau. Jurnal Bahasa dan Sastra, 8(3), 164-172.
Julina, J., Erwani, I., & Rudiansyah, R. (2020). Philological Studies: Analysis of Chinese Calligraphy at the Tjong A Fie Mansion Museum. Randwick International of Social Science Journal, 1(3), 443-450.
Julina, J., Erwani, I., & Rudiansyah. (2020, December). Philology Studies at the Tjong A Fie Mansion Museum. In Talenta Conference Series: Local Wisdom, Social, and Arts (LWSA) (Vol. 3, No. 4, pp. 83-89).
Jung, C., Julina, J., & Rudiansyah, R. (2021). Syntactic Analysis of Chinese Imperative Function in" The Captain" Movie. Language Circle: Journal of Language and Literature, 15(2), 337-348.
Khotimah, D. K. (2014). Pemilihan Kode Bahasa pada Masyarakat Tutur di Kelurahan Sukapura, Kecamatan Kiaracondong, Kota Bandung (Kajian Sosiolinguistik). Bahtera Sastra: Antologi Bahasa dan Sastra Indonesia, 1(2).
Rudiansyah, R., Gunardi, G., & Nugrahanto, W. (2016). FUNGSI PUAK POI PADA UPACARA PAISIN DALAM BUDAYA MASYARAKAT TIONGHOA DI KOTA MEDAN. Jurnal Kajian Seni, 3(1), 31-42.
Reinhard, S. (2017). Gambaran Etos Kerja Pada Pedagang Etnis Tionghoa di Jakarta. Psibernetika, 7(1).
Rudiansyah, Gunardi, G., & Nugrahanto, W. (2019). Unsur Akulturasi Budaya pada Rumah Tjong A Fie di Kota Medan. PANTUN, 2(1).
Septia, M. P. (2017). Bahasa pedagang etnis cina dalam interaksi jual beli di pasar pondok kota padang: kajian sosiolinguistik. Jurnal Gramatika, 3(1), 1-8.
Sibarani, Liana & ansyah, Rudi & Julina, Julina. (2019). ANALISIS ASPEK NASIONALISME PADA FILM 1911 REVOLUTION (辛亥革命) (Nationalism in Film 1911 Revolution [辛亥革命]). Sirok Bastra. 7. 10.37671/sb.v7i1.143.
Tanjung, R., Rudiansyah, R., & Chen, J. (2019). LAMA GANG BENGKOK MOSQUE AS A MULTIETHNIC SYMBOL IN THE CITY OF MEDAN. JADECS, 4(2), 95-103.
Utami, T. D. (2010). Pemakaian Bahasa Komunitas Pedagang Di Pasar Klewer Kota Sala: Sebuah Peran Kajian Sosiolinguistik Menjaga Tradisi. Lingua, 6(1).

Abdul, C., & Leonie, A. (2010). Sosiolinguistik Perkenalan Awal. Jakarta: Rineka Cipta.
Chaer, A. (1990). Pengantar semantik bahasa Indonesia. Rineka Cipta.
Rudiansyah. (2016). Tipologi dan makna simbolis rumah Tjong A Fie. Yogyakarta: Estilisium.
Zein, A. B. (2000). Etnis Cina dalam potret pembauran di Indonesia. Gema Insani.

Andriyani, S. (2011). PILIHAN BAHASA PEDAGANG ETNIS CINA DALAM INTERAKSI JUAL BELI DI PASAR KOTA WONOGIRI (Doctoral dissertation, Universitas Muhammadiyah Surakarta).
Adyana, S. (2015). AKOMODASI BAHASA PADA MASYARAKAT KOTA PEKALONGAN ETNIS JAWA–TIONGHOA–ARAB DALAM RANAH PERDAGANGAN (Doctoral dissertation, Universitas Negeri Semarang).
Arizka Nudia Tami, A. (2015). Register Pedagang Pasar Karangkobar, Kecamatan Karangkobar, Kabupaten Banjarnegara Dengan Dialek Banyumasan: Tinjauan Sosiolinguistik (Doctoral dissertation, Universitas Muhammadiyah Surakarta).
Hutasoit, L. S. (2017). SEJARAH MIGRASI ETNIS TIONGHOA DI KECAMATAN SIBORONGBORONG KABUPATEN TAPANULI UTARA (1900-1958) (Doctoral dissertation, UNIMED).
Mauru, S. (2013). Penggunaan bahasa Indonesia dalam interaksi masyarakat multietnik kompleks Perumahan BTN Palu Utara (Doctoral dissertation, Universitas Negeri Malang).
Wibowo, A. (2006). Pilihan Bahasa Pedagang Etnis Cina dalamIinteraksi Jual Beli diPasar Kota Salatiga (Doctoral dissertation, Universitas Negeri Semarang).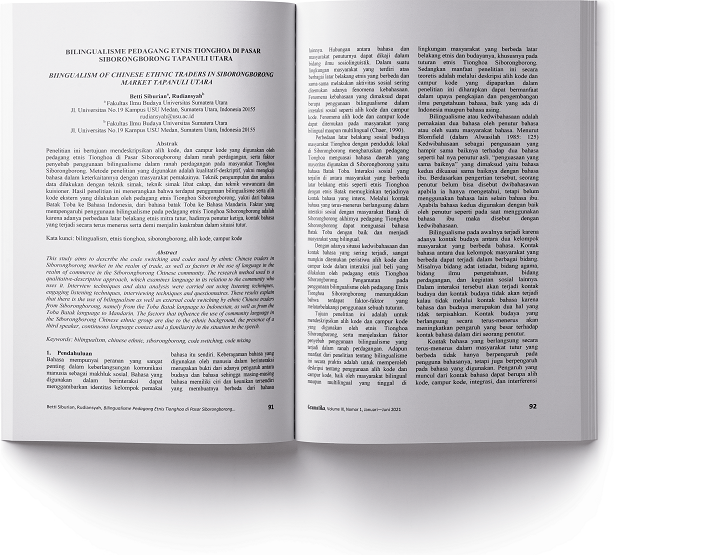 How to Cite
Siburian, B., & Rudiansyah, R. (2021). BILINGUALISM OF CHINESE ETHNIC TRADERS IN SIBORONGBORONG MARKET TAPANULI UTARA. Gramatika: Jurnal Ilmiah Kebahasaan Dan Kesastraan, 9(1), 91-97. Retrieved from http://gramatika.kemdikbud.go.id/index.php/gramatika/article/view/363
Copyright (c) 2021 Betti Siburian, Rudiansyah Rudiansyah
This work is licensed under a Creative Commons Attribution-NonCommercial-ShareAlike 4.0 International License.
The writer of published paper on Gramatika have agreed this following:
Article copyright still had by the author.
The author gives the first publication right of the article to Gramatika and its lisence onto Creative Commons Attribution License that allow other party to use or recitate the article but keep mention the name of original author and the first publication on Gramatika.
The author is allowed to republish the article that Gramatika have been published it before through separated contract deal due to non-exclusive distribution (ex: submitting in to institution repository or publishing onto a book) but still mention the first publication on Gramatika.
The author is allowed and recommended to distribute her/his papers to the virtual world (ex: in the institution repository or author's homepage) before or during the document consignment process because can support the productive exchange also an early and wide citation.
Every documents have been accepted should be attached with Copyright Submission Approval Form before article publication. Download the form here.