LEARNING MEDIA DEVELOPMENT OF SCIENTIFIC WRITING FOR CLASS XI VOCATIONAL SCHOOL STUDENTS
Salman Alade

IAIN SULTAN AMAI GORONTALO
Keywords:
learning media development, scientific writing, students' writing ability
Abstract
This study aims to design and develop learning media for writing scientific papers for vocational students. The theory used in this research is the theory of scientific writing learning, development of learning media, participatory learning, and collaborative learning. The method of this research is a development method with the implementation procedures based on 4D stages to develop learning tools consisting of four main stages, namely definition, design, development, and deployment. The design of learning media for writing scientific papers for vocational students is macromedia flash which includes three main contents, namely general aspects, media content, and aspects of learning media display. The results show that based on product trials, the development of learning media for writing scientific papers for SMK students has been proven to be effective in learning to make students able to write scientific papers
Downloads
Download data is not yet available.
References
Daftar Pustaka
Afifah, N., & Ria, K. (2018). Pengembangan Media Berbasis SOftware MAcromedia FLash pada Pembelajaran Bilogi untuk SIswa Kelas XI SMA. Inovasi Pendidikan, 5(2), 129.
Andi, A. (2003). Menguasai Pembuatan Animasi dengan Macromedia Flash (hlm. 3). Jakarta: PT Elex Media Komputindo.
Arsyad, A. (2014). Media Pembelajaran (hlm. 19). Jakarta: PT. Raja Grafindo Persada.
Ayubi, S., & Haning, H. (2015). The Development of Learning Media of Realistic Mathematics Learning Based Macromedia Flash on Rectangle and Square Materials for Junior High School Student. Educatione.3(1).
Daryanto. (2006). Media Pembelajaran (hlm. 4--5). Yogyakarta: Gacva Media.
Daryanto. (2016). Media Pembelajaran (hlm. 82). Yogyakarta: Gacva Media.
Gie, T. L. (2002). Terampil Mengarang (hlm. 21). Yogyakarta: Andi.
Kusmana, S. (2012). Merancang Karya Tulis Ilmiah (hlm. 84). Bandung: Rosda.
Mulyati, Y., & dkk. (2005). Pendidikan Bahasa dan Sastra di Kelas Tinggi (hlm. 233). Jakrta: Universitas Terbuka.
Prawira, P. A. (2012). Psikologi Pendidikan dalam Perspektif Baru. Yogyakarta: Ar-Ruzz Media.
Sumantri, M. (2001). Pengertian Media Pembelajaran. Retrieved Maret 26, 2018, from http://edukasi.kompasiana.com/2011/04/19/apa-perbedaan-penelitiankualitatif-dan-penelitian-kuantitatif/.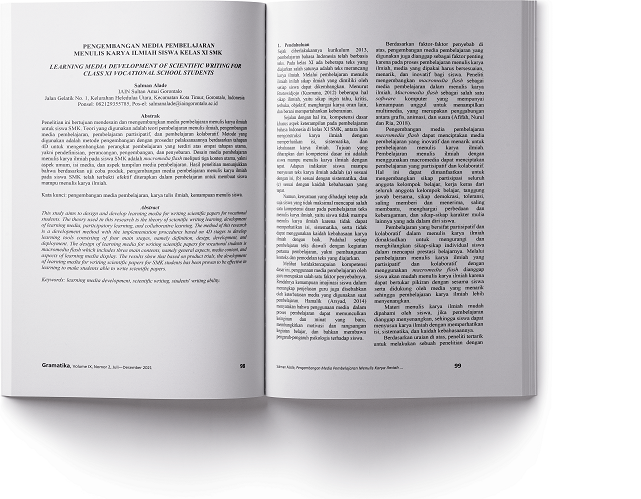 How to Cite
Alade, S. (2021). LEARNING MEDIA DEVELOPMENT OF SCIENTIFIC WRITING FOR CLASS XI VOCATIONAL SCHOOL STUDENTS. Gramatika: Jurnal Ilmiah Kebahasaan Dan Kesastraan, 9(2), 98-110. https://doi.org/10.31813/gramatika/9.2.2021.368.98--110
Copyright (c) 2021 Salman Alade
This work is licensed under a Creative Commons Attribution-NonCommercial-ShareAlike 4.0 International License.
The writer of published paper on Gramatika have agreed this following:
Article copyright still had by the author.
The author gives the first publication right of the article to Gramatika and its lisence onto Creative Commons Attribution License that allow other party to use or recitate the article but keep mention the name of original author and the first publication on Gramatika.
The author is allowed to republish the article that Gramatika have been published it before through separated contract deal due to non-exclusive distribution (ex: submitting in to institution repository or publishing onto a book) but still mention the first publication on Gramatika.
The author is allowed and recommended to distribute her/his papers to the virtual world (ex: in the institution repository or author's homepage) before or during the document consignment process because can support the productive exchange also an early and wide citation.
Every documents have been accepted should be attached with Copyright Submission Approval Form before article publication. Download the form here.