Nation Characters as Reflected in Pappaseng Tomatoa
Mustafa Mustafa

Balai Bahasa Sulawesi Selatan dan Sulawesi Barat
Keywords:
nation characters, attitude, indigenous wise ards
Abstract
Pappaseng tomata unifies every individual and becomes the base of norms and regulations through which the values of honesty, courtesy, customs, and manners are taught. This article is expected to bring interest to those who are interested in Literature to preserve and develop the local culture. This research aims to figure out nation characters as reflected in Pappaseng tomatoa (indigenous wise words) by implementing theory of Structuralism and Sociology. The data are obtained through library and field studies. Results indicate some national characters, namely (1) work ethic, (2) persistence, (3) religious obedience, (4) discipline, and (5) wisdom.
Downloads
Download data is not yet available.
References
Enre, Fachruddin Ambo et al. 1985. "Sastra Lisan Puisi Bugis". Ujung Pandang: Proyek Penelitian Bahasa dan Sastra Indonesia dan Daerah Sulawesi Selatan
Damono, Supardi Djoko 1978. Sosiologi Sastra, Sebuah Pengantar Ringkas. Jakarta: Pusat Pembinaan dan Pengembangan Bahasa, Departemen Pendidikan dan kebudayaan.
Hakim, Zainuddin, et al. 1998. "Nilai dan Manfaat Sastra Daerah Sulawesi Tahap II". Ujung Pandang: Proyek Penelitian Bahasa dan Sastra Indonesia dan Daerah Sulawesi Selatan.
Koesoema A., Doni. 2010. Pendidikan Karakter, Strategi Mendidik Anak di Zaman Global. Jakarta: PT Gramedia Widiasarana.
Machmud, A. Hasan. 2001. Silasa I. Makassar: UD Indah Jaya.
Mattalitti, Arief M., et al. 1985. "Pappaseng Tomatoa (Petuah Leluhur)". Ujung Pandang: Balai Bahasa Ujung Pandang.
Murmahyati. 2000. Nilai Edukatif Pappaseng dalam Sastra Bugis. Makassar: Balai Bahasa Ujung Pandang.
Mustafa. 2010. "Pappaseng Tomatoa: Relevansinya dengan Masa Kini". Tulisan pada Seminar Bahasa dan Sastra Indonesia dan Daerah. Makassar Golden Hotel (MGH), 6 Oktober 2010.
Palippui, H., et al. 1992. Ada Sulsana Ugi Masagalae. Sengkang: Yayasan Kebudayaan Mini Latenribali.
Syamsudduha. 2012. "Pendidikan Nilai dan Karakter dalam Pappaseng: Representasi Norma dan Falsafah Hidup Masyarakat Bugis". (Prosiding: Kongres Internasional II Bahasa-Bahasa Daerah Sulawesi Selatan Tahun 2012. Tanggal 1--4 Oktober 2012 di Hotel Sahid Jaya Makassar.
Rahim, A. Rahman. 1985. Nilai-nilai Utama Kebudayaan Bugis. Ujung Pandang: Lembaga Penerbitan Universitas Hasanuddin.
Teeuw, A. 1988. Sastra dan Ilmu Sastra. Pengantar Teori Sastra. Jakarta: Pustaka Jaya-Girimukti Pasaka.
Yatim, Nurdin. 1983. Subsistem Honorifik Bahasa Makassar: Sebuah Analisis Sosiolinguistik. Jakarta: Direktor Jenderal Pendidikan Tinggi.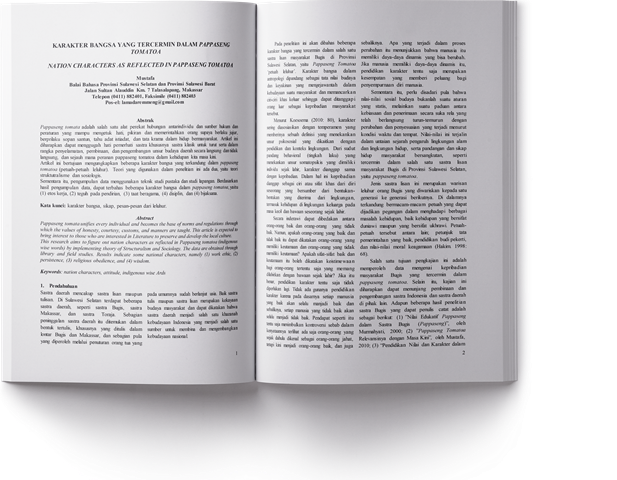 How to Cite
Mustafa, M. (2016). Nation Characters as Reflected in Pappaseng Tomatoa. Gramatika: Jurnal Ilmiah Kebahasaan Dan Kesastraan, 4(1), 1-11. https://doi.org/10.31813/gramatika/4.1.2016.38.1--11
Copyright (c) 2016 Mustafa Mustafa
This work is licensed under a Creative Commons Attribution-NonCommercial-ShareAlike 4.0 International License.
The writer of published paper on Gramatika have agreed this following:
Article copyright still had by the author.
The author gives the first publication right of the article to Gramatika and its lisence onto Creative Commons Attribution License that allow other party to use or recitate the article but keep mention the name of original author and the first publication on Gramatika.
The author is allowed to republish the article that Gramatika have been published it before through separated contract deal due to non-exclusive distribution (ex: submitting in to institution repository or publishing onto a book) but still mention the first publication on Gramatika.
The author is allowed and recommended to distribute her/his papers to the virtual world (ex: in the institution repository or author's homepage) before or during the document consignment process because can support the productive exchange also an early and wide citation.
Every documents have been accepted should be attached with Copyright Submission Approval Form before article publication. Download the form here.