GRAMATICAL AND LEXICAL COHESION IN THE FRAGMENT OF THE NOVEL "KEKUATAN EKOR BIRU NATAGA" IN TEACHING BOOK OF INDONESIAN CLASS 7
Mujahid Taha

Universitas Hasanuddin

Gusnawaty Gusnawaty

Universitas Hasanuddin

M. Syafri Badaruddin

Universitas Hasanuddin
Keywords:
grammatical cohesion, lexical, novel
Abstract
This study describes the form of grammatical and lexical cohesion markers between sentences contained in the fragment of the novel Strength of the Blue Dragon in the Class 7 Indonesian Language Textbook. This research is a qualitative descriptive study with data in the form of linguistic aspects, especially internal language studies, grammatical cohesion markers and lexical. The results showed that grammatical and lexical cohesion elements were found including, grammatical: additional or additive conjunctions, namely in the word and and di-serta-i, and also, sequence or sequence conjunctions in the past word, and adverb conjunctions of place in the word with. Lexical: repetition with full repetition of a noun (personal name; Nataga); synonyms in the form of nouns (personal names; Tana Modo and Tana Air); antonyms in the form of verbs, namely the word fall and ready to attack; collocation in the form of nouns and adjectives, namely words that highlight eyes, are red, and are full of anger; hyponyms in the form of nouns (animals), namely the words ants, termites, and mice (animals); and equivalence in the form of verbs and nouns, namely the words siege and siege.
Downloads
Download data is not yet available.
References
Alfaris, R. (2014). Analisis Kohesi Gramatikal Dan Leksikal Dalam Novel Wulandari Karya Yunani. 04, 76–83.
Alwi, H. (2003). Tata Bahasa Baku Bahasa Indonesia Edisi Ketiga. Balai Pustaka.
Dilla Frisca, Morelent Yetty, G. (2018). KOHESI LEKSIKAL DALAM NOVEL HUJAN KARYA TERE LIYE (KAJIAN STRUKTURAL). Basastra, 6(2).
Dwinuryati, Y., Andayani, A., & Winarni, R. (2018). Analisis Kohesi Gramatikal dan Leksikal pada Teks Eksposisi Siswa Kelas 10 Sekolah Menengah Atas. Scholaria: Jurnal Pendidikan Dan Kebudayaan, 8(1), 61–69. https://doi.org/10.24246/j.js.2018.v8.i1.p61-69.
Harsiati Titik, Trianto Agus, dan K. E. (2017). Bahasa Indonesia. Kementerian Pendidikan dan Kebudayaan.
Jorgensen Marianne W., dan Philips Louise J. (2007). Analisis Wacana: Teori dan Metode. Pustaka Pelajar.
Lubis, H. H. (1991). Analisis Wacana Pragmatik. Angkasa.
Rani, A. (2004). Analisis Wacana. Bayumedia.
Sugiono. (2018). Metode Penelitian Kuantitatif Kualitatif dan R & D: Bandung. ALFABETA.
Sumarlam. (2003). Analisis Wacana Tekstual dan Kontekstual. Pustaka Cakra Surakarta.
Surastina. (2016). Pengkajian Wacana, Sebuah Pengantar. PENERBIT EMATERA.
Tarigan, H. G. (1983). Prinsip Prinsip Dasar Sintaksis. Angkasa.
Wijana, I., D., P., dan Rohmadi, M. (2011). Semantik Teori dan Analisis. Yuma Pustaka.
Wijana, I., D., P. (2019). Pengantar Semantik Bahasa Indonesia. Program S-2 Linguistik, FIB, UGM dan Pustaka Pelajar.
Zulaiha, W. P. (2014). Analisis Kohesi Gramatikal dan Leksikal dalam Novel Jemini Karya Suparto Brata. Jurnal Program Studi Pendidikan Bahasa Dan Sastra Jawa_Universitas Muhammadiyah Purworejo, 05(01), 56–62.http://ejournal.umpwr.ac.id/index.php/aditya/article/view/1564/1481.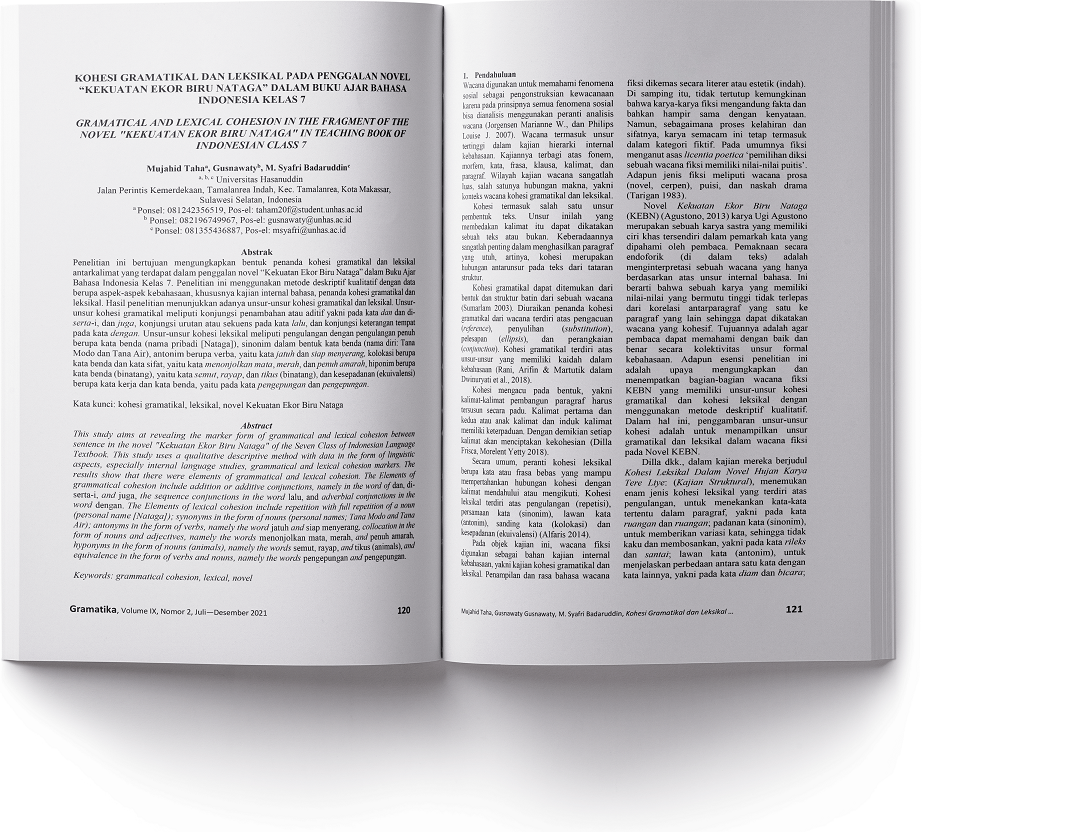 How to Cite
Taha, M., Gusnawaty, G., & Badaruddin, M. S. (2021). GRAMATICAL AND LEXICAL COHESION IN THE FRAGMENT OF THE NOVEL "KEKUATAN EKOR BIRU NATAGA" IN TEACHING BOOK OF INDONESIAN CLASS 7. Gramatika: Jurnal Ilmiah Kebahasaan Dan Kesastraan, 9(2), 120-129. https://doi.org/10.31813/gramatika/9.2.2021.381.120--129
Copyright (c) 2021 Mujahid Taha, Gusnawaty Gusnawaty, M. Syafri Badaruddin
This work is licensed under a Creative Commons Attribution-NonCommercial-ShareAlike 4.0 International License.
The writer of published paper on Gramatika have agreed this following:
Article copyright still had by the author.
The author gives the first publication right of the article to Gramatika and its lisence onto Creative Commons Attribution License that allow other party to use or recitate the article but keep mention the name of original author and the first publication on Gramatika.
The author is allowed to republish the article that Gramatika have been published it before through separated contract deal due to non-exclusive distribution (ex: submitting in to institution repository or publishing onto a book) but still mention the first publication on Gramatika.
The author is allowed and recommended to distribute her/his papers to the virtual world (ex: in the institution repository or author's homepage) before or during the document consignment process because can support the productive exchange also an early and wide citation.
Every documents have been accepted should be attached with Copyright Submission Approval Form before article publication. Download the form here.