TYPES OF FOCALIZATION IN THE NOVEL OF TRILOGI SOEKRAM BY SAPARDI DJOKO DAMONO (MIEKE BAL'S NARATOLOGY THEORY STUDY)
Muh As'ad

Universitas Negeri Makassar

Nengsilianti Nengsilianti

Universitas Negeri Makassar

Suarni Syam Saguni

Universitas Negeri Makassar
Keywords:
Novel, Narratology, Focalization
Abstract
The study aims to describe focalization by using Mieke Bal's naratology study. This research is a qualitative and uses narratological interpretation. The data collection technique is a documentation technique, namely reading and noting the data by the research focus. The collected data is taken from novel Soekram Trilogy by Saaprdi Djoko Damono that is identified, classified, and analysed. The results showed that novel Soekram Trilogy was more dominant in using narrators from outside the fabula (story) compared to narrators from figures inside the fabula. This happened because there are many external focalizers related the events that occur in the novel so that the narrator is more active in every event flows in the story.
Downloads
Download data is not yet available.
References
Bal, M., & Van Boheemen, C. (2009). Narratology: Introduction to the theory of narrative. University of Toronto Press.
Damono, S. D. (2015). Trilogi Soekram. Gramedia Pustaka Utama.
Dewi, N. P. Y., Ekasriadi, I. A. A., & Sujaya, I. M. (2018). Fokalisasi Novel Tempurung Karya Oka Rusmini dan Relevansinya dalam Pembelajaran Sastra di SMA/SMK. Stilistika: Jurnal Pendidikan Bahasa Dan Seni, 7(1), 92–109.
Emzir, S. R., & Rohman, S. (2015). Teori dan pengajaran sastra. Jakarta: Raja Grafindo Persada.
Evanda, T. (2017). Kajian Naratologi Roman Reckless–Steinerses Fleisch Karya Cornelia Funke. Skripsi. Universitas Negeri Yogyakarta.
Hidajat, H. (2017). Kajian Naratologi pada Tata Pameran Tetap Museum Perjuangan Kemerdekaan di Jakarta. JSRW (Jurnal Senirupa Warna), 5(1).
PANNARAB, D. P. (2016). Dimensi Metafiksi dalam Novel Trilogi Soekram Karya Sapardi Djoko Damono dan Rancangan Pembelajarannya di SMA.
Pribadi, R., & Iriyansah, M. R. (2020). Fokalisasi dalam Novel Semua Ikan Di Langit Karya Ziggy Zezsyazeoviennazabrizkie (Suatu Kajian Naratologi). Deiksis, 12(01), 56–68.
Ratna, I. N. K. (2004). Teori, metode & teknik penelitan sastra: dari strukturalisme hingga postrukturalisme: perspektif wacana naratif. Pustaka Pelajar.
Refita, M. S. (2019). Konflik Sosial Dalam Novel Trilogi Soekram Karya Sapardi Djoko Damono. STKIP PGRI Sumbar.
Soemanto, B. (2006). Sapardi Djoko Damono: karya dan dunianya. Grasindo.
Tazkia, M., Firmansyah, E., & Rosa, H. T. (2018). Sudut Pandang Spasial dan Temporal pada Kumpulan Cerpen Sihir Perempuan Karangan Intan Paramaditha (Perspektif Naratologi Uspensky). Arkhais-Jurnal Ilmu Bahasa Dan Sastra Indonesia, 9(1), 72–83.
Wibowo, E. (2017). Kajian Nilai-nilai Historisme dalam Novel Trilogo Soekram Karya Sapardi Joko Damono. Jurnal Kibas Cendrawasih, 14(2), 209–220.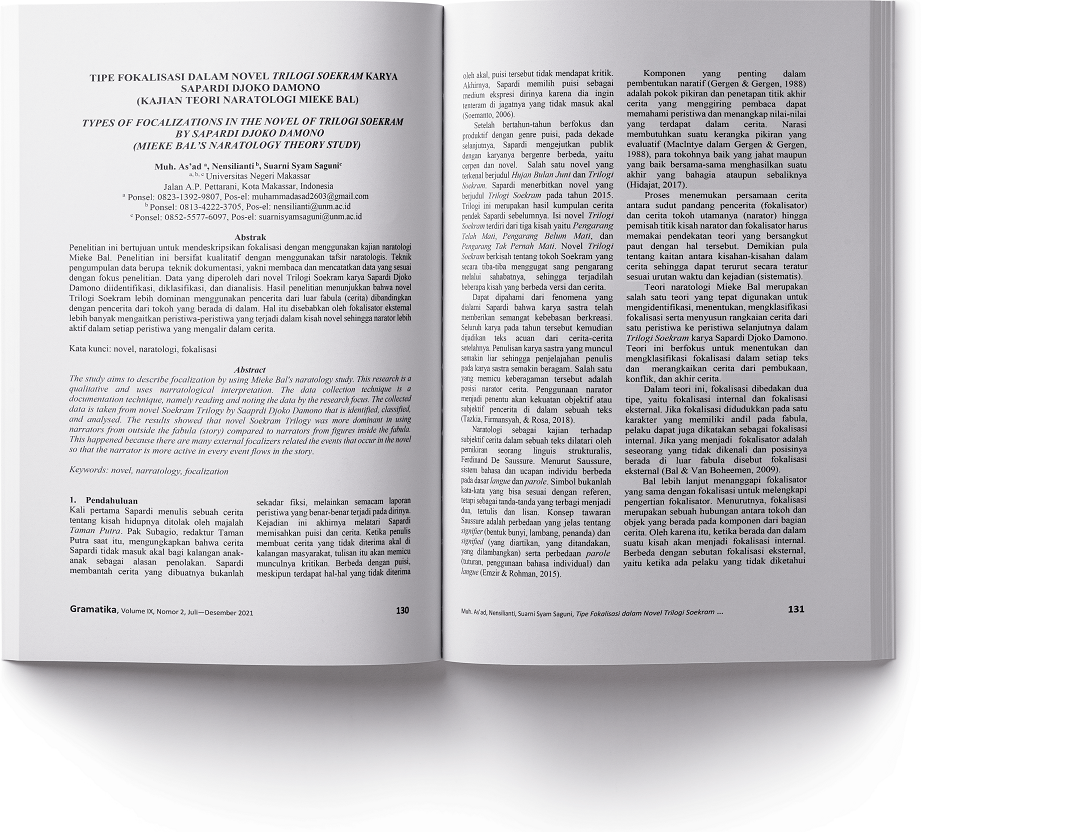 How to Cite
As'ad, M., Nengsilianti, N., & Saguni, S. (2021). TYPES OF FOCALIZATION IN THE NOVEL OF TRILOGI SOEKRAM BY SAPARDI DJOKO DAMONO (MIEKE BAL'S NARATOLOGY THEORY STUDY). Gramatika: Jurnal Ilmiah Kebahasaan Dan Kesastraan, 9(2), 130-138. https://doi.org/10.31813/gramatika/9.2.2021.385.130--138
Copyright (c) 2021 Muh As'ad, Nensilianti, Suarni Syam Saguni
This work is licensed under a Creative Commons Attribution-NonCommercial-ShareAlike 4.0 International License.
The writer of published paper on Gramatika have agreed this following:
Article copyright still had by the author.
The author gives the first publication right of the article to Gramatika and its lisence onto Creative Commons Attribution License that allow other party to use or recitate the article but keep mention the name of original author and the first publication on Gramatika.
The author is allowed to republish the article that Gramatika have been published it before through separated contract deal due to non-exclusive distribution (ex: submitting in to institution repository or publishing onto a book) but still mention the first publication on Gramatika.
The author is allowed and recommended to distribute her/his papers to the virtual world (ex: in the institution repository or author's homepage) before or during the document consignment process because can support the productive exchange also an early and wide citation.
Every documents have been accepted should be attached with Copyright Submission Approval Form before article publication. Download the form here.