VIOLENCE IN THE NOVEL OF LAUT BERCERITA BY LEILA S. CHUDORI
Anisa Fajriana Oktasari

Universitas Madura

Alan Farizi

Universitas Madura
Keywords:
laut bercerita, kekerasan
Abstract
Violence is a psychological activity in individual life as a result of emotional outbursts and it manifested in actions that can harm others people. The phenomenon of violence that occurs in reality often become a source of inspiration or idea for a writer such as Leila S. Chudori. Through her novel, Laut Bercerita (2017), he describes the violence in the life story experienced by the main character: Biru Laut. The data analysis technique is carried out by (1) identifying the data, namely recording all forms of violence in the novel; (2) classifying data, namely sorting out physical and non-physical violence; (3) interpreting data, namely interpreting each paragraph or sentence according to the researcher's understanding based on theory; and (4) describing the data, namely detailing in depth and focus so that the problem to be answered is found. As a result, in the novel of Laut Bercerita by Leila S. Chudori, there are two types of violence, namely (1) physical violence, in the form of fists, kicks, slaps, etc. and (2) non-physical violence, in the form of fear, sadness, trauma, and other psychological disorders.
Downloads
Download data is not yet available.
References
Ahmadi, Abu. 2007. Psikologis Sosial. Jakarta: Rineka Cipta.
Alawiya, Tuti. 2018. Kekerasan Dalam Novel Maluku Kobaran Cintaku Klarya Ratna Sarumpaet. Padang: (STKIP) PGRI Sumatra Barat. Diakses pada tanggal 6 September 2018.
Arikunto, Suharsimi. 2006. Prosedur Penelitian:Suatu Penelitian Praktik. Jakarta: Rineka Cipta.
Atmasasmita, Romli. 2007. Teori dan Kapita Selekta Kriminologi. Bandung: PT Refika Aditama.
Baryadi, Praptomo. 2012. Bahasa, Kekuasaan, dan Kekerasan. Yogyakarta: Universitas Sanata Dharma.
Chudori, Leila S. 2017. Laut Bercerita. Jakarta: Kepustakaan Populer Gramedia.
Darma, Yoce Aliah. 2009. Analisis Wacana Kritis. Bandung: Yrama Widya.
Djojosuroto, Sumaryati. 2014. Bahasa dan Sastra. Bandung: Nuansa Cendekia
Moleong, Lexy J. 2005. Metodelogi Penelitian Kualitatif. Bandung: Remaja Rosda Karya.
Stanton, Robert. 2007. Teori Fiksi. Yogyakarta: Pustaka Pelajar.
Santoso, Anang. 2011. Bahasa Perempuan. Jakarta: PT Bumi Aksara.
Santoso, Thomas. 2001. Kekuasaan dan Kekerasan, Dalam Jurnal Masyarakat, Kebudayaan, dan Politik. Tahun XIV, Nomor 4, Oktober 2001, 89 -102. Diakses pada tanggal 6 September 2018.
Syafridon, dkk. 2004. Kekerasan Terhadap Anak dalam Rumah Tangga dalam Novel Pintu Terlarang Karya Sekar Ayu Asmara.Diakses pada tanggal 1 September 2018.
Yulaika, 2014. Kekerasan Pada Kumpulan Cerpen Amalia Karya Surgana. Pamekasan: Universitas Madura.
Zaidan, dkk. 2007. Islam Tanpa Kekerasan. Yogyakarta: Pelangi Aksara.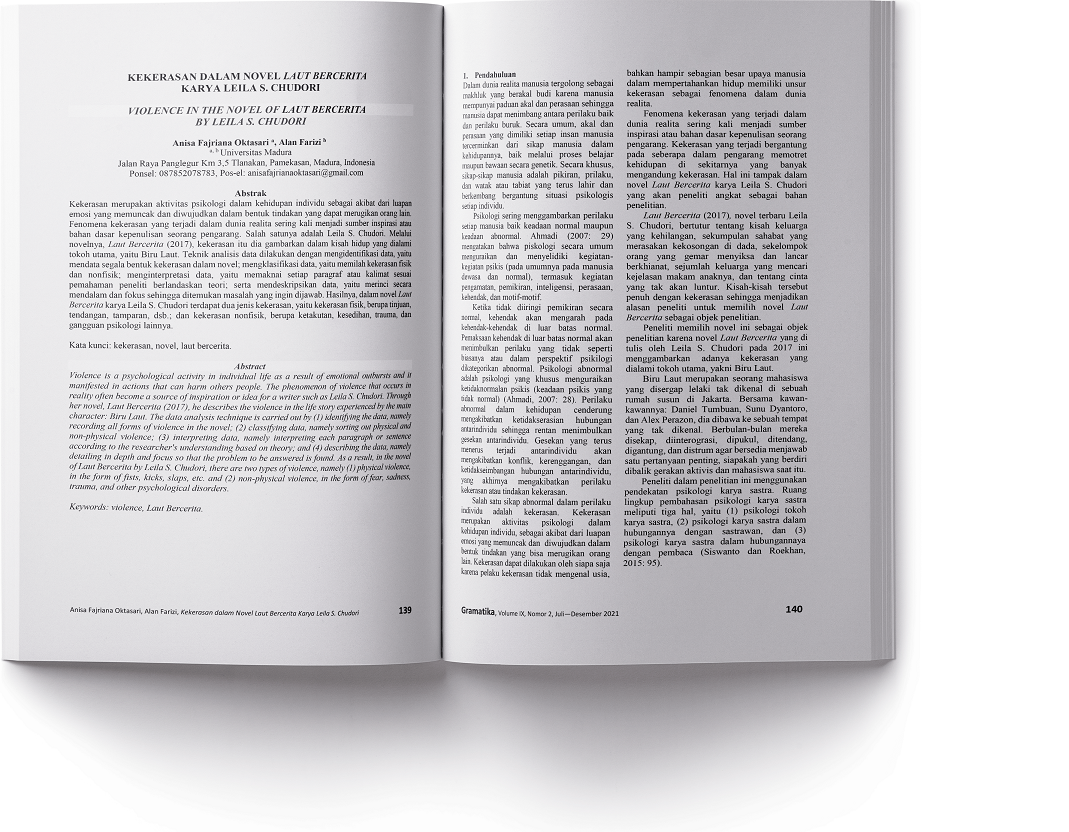 How to Cite
Oktasari, A., & Farizi, A. (2021). VIOLENCE IN THE NOVEL OF LAUT BERCERITA BY LEILA S. CHUDORI. Gramatika: Jurnal Ilmiah Kebahasaan Dan Kesastraan, 9(2), 139-146. https://doi.org/10.31813/gramatika/9.2.2021.387.139--146
Copyright (c) 2021 Anisa Fajriana Oktasari, Alan Farizi
This work is licensed under a Creative Commons Attribution-NonCommercial-ShareAlike 4.0 International License.
The writer of published paper on Gramatika have agreed this following:
Article copyright still had by the author.
The author gives the first publication right of the article to Gramatika and its lisence onto Creative Commons Attribution License that allow other party to use or recitate the article but keep mention the name of original author and the first publication on Gramatika.
The author is allowed to republish the article that Gramatika have been published it before through separated contract deal due to non-exclusive distribution (ex: submitting in to institution repository or publishing onto a book) but still mention the first publication on Gramatika.
The author is allowed and recommended to distribute her/his papers to the virtual world (ex: in the institution repository or author's homepage) before or during the document consignment process because can support the productive exchange also an early and wide citation.
Every documents have been accepted should be attached with Copyright Submission Approval Form before article publication. Download the form here.