REPRESENTATION OF GENDER BIAS MORALITY ON MARRIAGE TRADITION OF GORONTALO SOCIETY IN NOVEL PERAWAN KEDUA BY LIZHA NURKAMIDEN
Nur Aina Ahmad

IAIN SULTAN AMAI GORONTALO
Keywords:
representasi of morality, gender bias, marriage tradition, novel
Abstract
This research aims to describe the components of Gorontalo community's customs or marriage tradition in the novel literary work Perawan Kedua by Lizha Nur Kamiden which contains elements of gender-biased morality. This research is a qualitative descriptive by using a sociology of literature approach. The data in this research were all forms of words, phrases, and sentences that represented moral values ​​or contain elements of morality that were gender biased in the marriage tradition of Gorontalo community. The main data source of this research was the novel Perawan Kedua by Lizha Nur Kamiden. Technique of collecting data used reading, listening, recording. Technique of analyzing data used sociology of literature studies. The results found that the representation of morality in the category of gender bias in marriage tradition of Gorontalo community in Perawan Kedua novel was found in bridal clothing, the stages of marriage, namely the tolobalango tradition (marriage proposal) as well as moodutu (traditional wedding delivery procession), and the kain putih pengantin (virgin white clothing).
Downloads
Download data is not yet available.
References
Damono, Sapardi Djoko. (2002). Sosiologi sastra; Sebuah Pengantar. Pusat Pembinaan dan Pengembangan Bahasa
Endraswara, Suwardi. (2013). Sosiologi Sastra Studi, Teori, dan Interpretasi. Ombak
Hariana. (2010). Pakaian Adat Perkawinan Suku Gorontalo. Wahana Media Pustaka.
McPhail, B.A., Busch, N.B., Kulkarni, S., & Rice, G. (2007). An integrative Feminist Model, The Evolving Feminist Perspective on Intimate Patner Violence. Violence Against Women, 13 (8), 817-841.
Maksum, Ali. (2016). Sosiologi Pendidikan. Madani.
Malawat, Insum. (2018). Tradisi Suku Asmat dalam Roman Namaku Teweraut Karya Ani Sekarningsih. Retorika, 11 (2), 154-162.
Marwinda, Kristin. (2020). Dominasi Laki-laki Terhadap Perempuan di Ranah Domestik dalam Novel Safe Haven karya Nicholas Sparks. Salingka, 17 (2), 179-192.
Nurgiyantoro, Burha. (2010). Teori Pengkajian Fiksi. Gadjah Mada.
Nurkamiden, Lizha. (2018). Perawan Kedua. AE Publishing.
Ratna, Nyoman Kutha. (2016). Estetika Sastra dan Budaya. Pustaka Pelajar
Saryono, J. (2009). Dasar Apresiasi Karya Sastra. Almatera Publishing.
Sugihastuti. (2010). Gender dan Inferioritas Perempuan Praktik Kritik Sastra Feminis. Pustaka Pelajar.
Umar, Nasaruddin. (2001). Argumen Kesetaraan Gender Perspektif Al'Quran. Paramadina.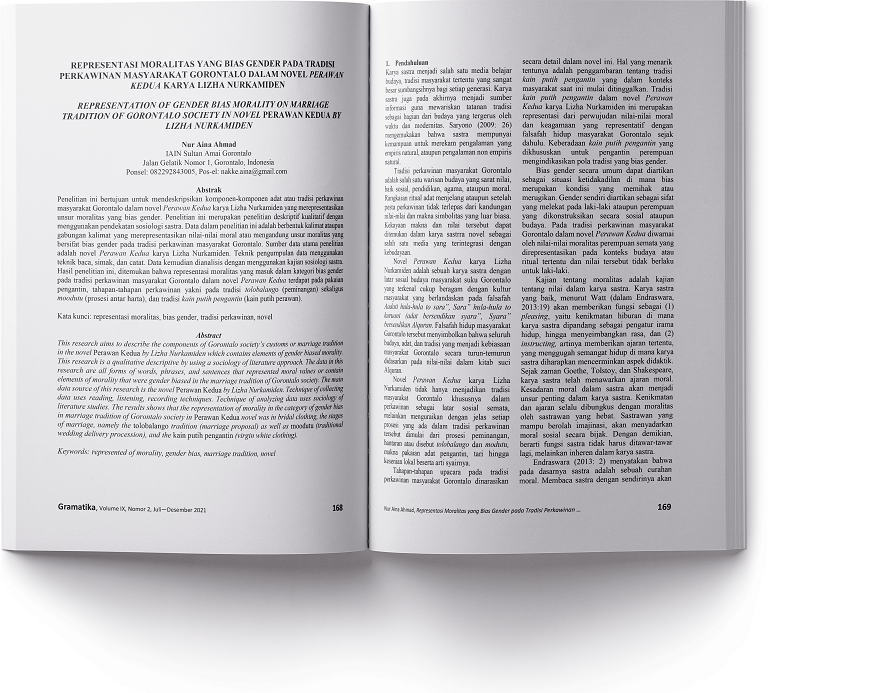 How to Cite
Ahmad, N. (2021). REPRESENTATION OF GENDER BIAS MORALITY ON MARRIAGE TRADITION OF GORONTALO SOCIETY IN NOVEL PERAWAN KEDUA BY LIZHA NURKAMIDEN. Gramatika: Jurnal Ilmiah Kebahasaan Dan Kesastraan, 9(2), 168-178. https://doi.org/10.31813/gramatika/9.2.2021.390.168--178
Copyright (c) 2021 Nur Aina Ahmad
This work is licensed under a Creative Commons Attribution-NonCommercial-ShareAlike 4.0 International License.
The writer of published paper on Gramatika have agreed this following:
Article copyright still had by the author.
The author gives the first publication right of the article to Gramatika and its lisence onto Creative Commons Attribution License that allow other party to use or recitate the article but keep mention the name of original author and the first publication on Gramatika.
The author is allowed to republish the article that Gramatika have been published it before through separated contract deal due to non-exclusive distribution (ex: submitting in to institution repository or publishing onto a book) but still mention the first publication on Gramatika.
The author is allowed and recommended to distribute her/his papers to the virtual world (ex: in the institution repository or author's homepage) before or during the document consignment process because can support the productive exchange also an early and wide citation.
Every documents have been accepted should be attached with Copyright Submission Approval Form before article publication. Download the form here.