The Study of Fundamental Values of Life in Ternate Oral Tradition
Masayu Gay

Prodi Pendidikan Bahasa dan Sastra Indonesia, STKIP Kie Raha Ternate
Keywords:
values of life, ternate oral tradition
Abstract
This is a descriptive analytical research which aims to reveal the basic values of life in Ternate oral tradition (dola bololo, drums proposition, and Moro proposition). The values are assessed through structural and hermeneutic approach. The results indicate that dolabololo reflects fundamental values of (1) generosity; (2) prohibition against hurting others; (3) The man and his world; (4) pluralism. Dalil tifa reflects Islamism, togetherness, affection, humanity and death.
Downloads
Download data is not yet available.
References
Ahmad dan Hendri. 2015. Mudah Menguasai Bahasa Indonesia. Yrama Widya: Bandung.
Ahmad, Mahdi. 2014. Sastra Lisan Ternate. Depok: Yayasan Danau Indonesia.
Alfarisi, A. B. T. 2015. "Ekpresi Metaforis dalam Puisi Mardi Luhung". Jurnal Bebasan. Vol. 2 (2): 127.
Bartlet, F.C. (1965). "Some Experiment on the Introduction of the
Folklore". Dalam: A Dundes (ed). The Study of Folklore. Englewood,
N.J.: Prentice Hall. 243—258.
Bariqoh, A. 2015. "Ekranasi Film Biopic: Penanaman Nilai Semboyan "Jas Merah" sebagai Usaha Pembentukan Karakter Mahasiswa STKIP PGRI Sampang". Prosiding Seminar International Riksa Bahasa IX. 26 November 2015, Bandung, Indonesia. Hal. 260.
Dinsie, Amas dan Thaib, Rinto. 2008. Ternate: Sejarah, Kebudayaan, dan Pembangunan Perdamaian. LeKRa-MKR: Maloku Kie Raha.
Ibrahim, Gufran A. 2009. Dolabololo: Budaya Berpikir Positif Masyarakat Ternate. Makalah dalam bentuk Pdf.
Tim Penyusun. 2007. Kamus Istilah Sastra. Balai Pustaka: Jakarta.
Tim Penyusun. 2008. Kamus Besar Bahasa Indonesia: Edisi Ke-IV. PT Gramedia: Jakarta.
Majid, Bakhtiar. 2009. "Revitalisasi Tradisi Sastra Lisan Dola Bololo dalam Masyarakat Kesultanan Ternate: Sebuah Kajian Budaya". Tesis Program Studi Kajian Budaya, Universitas Udayana, Bali.
Noor, M. Rohinah. 2011. Pendidikan Karakter Berbasis Sastra. Jogjakarta: Ar-Ruzz Media.
Ratna N. Kutha. 2004. Teori, Metode, dan Teknik Penelitian Sastra: Cetakan I. Pustaka Pelajar: Yigyakarta.
---------. 2007. Teori, Metode, dan Teknik Penelitian Sastra: Cetakan III. Pustaka Pelajar: Yogyakarta.
Yulianto, A. 2015. Analisis Intertekstual Puisi "Tangisan Batu" dan "Air Mata Legenda" Karya Abdurrahman El Husainy. Jurnal Sirok Bastra. Vol. 3 (1): 75—81.
Zulela. 2012. Pembelajaran Bahasa Indonesia: Apresiasi Sastra di Sekolah Dasar. Bandung: PT Remaja Rosdakarya.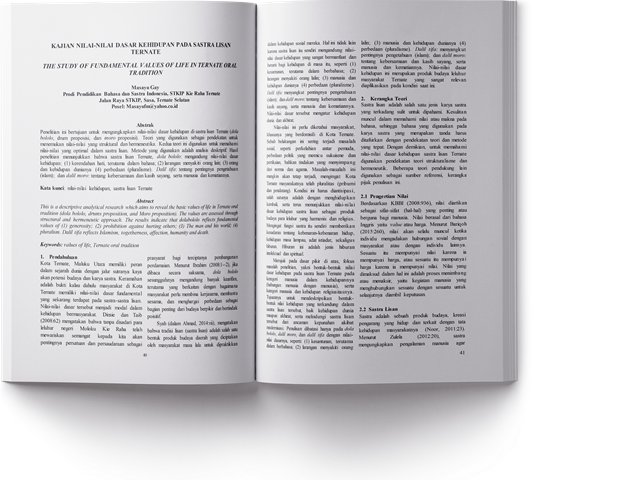 How to Cite
Gay, M. (2016). The Study of Fundamental Values of Life in Ternate Oral Tradition. Gramatika: Jurnal Ilmiah Kebahasaan Dan Kesastraan, 4(1), 40-48. https://doi.org/10.31813/gramatika/4.1.2016.43.40--48
Copyright (c) 2016 Masayu Gay
This work is licensed under a Creative Commons Attribution-NonCommercial-ShareAlike 4.0 International License.
The writer of published paper on Gramatika have agreed this following:
Article copyright still had by the author.
The author gives the first publication right of the article to Gramatika and its lisence onto Creative Commons Attribution License that allow other party to use or recitate the article but keep mention the name of original author and the first publication on Gramatika.
The author is allowed to republish the article that Gramatika have been published it before through separated contract deal due to non-exclusive distribution (ex: submitting in to institution repository or publishing onto a book) but still mention the first publication on Gramatika.
The author is allowed and recommended to distribute her/his papers to the virtual world (ex: in the institution repository or author's homepage) before or during the document consignment process because can support the productive exchange also an early and wide citation.
Every documents have been accepted should be attached with Copyright Submission Approval Form before article publication. Download the form here.