NOUN MODIFICATION PHRASES IN ADVERTISING OF PRIVATE COLLAGE NEW STUDENT REGISTRATION IN JAKARTA
Elis Susilawati

UIN Syarif Hidayatullah Jakarta
Keywords:
Modifative phrases, Noun Phrases, Ads
Abstract
Advertising is one of the needs in marketing goods or services in an increasingly sophisticated era. Advertising creation can be disseminated in online and offline forms. The choice of words in advertising is one of the things that must be considered because it is related to the function of advertising. This study aims to analyze the form, function, arrangement, and grammatical meaning of the modifative phrase nomina. The research method used is a qualitative descriptive method with primary data sources, namely advertisements for new student registrations for private universities in Jakarta obtained from several sources. Data collection techniques use documentation techniques in the form of screen captures, intensive listens, and notes. Data analysis techniques carried out by researchers, namely: (1) Looking for 10 advertisements for new student registrations for private universities in Jakarta through several pages. (2) Listen to the content of the advertisements that have been collected. (3) Record modifiable phrases in the form of nouns found in advertisements. (4) Analyze data using theories and categories of syntactic functions by referential methods. (5) Summarizing and presenting the results. The results showed that there are 26 forms of modificative nomina phrases used in advertisements with varying grammatical arrangements and meanings and are inseparable from the function of advertising builders.
Downloads
Download data is not yet available.
References
Aditiawan, R. T. (2020). Penggunaan Frasa Nomina dalam Surat Kabar Jawa Pos: Kontruksi Frasa Nomina. BELAJAR BAHASA: Jurnal Ilmiah Program Studi Pendidikan Bahasa Dan Sastra Indonesia, 5(2), 221–232. https://doi.org/10.32528/bb.v5i2.3243
Angriani, P., & Maharani, I. (2019). Pengaruh Media Iklan Audio Visual Terhadap Keterampilan Menulis Teks Persuasi Siswa Kelas VIII Smp Negeri 15 Palembang. Prosinding Seminar Nasional Pendidikan Program Pancasarjana Universitas PGRI Palembang, 683–700.
Arif, R. M., Madjid, A., Mairu, T., & Sy., S. (1985). Morfologi dan Sintaksis Bahasa Musi. Pusat Pembinaan dan Pengembangan Bahasa.
Arifin, Z., & Junaiyah. (2008). Sintaksis. Grasindo.
Baehaqie, I. (2014). Sintaksis Frasa. Penerbit Ombak.
Keraf, G. (2016). Diksi Dan Gaya Bahasa. Gramedia Pustaka Utama.
Khairah, M., & Ridwan, S. (2014). Sintaksis Memahami Satuan Kalimat Perspektif Fungsi. Penerbit Bumi Aksara.
Moleong. (2006). Metodologi Penelitian. Kualitat1Y, Remaja Rosda Karya, Bandung, 1–12. http://a-research.upi.edu/operator/upload/t_pd_0704893_chapter3.pdf
Putri, D. A. W. C., & Utomo, A. P. Y. (2020). Analisis Frasa Verba Pada Teks Berita Bbc . Com Masa Kampanye Dimulai , Cara Tatap Muka Tetap. 7(September 2019).
Rahardi, K. (2009). Bahasa Indonesia untuk Perguruan Tinggi. Penerbit Erlangga.
Ramlan, M. (2021). Ilmu Bahasa Indonesia Sintaksis. CV. Karyono.
Rumetna, M. S., & Lina, T. N. (2022). Dampak teknologi informasi bagi generasi milenial. 7(1), 45–52.
Suhardi, & Septiawan, T. (2011). Sintaksis Bahasa Indonesia. Penerbit Universitas Terbuka.
Sukma, B. E., Ghafar, A., & Supriyati. (2022). FRASA NOMINA DALAM TUGAS LAPORAN OBSERVASI SISWA KELAS X MIPA 7 SMA NEGERI 1KOTA JAMBI. 6(1), 17–22.
Tarigan, H. G. (1983). Prinsip-Prinsip Dasar Sintaksis. Penerbit Akasara Bandung.
Tarigan, H. G. (1984). Pengajaran Sintaksis. In Penerbit Angkasa: Vol. vi (Issue Sintaksis). Penerbit Angkasa Bandung.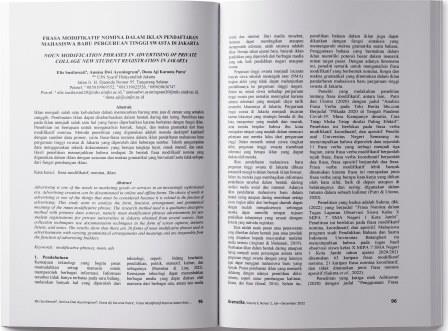 How to Cite
Susilawati, E. (2022). NOUN MODIFICATION PHRASES IN ADVERTISING OF PRIVATE COLLAGE NEW STUDENT REGISTRATION IN JAKARTA. Gramatika: Jurnal Ilmiah Kebahasaan Dan Kesastraan, 10(2), 95-103. https://doi.org/10.31813/gramatika/10.2.2022.432.95--103
Copyright (c) 2022 Elis Susilawati, Annisa Dwi Ayuningrum, Dona Aji Karunia Putra
This work is licensed under a Creative Commons Attribution-NonCommercial-ShareAlike 4.0 International License.
The writer of published paper on Gramatika have agreed this following:
Article copyright still had by the author.
The author gives the first publication right of the article to Gramatika and its lisence onto Creative Commons Attribution License that allow other party to use or recitate the article but keep mention the name of original author and the first publication on Gramatika.
The author is allowed to republish the article that Gramatika have been published it before through separated contract deal due to non-exclusive distribution (ex: submitting in to institution repository or publishing onto a book) but still mention the first publication on Gramatika.
The author is allowed and recommended to distribute her/his papers to the virtual world (ex: in the institution repository or author's homepage) before or during the document consignment process because can support the productive exchange also an early and wide citation.
Every documents have been accepted should be attached with Copyright Submission Approval Form before article publication. Download the form here.