THE VIOLENCE (SEXUAL) IN THE DRAMA OF A STREETCAR NAMED DESIRE BY TENNESSEE WILLIAMS CRITICAL DISCOURSE ANALYSIS VAN DIJK MODEL
Eka Susylowati

Universitas Trunojoyo Madura
Keywords:
Violence, A Streetcar Named Desire, Critical Discourse Analysis of Van Dijk Model
Abstract
This study aims to describe the portrait of social reality in American society related to sexual violence in the drama A Streetcar Named Desire. In this study, a qualitative method was used to show the data descriptively using the Van Dijk model of critical discourse analysis approach. The data in this study came from the drama A Streetcar Named Desire. The data was collected using the observation method, then continued with the note taking technique. The results of this study indicate that the sociocultural life of American society is full of violence, gambling and sex. Through Van Dijk's analysis, it can be concluded that the discourse construction of A Streetcar Named Desire with violence as a theme is a text constructed from sociocultural phenomena in America. The strong patriarchal culture in America is the social context behind the creation of texts with the theme of violence in the drama A Streetcar Named Desire. In this context, an author with a family life full of violence can be described in the life in the drama. Such family life is a representation of family life in America that is full of the violence.
Downloads
Download data is not yet available.
References
Abdullah. (2019). Analisis Wacana Sara Mills Tentang Kekerasan Perempuan dalam Rumah Tangga Studi Terhadap Pemberitaan Media Kumparan. Jurnal Dakwah dan Komunikasi. Vol 4 (2): 100-120

Adeney T, Bernard. 1995. Etika Sosial Lintas Budaya. Yogyakarta: Kanisius.

Djawani, Stephanus. 2001. Bahasa dan Kekerasan. Dalam Sumijati As. Editor. Manusia dan Dinamika Budaya: Dari Kekerasan sampai Baratayuda. Yogyakarta: Fakultas Sastra UGM Bekerja sama dengan BIGRAF Publishing.

Djojosuroto, Kinayati. 2006. Analisis Teks Sastra dan Pengajarannya. Yogyakarta: Pustaka

Hura, Madaf dan Ramadhan (2020). Pemosisian Pelaku dan Korban dalam Berita Kriminal Tentang Pembunuhan di Berita Online Tribun News.com. Aksara. Vol. 32 (1): 95-108

Marlia, Mirda. 2007. Kekerasan Seksual terhadap Istri. Yogyakarta: Pustaka Pesantren.

Saleh (2020). Analisis Wacana Kritis"Hukuman Salah Alamat" Pada Acara Mata Najwa. Suar Betang. Vol 15 (2): 181-197

Santosa, Anang. 2012. Studi Bahasa Kritis: Menguak Bahasa Membongkar Kuasa. Bandung: Bandar Maju

Tenriawali, A. Yusdianti (2018). Representasi Korban Kekerasan Dalam Teks Berita Daring Tribun Timur: Analisis Wacana Kritis. Totobuang. Vol. 6 (1): 1-15

Van Dijk, Teun A (ed). 1985. Discourse and Literature. Amsterdam: John Benjamin Publishing Company.

Wahid, A dan Irfan M. 2001. Perlindungan Korban Kekerasan Seksual. Advokasi Atas Hak Perempuan. Bandung: Refika Aditama.

Yulianti, Wiwik. (2020). Analisis Wacana Kritis Terhadap Berita Kriminal Pembunuhan Wayan Mirna Salihin (Dengan Pendekatan Sara Mills). Sphota, Volume 12 (1)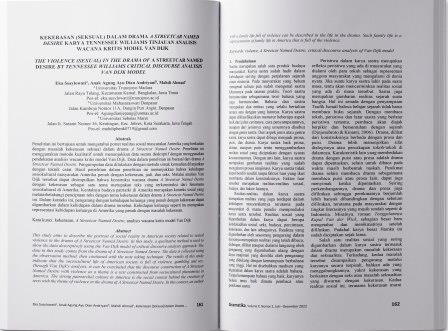 How to Cite
Susylowati, E. (2022). THE VIOLENCE (SEXUAL) IN THE DRAMA OF A STREETCAR NAMED DESIRE BY TENNESSEE WILLIAMS CRITICAL DISCOURSE ANALYSIS VAN DIJK MODEL. Gramatika: Jurnal Ilmiah Kebahasaan Dan Kesastraan, 10(2), 161-174. https://doi.org/10.31813/gramatika/10.2.2022.436.161--174
Copyright (c) 2022 Eka Susylowati, Anak Agung Ayu Dian Andriyani, Mahdi Ahmad
This work is licensed under a Creative Commons Attribution-NonCommercial-ShareAlike 4.0 International License.
The writer of published paper on Gramatika have agreed this following:
Article copyright still had by the author.
The author gives the first publication right of the article to Gramatika and its lisence onto Creative Commons Attribution License that allow other party to use or recitate the article but keep mention the name of original author and the first publication on Gramatika.
The author is allowed to republish the article that Gramatika have been published it before through separated contract deal due to non-exclusive distribution (ex: submitting in to institution repository or publishing onto a book) but still mention the first publication on Gramatika.
The author is allowed and recommended to distribute her/his papers to the virtual world (ex: in the institution repository or author's homepage) before or during the document consignment process because can support the productive exchange also an early and wide citation.
Every documents have been accepted should be attached with Copyright Submission Approval Form before article publication. Download the form here.