Interogative Words in The Construction of Interogative Sentences in Kulawi Language a Based-On-Form and Function Study
M Asri B

Balai Bahasa Sulawesi Tengah
Keywords:
interrogative word, interrogative sentence, Kulawi language
Abstract
The purpose of this research was to describe the forms of interrogative sentences and also the function of interrogative words in constructing interrogative sentence of Kulawi Language (KL). Quantitative method is the method of this research. The result of this research indicated that there were three forms of interrogative sentence in KL and three were seven kinds of interrogative words which have different functions.
Downloads
Download data is not yet available.
References
Alwi, Hasan. Et al. 2003. Tata Bahasa Baku Bahasa Indonesia. Jakarta: Balai Pustaka.
Chaer, Abdul. 2003. Linguistik Umum. Jakarta: Rineka Cipta.
—————. 2006. Tata Bahasa Praktis bahasa Indonesia. Ediisi Revisi. Jakarta: PT Rineka Cipta.
Depertemen Pendidikan dan Kebudayaan. 1993. Kamus Besar Bahasa Indonesia. Jakarta: Depdikbud.
Dola, Abdullah. 2010. Tataran Sintaksis dalam Gramatika Bahasa Indonesia. Makassar: Badan Penerbit UNM.
Falah, M. Zaenal. 1988. Tata Bahasa Indonesia untuk SMTP-SMTA-Perguruan Tinggi. Yogyakarta: CV Karyono.
Kridalaksana, Harimurti. 2001. Kamus Linguistik.Edisi Ketiga. Jakarta: PT Gramedia Pustaka Utama.
Kusharyanti. Et al. 2005. Pesona Bahasa Langkah Awal Memahami Linguistik. Jakarta: PT Gramedia Pustaka Utama.
Ramlan, M. 1983. Morfologi Suatu Tinjauan Deskriptif. Yogyakarta: CV Karyono.
—————. 1996. Sintaksis. Yogyakarta: CV Karyono.
Subroto, Edi. 1992. Pengantar Metoda Penelitian Linguistik Struktural. Surakarta: Sebelas Maret University Press.
Sudaryanto. 1993. Metode dan Aneka Teknik Analisis Bahasa. Yogyakarta: MLI Komisariat Universitas Gajah Mada.
Verhaar, J.W.M. 1996. Asas-Asas Linguistik Umum. Yogyakarta: Gadjah Mada University Press.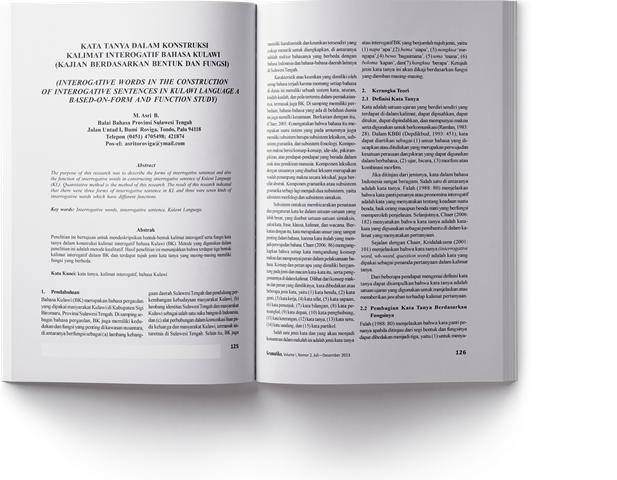 How to Cite
B, M. (2013). Interogative Words in The Construction of Interogative Sentences in Kulawi Language a Based-On-Form and Function Study. Gramatika: Jurnal Ilmiah Kebahasaan Dan Kesastraan, 1(2), 125-132. https://doi.org/10.31813/gramatika/1.2.2013.52.125--132
Copyright (c) 2013 M Asri B
This work is licensed under a Creative Commons Attribution-NonCommercial-ShareAlike 4.0 International License.
The writer of published paper on Gramatika have agreed this following:
Article copyright still had by the author.
The author gives the first publication right of the article to Gramatika and its lisence onto Creative Commons Attribution License that allow other party to use or recitate the article but keep mention the name of original author and the first publication on Gramatika.
The author is allowed to republish the article that Gramatika have been published it before through separated contract deal due to non-exclusive distribution (ex: submitting in to institution repository or publishing onto a book) but still mention the first publication on Gramatika.
The author is allowed and recommended to distribute her/his papers to the virtual world (ex: in the institution repository or author's homepage) before or during the document consignment process because can support the productive exchange also an early and wide citation.
Every documents have been accepted should be attached with Copyright Submission Approval Form before article publication. Download the form here.