Fable in Literature Frame:
Critics on Human Attitude Through Buginese Folklore
Besse Darmawati

Balai Bahasa Sulawesi Selatan dan Sulawesi Barat
Keywords:
fable, critique of literature, folklore of Bugis
Abstract
This research aims to describe the critics on human attitude in fables along with their existence asa critic media in Buginese society. The researcher applies descriptive-qualitative method through electical approach. The techniques of research are identification, note, observation, and analysis. A number of Buginese folklores in a book entitled Sastra Lisan Bugis published by Educational and Cultural Department in 1981 contain the population of research. The research samples are taken purposively as the data. The fables used as data are (1) Buaya dan Kerbau; (2) Pelanduk dan Macan; (3) Putteang dan Karoakkak; and (4) Rusa dan Kura-Kura. Based on the analysis,the researcher found some critics on human attitudes like greed, stupidness, fear, revenge, lie, andarrogance. These attitudes are still found in Buginese society
Downloads
Download data is not yet available.
References
Arikunto, Suharsimi. 1997. Prosedur Penelitian: Suatu Pendekatan Praktek. Jakarta: PT Rineka Cipta.
Damawati, Besse. 2008. "Eksistensi Sastra Lisan Bugis dalam Masyarakat Bugis-Wajo". Dalam Bunga Rampai Hasil Penelitian Bahasa dan Sastra Nomor 17, Desember 2008 ISSN 1412-3517. Makassar: Balai Bahasa Ujung Pandang.
Fachruddin, A.E., dkk. 1981. Sastra Lisan Bugis. Jakarta: Pusat Pembinaan dan Pengembangan Bahasa, Departemen Pendidikan dan Kebudayaan.
Goodin, Maria. 2010. Short Story Online. Online http://www.eastoftheweb.com/short-stories/UBooks/Someoneto.shtml. diunduh tanggal 31 Oktober 2010.
Hartoko D. dan Rahmanto B. 1986. Pemandu di Dunia Sastra. Yogyakarta: Penerbit Kanisius.
Husba, Zakiyah M. 2009. "Menuai Kearifan Hidup Melalui Sastra Lisan." http://www.lingua.dnaberita.com/27%20Oktober%202009%20Lingua%20Sastra.php, diunduh tanggal 31 Januari 2013.
Jerniati. 2011. "Citra Tokoh Perempuan dalam Sastra Daerah Mamuju: Upaya Penggalian Karakter Bangsa". Dalam Prosiding: Peran Perempuan dalam Pembentukan Karakter Bangsa. ISBN: 978-602-99488-0-6. Tanggal 27 Januari 2011.
Marchen. 2012. Fabel. http://bahanajarjsj.wordpress.com/2012/01/04/fabel/, diunduh tanggal 30 Juli 2013.
Semi, M. Atar. 1990. Metode Penelitian Sastra. Bandung: Angkasa.
Setiadi, Muhammad Astriato. 2010. Using Fables in Improving Students' Vocabulary Mastery. Thesis. Makassar: Pascasarjana Program Magister Universitas Negeri Makassar.
Sugono, Dendy. 2008. Kamus Besar Bahasa Indonesia (KBBI) Edisi IV. Jakarta: PT Gramedia Pustaka Utama.
Undang-Undang RI No. 24 Tahun 2009 tentang Bendera, Bahasa, dan Lambang Negara serta Lagu Kebangsaan.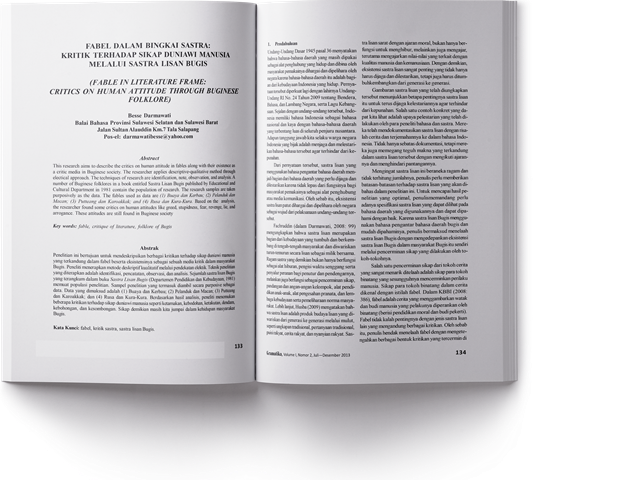 How to Cite
Darmawati, B. (2013). Fable in Literature Frame:. Gramatika: Jurnal Ilmiah Kebahasaan Dan Kesastraan, 1(2), 133-142. https://doi.org/10.31813/gramatika/1.2.2013.53.133--142
Copyright (c) 2013 Besse Darmawati
This work is licensed under a Creative Commons Attribution-NonCommercial-ShareAlike 4.0 International License.
The writer of published paper on Gramatika have agreed this following:
Article copyright still had by the author.
The author gives the first publication right of the article to Gramatika and its lisence onto Creative Commons Attribution License that allow other party to use or recitate the article but keep mention the name of original author and the first publication on Gramatika.
The author is allowed to republish the article that Gramatika have been published it before through separated contract deal due to non-exclusive distribution (ex: submitting in to institution repository or publishing onto a book) but still mention the first publication on Gramatika.
The author is allowed and recommended to distribute her/his papers to the virtual world (ex: in the institution repository or author's homepage) before or during the document consignment process because can support the productive exchange also an early and wide citation.
Every documents have been accepted should be attached with Copyright Submission Approval Form before article publication. Download the form here.