The Attitudes of Buginese Ethnic on Buginess Language Maintenance in Donggala Regency, Central Sulawesi Province
Tamrin Tamrin

Balai Bahasa Sulawesi Tengah
Keywords:
language attitudes, Buginess ethnic, language maintenance, Buginess language
Abstract
This research aims to describe the attitudes of Buginess ethnic on Buginese language at Donggala regency, Central Sulawesi Province and to describe what factors make Buginess ethnic in Donggala regency behave positively or negatively toward buginese language. Incollecting data, the researcher used sociolinguistic approach with questioner technique,interview, observation, and taping. The data then were analyzed according to Likert scale attitude measurement scale. The result indicated that as an immigrant ethnic, buginess ethnic in Donggala regency, Central Sulawesi Province has still been maintaining Buginess language viewed from age categories, gender, education, or job. Loyalty, awareness of the norms, and language pride are among those factors.
Downloads
Download data is not yet available.
References
Aswatini. 2013. "Sumber dan Koleksi Data (Bidang IPS)". Modul. Diklat Jabatan Fungsional Peneliti Tingkat Pertama. Bogor: Lembaga Ilmu Pengetahuan Indonesia.
Atjzen, I. and M. Fishbein. 1980. Understanding Attitudes and Predicting Social Behavior. Engleword Cliffs, NJ: Prentice-Hall
Chaer, Abdul dan Agustina, Leonie. 2010. Sosiolinguistik: Perkenalan Awal. Jakarta: Rineke Cipta.
Fasold, Ralph. 1984. The Sociolinguistic of Society. Oxford: Basil Blackwell.
Fatinah, Siti. 2012. "Pemertahanan Bahasa Muna di Perantauan Sulawesi Tengah: Suatu Tinjuan Sosiolinguistik." Tesis. Makassar: Universitas Negeri Makassar.
Fishman, Joshua A. 1972. The Sociology of Language. Massachussetts: Newburry House.
Lukman. 2000. "Pemertahanan Bahasa Warga Transmigran Jawa di Wonomulyo-Polmas serta Hubungannya dengan Kedwibahasaan dan Faktor-Faktor Sosial". Disertasi. Makassar: Program Pascasarjana Universitas Hasanuddin.
Saville-Troike, M. 1982. The Ethnography of Communication. Oxford: Basil Blackwell.
Siregar, Bahren Umar; Isa, D. Syahrial; & Husni, Chairul. 1998. Pemertahanan Bahasa dan Sikap Bahasa: Kasus Masyarakat Bilingual di Medan. Jakarta: Pusat Pembinaan dan Pengembangan Bahasa, Departemen Pendidikan dan Kebudayaan.
Sumarsono. 2007. Sosiolinguistik. Yogyakarta: Pustaka Pelajar.
Tamrin. 2013. "Pemertahanan Bahasa Bugis di Kecamatan Sojol Utara Kabupaten Donggala, Sulawesi Tengah". Tesis. Makassar: Universitas Negeri Makassar. Attitudes and Predicting Social Behavior. Engleword Cliffs, NJ: Prentice-Hall.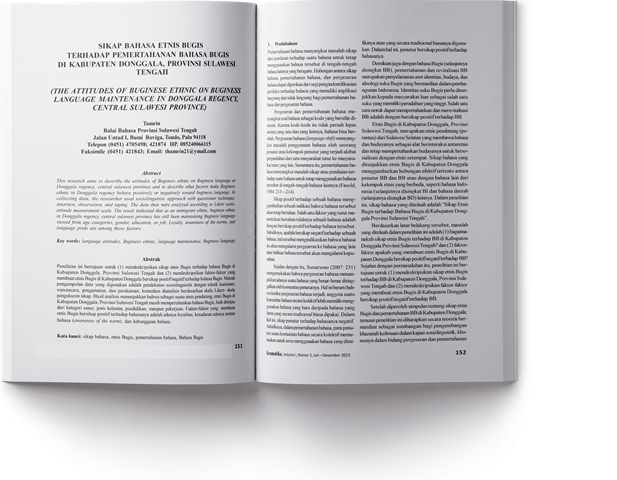 How to Cite
Tamrin, T. (2013). The Attitudes of Buginese Ethnic on Buginess Language Maintenance in Donggala Regency, Central Sulawesi Province. Gramatika: Jurnal Ilmiah Kebahasaan Dan Kesastraan, 1(2), 151-166. https://doi.org/10.31813/gramatika/1.2.2013.55.151--166
Copyright (c) 2013 Tamrin Tamrin
This work is licensed under a Creative Commons Attribution-NonCommercial-ShareAlike 4.0 International License.
The writer of published paper on Gramatika have agreed this following:
Article copyright still had by the author.
The author gives the first publication right of the article to Gramatika and its lisence onto Creative Commons Attribution License that allow other party to use or recitate the article but keep mention the name of original author and the first publication on Gramatika.
The author is allowed to republish the article that Gramatika have been published it before through separated contract deal due to non-exclusive distribution (ex: submitting in to institution repository or publishing onto a book) but still mention the first publication on Gramatika.
The author is allowed and recommended to distribute her/his papers to the virtual world (ex: in the institution repository or author's homepage) before or during the document consignment process because can support the productive exchange also an early and wide citation.
Every documents have been accepted should be attached with Copyright Submission Approval Form before article publication. Download the form here.