Interrogative Sentences on "Apa Kabar Indonesia TV One" News Program
Fida Febriningsih

Kantor Bahasa Maluku Utara
Keywords:
interrogative sentence, Bahasa Indonesia, Apa Kabar Indonesia TV One
Abstract
The purpose of this research is to analyze the forms and variations of interrogative sentences on "Apa Kabar Indonesia TV One." The use of sentences on "Apa Kabar Indonesia" is interesting to observe especially the use of interrogative sentences. Since the program is livebroadcast, the use of interrogative sentences occurs more often. Moreover, mostly coming from intellectuals, the resource persons are appropriate to be the object to analyze in this research. to collect the data, the researcher used participatory approach by implementing the technique of tapping, recording and noting. Method of data analysis is descriptive analysis. The result showed that there are four forms and variations used as interrogativesentences on "Apa Kabar Indonesia". (1) interrogative sentences with interrogative wordslike "what, who, when, why, where, how many/much, how; (2) interrogative sentences with interrogative intonation; (3) interrogative sentences with formative questions like "kan and ya"; (4) interrogative sentences with prefix–kah.
Downloads
Download data is not yet available.
References
Fokker, A.A. 1983. Pengantar Sintaksis Indonesia. Jakarta: Pradaya Paramita.
Alwi, Hasan.Et al.1988. Tata Bahasa Baku Bahasa Indonesia. Jakarta: Balai Pustaka.
Ramlan, M. 2001. Ilmu Bahasa Indonesia Sintaksis. Yogyakarta: CV Karyono.
Keraft, Gorys. 1991. Tata Bahasa Indonesia. Ende Flores: Nusa Indah.
Romli, A.S.M. 2009. Lembaga Jurnalistik Media Massa (http://olinkgembong.blogspot.com/2009/10/lembaga-jurnalistik-media-massaoleh.html, diakses tanggal 20 Nevember 2009)
Mahsun. 2005. Metode Penelitian Bahasa. Jakarta: PT Rajagrafindo Persada.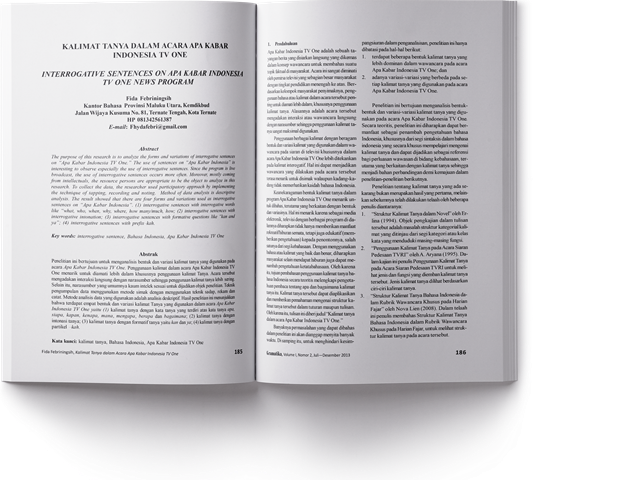 How to Cite
Febriningsih, F. (2013). Interrogative Sentences on "Apa Kabar Indonesia TV One" News Program. Gramatika: Jurnal Ilmiah Kebahasaan Dan Kesastraan, 1(2), 185-198. https://doi.org/10.31813/gramatika/1.2.2013.61.185--198
Copyright (c) 2013 Fida Febriningsih
This work is licensed under a Creative Commons Attribution-NonCommercial-ShareAlike 4.0 International License.
The writer of published paper on Gramatika have agreed this following:
Article copyright still had by the author.
The author gives the first publication right of the article to Gramatika and its lisence onto Creative Commons Attribution License that allow other party to use or recitate the article but keep mention the name of original author and the first publication on Gramatika.
The author is allowed to republish the article that Gramatika have been published it before through separated contract deal due to non-exclusive distribution (ex: submitting in to institution repository or publishing onto a book) but still mention the first publication on Gramatika.
The author is allowed and recommended to distribute her/his papers to the virtual world (ex: in the institution repository or author's homepage) before or during the document consignment process because can support the productive exchange also an early and wide citation.
Every documents have been accepted should be attached with Copyright Submission Approval Form before article publication. Download the form here.