The Strategic Role of Bahasa Indonesia in Building Children Character Values
Masayu Gay

Prodi Pendidikan Bahasa dan Sastra Indonesia, STKIP Kie Raha Ternate
Keywords:
indonesian language role, character values, children
Abstract
This papers aims to describe the role of language in shaping the character values of children. Libraries research is used to review Munir's concept of the character which emphasis on the thoughts, attitudes, words and deeds, as well as Widjono's concept of character which studies the relationship between language and character. This paper concludes that Indonesian language is not just a means of communication, but it can also become a means which influence the way of thinking of its speakers, which in turns reflects the character of its speakers. The character values are reflected on the utterances in daily speaking. This means that language takes an important role in building the character of its speakers through communication. The pattern of positive communication impacts on the formation of a positive character values. Children are unstable individuals. They are prone to grow and develop unstable due to their surroundings. The patterns of communications received through authority parties such as the parents, teachers, or friends will be received as the correct information which will shape their characters.
Downloads
Download data is not yet available.
References
Almatin, I. 2010. Dahsyatnya Hipnosis Learning untuk Guru dan Orang Tua. Yogyakarta: Pustaka Widyatama.
Anwar, H. 1995. Beberapa Aspek Soiso-Kultural Masalah Bahasa. Yogyakarta: Gajah Mada University Press.
Bariqoh, A. 2015. "Ekranasi Film Biopic: Penanaman Nilai Semboyan "Jas Merah" sebagai Usaha Pembentukan Karakter Mahasiswa STKIP PGRI Sampang". Prosiding Seminar International Riksa Bahasa IX. 26 November 2015, Bandung, Indonesia. Hal. 260.
Bickerton, Derek.1992. Language & Species. Chicago: University of Chicago Press.
Budiningsi, Asri, C. 2005. Belajar dan Pembelajaran. Jakarta: PT Rinek Cipta.
Corballis, M. C. 2011. The Recursive Mind: The Origins of Human Language, Thought, andCivilization. Princeton, New Jersey: Princeton University Press.
Hurlock, B. E. 1987. Perkembangan Anak. Jakarta: Erlangga.
Jenkins, Lyle. 2000. Biolinguistics: ExploringtheBiology of Language. Cambridge: CambridgeUniversity Press.
Julian M., James dan John Alfred. 2008. Belajar Kepribadian. Yogyakarta: Penerbit BACA.
Moeliono, A. M. dkk. 2003. Kamus Besar Indonesia. Jakarta: Balai Pustaka.
Moeliono, A. M. 2003. Tata Bahasa Baku Bahasa Indonesia. Jakarta: Balai Pustaka.
Munir, A. 2010. Pendidikan Karakter Membangun Karakter Anak Sejak dari Rumah. Yogyakarta: Pustaka Insan Madani.
Pamungkas, S. 2012. Bahasa Indonesia dalam Berbagai Perspektif. Yogyakarta: Andi.
Pranowo. 2009. Berbahasa Secara Santun. Yogyakarta: Pustaka Pelajar:
Refmianti, dkk. 2012. "Ungkapan Makian Bahasa Minangkabau di Kenagarian Taluk Kecamatan Lintou Buo Kabupaten Tanah Datar". Jurnal Pendidikan Bahasa dan Sastra Indonesia. Vol. 1 (1): 381.
Smit, Harry. 2014. The Social Evolution of Human Nature; From Biology to Language. Cambridge: Cambridge University Press.
Sudaryat, Y. 2009. Makna dalam Wacana. Bandung: Yrama Widya.
Suryatin, E. 2011. Bunga Rampai: Hasil Penelitian Kebahasaan. Kalimantan Selatan: Balai Bahasa Banjarmasin.
Vossler, Karl. 2014. The Spirit of Languagein Civilization. [1932]. Oxford and New York: Rautledge.
Wardhaugh, Ronald, and Fuller, Janet M. 2015. An Introductionto Sociolinguistics. Seventhedition. Malden, MA & Oxford: Wiley-Blackwell.
Wiarto, Edi, D., dkk. 2010. Pendidikan Karakter: Kumpulan Pengalaman Inspiratif. Jakarta: Kementerian Pendidikan Nasional Indonesia.
Widjono. 2012. Bahasa Indonesia: Mata Kuliah Pengembangan Kepribadian di Pergutuan Tinggi. Jakarta: PT Grasindo.
Yu, Xing. 2013. Languageand State: and Inquiry Into the Progress of Civilization. Lanham, Maryland & Plymouth, UK: University Press of America.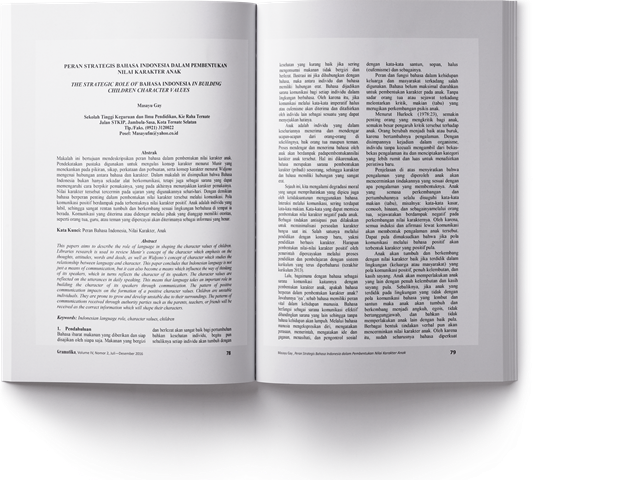 How to Cite
Gay, M. (2016). The Strategic Role of Bahasa Indonesia in Building Children Character Values. Gramatika: Jurnal Ilmiah Kebahasaan Dan Kesastraan, 4(2), 78-84. https://doi.org/10.31813/gramatika/4.2.2016.62.78--84
Copyright (c) 2016 Masayu Gay
This work is licensed under a Creative Commons Attribution-NonCommercial-ShareAlike 4.0 International License.
The writer of published paper on Gramatika have agreed this following:
Article copyright still had by the author.
The author gives the first publication right of the article to Gramatika and its lisence onto Creative Commons Attribution License that allow other party to use or recitate the article but keep mention the name of original author and the first publication on Gramatika.
The author is allowed to republish the article that Gramatika have been published it before through separated contract deal due to non-exclusive distribution (ex: submitting in to institution repository or publishing onto a book) but still mention the first publication on Gramatika.
The author is allowed and recommended to distribute her/his papers to the virtual world (ex: in the institution repository or author's homepage) before or during the document consignment process because can support the productive exchange also an early and wide citation.
Every documents have been accepted should be attached with Copyright Submission Approval Form before article publication. Download the form here.