The Semantics Role of Pronoun in Mandarese
Jerniati I

Balai Bahasa Sulawesi Selatan dan Sulawesi Barat
Keywords:
semantics role, pronoun, Mandarese
Abstract
This research analysed the semantics role of pronoun in Mandarese from structural morphology perspective. This research aims to describe semantics role of pronoun in Mandarese. It used descriptive qualitative method, data collecting by elicitation technique, recording and noting, and documentation analysis.Oral data were gained from native speakers and writing data were got from Mandarese folkloreand relevant researchs. The analysis of reality showed three semantics roles that can be functioned by pronoun in Mandarese sentences, namely (1) agentif role in forms of free, active, and passive, (2) goals role, dan (3) locative role.
Downloads
Download data is not yet available.
References
Alwi, Hasan, Et al. 1998. Tata Bahasa Baku Bahasa Indonesia. Jakarta: Balai Pustaka.
Ba'dulu, Abd. Muis. 1980. Struktur Morfologi dan Sintaksis Bahasa Mandar. Jakarta: Pusat Pembinaan dan Pengembangan Bahasa.
————. 2002. "Pembentukan Kata Bahasa Indonesia Suatu Kajian Morfologi Generatif". Makassar: Program Pascasarjana Universitas Negeri Makassar.
Cahyono, B. 1995. Kristal-Kristal Ilmu Bahasa. Surabaya: Airlangga University Press.
Elson, B. and Picket. 1987. Beginning Morphology and Syntax. Mexico City: SIL.
Kentjono, Djoko. 1990. Dasar-Dasar Linguistik Umum. Jakarta: Fakultas Sastra Universitas Indonesia.
Kridalaksana, Harimurti. 2008. Kamus Linguistik. Jakarta: PT Gramedia.
Muthalib, Abd. 1977. Kamus Bahasa Mandar-Indonesia. Jakarta: Pusat Pembinaan dan Pengembangan Bahasa, Departemen Pendidikan dan Kebudayaan.
Muthalib, Abd., Et al. 1992. Tata Bahasa Mandar. Jakarta: Pusat Pembinaan dan Pengembangan Bahasa.
Pike, K. L. 1992. Konsep Linguistik; Pengantar Teori Tagmemik. Diterjemahkan oleh Kenjanawati Gunawan. Jakarta: PT Gelora Aksara Pratama.
Samsuri. 1994. Analisis Bahasa. Jakarta: Erlangga.
Scalise, Segio. 1983. Generative Morphology. Dorrech-hallad: Foris Publications.
Sugono, Dendy, Et al. 2008. Kamus Besar Bahasa Indonesia (Edisi ke-4). Jakarta: Balai Pustaka.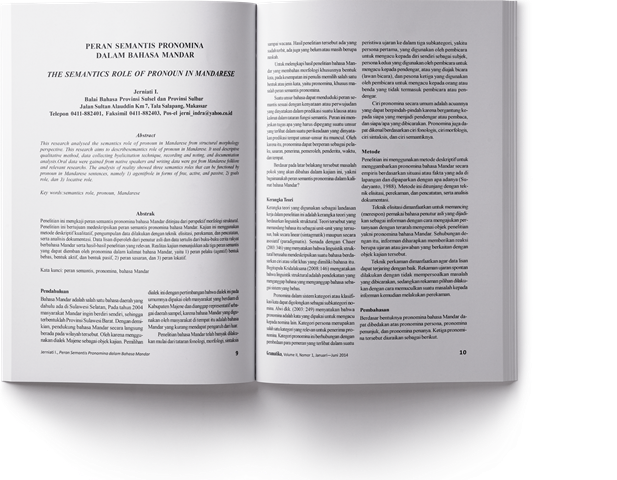 How to Cite
I, J. (2014). The Semantics Role of Pronoun in Mandarese. Gramatika: Jurnal Ilmiah Kebahasaan Dan Kesastraan, 2(1), 9-16. https://doi.org/10.31813/gramatika/2.1.2014.72.9--16
Copyright (c) 2014 Jerniati I
This work is licensed under a Creative Commons Attribution-NonCommercial-ShareAlike 4.0 International License.
The writer of published paper on Gramatika have agreed this following:
Article copyright still had by the author.
The author gives the first publication right of the article to Gramatika and its lisence onto Creative Commons Attribution License that allow other party to use or recitate the article but keep mention the name of original author and the first publication on Gramatika.
The author is allowed to republish the article that Gramatika have been published it before through separated contract deal due to non-exclusive distribution (ex: submitting in to institution repository or publishing onto a book) but still mention the first publication on Gramatika.
The author is allowed and recommended to distribute her/his papers to the virtual world (ex: in the institution repository or author's homepage) before or during the document consignment process because can support the productive exchange also an early and wide citation.
Every documents have been accepted should be attached with Copyright Submission Approval Form before article publication. Download the form here.