Diction and Sentence Error Analysis of Official Letters in Mayor Office of Makassar South Sulawesi
M. Asri B.

Balai Bahasa Sulawesi Tengah
Keywords:
Error analysis, diction, sentence, official letters, Makassar's mayor office
Abstract
Aspects of language in official letter is a very vital thing. It's possible because through language, important official information can be well achieved. Therefore, the language in the official letters needs to be organized in such a way. The method used in this research was descriptive analytical method with documentation technique. The purpose of this study was to describe the forms of diction and sentences errors in official letters in Makassar's Mayor Office. The results obtained were the findings of thirteen errors of language comprising six forms of diction errors together with seven forms of sentence errors.
Downloads
Download data is not yet available.
References
Arifin, E. Zaenal. 1996. Penggunaan Bahasa Indonesia dalam Surat Dinas. Jakarta: Akademika Persindo.
Arifin, E. Zaenal dan Mustakim. 2005. Bahasa Indonesia bagi Sekretaris. Jakarta: PT Grasindo.
Arifin, E. Zaenal dan S. Amran Tasai. 2010. Cermat Berbahasa Indonesia untuk Perguruan Tinggi. Cetakan kedua belas. Jakarta: Akademika Persindo.
Arikunto, Suharsimi. 2010. Prosedur Penelitian (Suatu Pendekatan Praktis). Jakarta: Rineka Cipta.
Bratawidjaja, Thomas Wiyasa. 1995. Surat Bisnis Modern. Jakarta: PT Gramedia.
Depdiknas. 2008. Kamus Besar Bahasa Indonesia. Edisi Keempat. Jakarta: PT Gramedia Pustaka Utama.
Finoza, L. 2005. Aneka surat sekretaris dan bisnis Indonesia. Jakarta: Diksi Insan Mulia.
Keraf, Gorys. 1994. Diksi dan Gaya Bahasa. Jakarta: Gramedia.
Lumintaintan, Yahya B.Mungnisjah. 2006/2007. "Pemakaian Bahasa Indonesia dalam Surat Menyurat Dinas". Jakarta: Pusat Bahasa.
Mustakim. 1994. Membina Kemampuan Berbahasa Indonesia Panduan ke Arah Kemampuan Berbahasa. Jakarta: Gramedia Pustaka Utama.
Norissh, John. 1983. Language Learners and Theirs Errors. London: The Macmillan Press.
Soejito dan Solchan TW. Surat-Surat Resmi Bahasa Indonesia. Bandung: Remaja Rosdakarya.
Sudarsa, Caca. dkk, 1992. Seri Penyuluhan 2 Surat Menyurat dalam Bahasa Indonesia. Jakarta: Pusat Pembinaan dan Pengembangan Bahasa, Departemen Pendidikan dan Kebudayaan.
Tarigan, Henry Guntur. 1988. Analisis Kesalahan Berbahasa. Jakarta: Bandung Angkasa.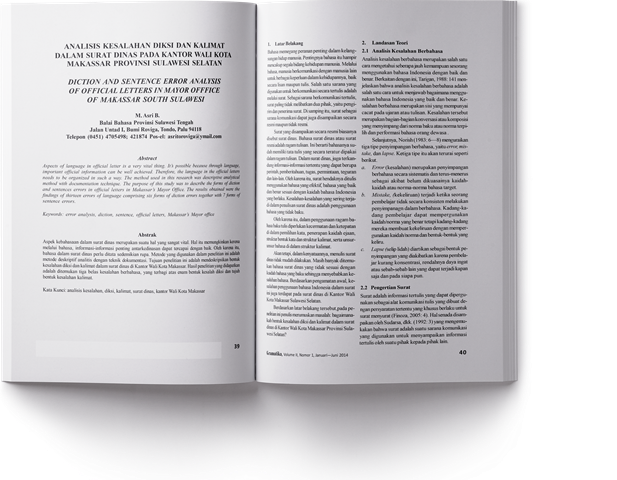 How to Cite
B., M. (2014). Diction and Sentence Error Analysis of Official Letters in Mayor Office of Makassar South Sulawesi. Gramatika: Jurnal Ilmiah Kebahasaan Dan Kesastraan, 2(1), 39-50. https://doi.org/10.31813/gramatika/2.1.2014.79.39--50
Copyright (c) 2014 M. Asri B.
This work is licensed under a Creative Commons Attribution-NonCommercial-ShareAlike 4.0 International License.
The writer of published paper on Gramatika have agreed this following:
Article copyright still had by the author.
The author gives the first publication right of the article to Gramatika and its lisence onto Creative Commons Attribution License that allow other party to use or recitate the article but keep mention the name of original author and the first publication on Gramatika.
The author is allowed to republish the article that Gramatika have been published it before through separated contract deal due to non-exclusive distribution (ex: submitting in to institution repository or publishing onto a book) but still mention the first publication on Gramatika.
The author is allowed and recommended to distribute her/his papers to the virtual world (ex: in the institution repository or author's homepage) before or during the document consignment process because can support the productive exchange also an early and wide citation.
Every documents have been accepted should be attached with Copyright Submission Approval Form before article publication. Download the form here.